2011 January 24 • Monday
The 149th Soundtrack of the Week is Black Box Affair: Il Mondo Trema by Gianni Ferrio.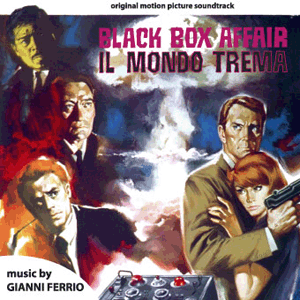 This is the score from an Italian spy movie from 1966. It starts off with a jaunty main title "shake" with jangling guitars and organ backing up Italian male vocals It's a great tune, as well it should be, since there are thirteen different versions of it on this CD.
"Palomares, Spagna" starts off with a similar horn figure but downshifts to smoky organ, bass and saxophone.
"Elegante e Raffinato" is a dreamy piece for strings that should remind you of Henry Mancini. "Agente Segreto Innamorato" and "Riviera Party" are different arrangements of the same tune.
"Petite Valse d'Amour" is a lilting waltz with accordion playing the main line. "Latin Glamour" sounds like background music for a party. It sounds like a samba to me, but I'm not an expert. angement of that same piece.
"Ecstasi d'Amore" is another dreamy tune with nice harp and vibes playing. "Car Drive" is an uptempo jazz piece that's a bit Latin, a bit West Coast.
"Orchestra d'Altri Tempi" has a 1920s jazz sound and uses the timpani for comic effect (or so it seems).
"Operazione Recupero" starts out sounding a bit like Edwin Astley's theme for The Saint TV show (the one with Roger Moore). It's mostly for horns with effective support from the bass.
"In Vienna" is a polka, I guess, one of those beer-drinking sort of songs.
"Proiettili e Baci" returns to the love theme and surrounds it with some other musical atmospheres.
I don't suppose I'll be able to see this movie anytime soon. Daniele Magni in Segretissimi, his guide to Italian spy movies of the 1960s, compliments Ferrio on his score and even provides some of the lyrics.
Black box… Black box… Black box…
Black box inizia il fine del finimondo
se scoppi tu non c'è più il tempo di dire yè
sei la novità
di una civiltà
che ce l'ha con noi
si, ce l'ha con noi
e produce guai…
Magni notes that Black Box Affair is "very-low budget con zero aggeggi tecnologici (solo una macchinina radiocomandata esplosiva… sigh!)".
---