2011 January 17 • Monday
The 148th Soundtrack of the Week is one of the greatest soundtracks of all time, James Brown's score for Black Caesar.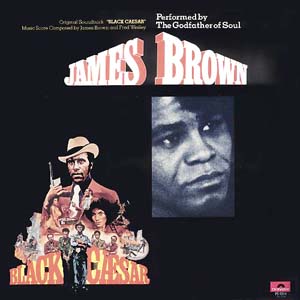 It's a great movie, one of Larry Cohen's best, about the rise to power of a ghetto kid. I tried to watch the sequel once and turned it off after fifteen minutes or so. The first one is too good. I didn't want a lesser effort taking up space in my brain.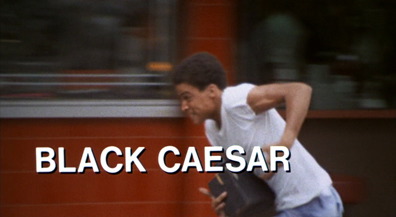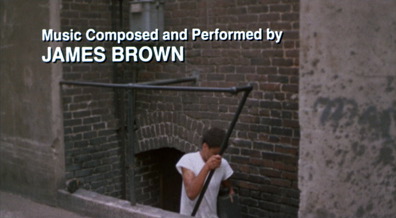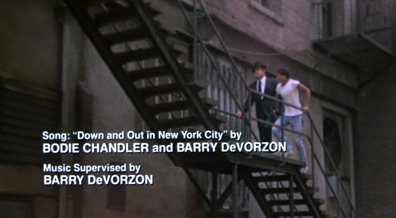 The record begins with "Down and Out in New York City", an awesome song given a bravura performance by Brown. It's such a perfect fit for him that I was really surprised that he didn't write it. The lyric "Here's a dime, boy, give me a shine, boy" would have had special resonance for him. "And the street's no place to be, but there you are" is another good one. And then there's "So you try hard, or you die hard, no one really gives a good damn".
After this intense and emotional opening comes instrumental funk that sounds like James Brown in a mellow mood. "Blind Man Can See It" is a gentler version of the James Brown sound when it was at its most formidable, in the early 1970s.
"Sportin' Life" is also a sunnier and more cheerful sort of James Brown, actually groovy in a slightly goofy and mellow sort of way. "Dirty Harri" has a smoky soul groove and luminous Hammond organ playing. Here's a record I never get tired of. This is so great!
Next up is my favorite tune from the album, a vocal number featuring James Brown—who kicks it off with, "One, two, get down!"—and an irresistible funky groove that manages to be driving and swirling at the same time. "Look at me. Know what you see? You see a bad mother." Just when you think it can't get any better it goes into an insane turnaround and Brown grunts and offers "Told you so!".
The famous James Brown scream opens "Make It Good To Yourself", another vocal number with a wicked rhythm and particularly intricate drumming.
"Mama Feelgood" opens with guitar solo, then come the horns, the band, and Lyn Collins singing. This piece might have the fullest sound of any on the record. Perhaps it uses the greatest number of musicians. There's some wild horn playing.
Pure sadness and tenderness are expressed with "Mama's Dead", a delicate piece with a brilliantly restrained string part and some magical electric piano playing. James Brown's vocal work here is among the most moving of his career. "Mama's dead. Never again will she hold my hand."
"White Lightning (I Mean Moonshine)" will get your toes tapping again. Check out the flute figure about eight seconds in. Amazingly subtle orchestration—listen to the hand percussion in the left speaker. Some hot Fender Rhodes (I think) playing, too.
"Chase" opens with a blast from the horn section, then a response from some hand percussion. This happens a few times, then the band kicks in with a dizzyingly off-kilter groove. Abruptly it switches gears entirely to something funereal, then it changes again to a clarion, then again to a guitar spitting out one note like machine gun bullets. Then we're back to the tilt-a-whirl groove again. The harmonic movement is difficult to predict. First it goes up, then it goes down. Then the song fades out and you arrive at the last cue.
"Like It Is, Like It Was" is a blues with vocals by Brown, expressing the main character's desire to go home after having risen to and fallen from power.
One time I saw some magazine's list of what were supposed to be the 100 best film soundtracks of all time. Black Caesar wasn't on it, so the list was worthless.
---