2011 January 10 • Monday
The 147th Soundtrack of the Week is Jerry Fielding's The Black Bird.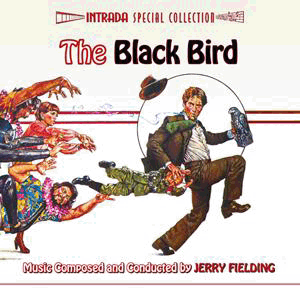 The movie is a caper comedy about Sam Spade's son chasing after the maltese falcon again. George Segal is Sam Spade, Jr.
Fielding's mostly buoyant music covers a lot of ground.
The "Main Title" starts out in a straight-faced dramatic mood, somewhat similar to Fielding's score for The Wild Bunch, but then a synthesizer or some other electronic instrument comes in, letting you know that this will be different fare.
Some excellent polyrhythmic percussion livens up "Palace of Fine Arts" while "Palace of Fine Arts Revisited" is a slinky funk groove with organ and electric bass guitar.
"First Seduction Scene" and "Second Seduction Scene" both create impeccable romantic atmospheres with keening violin parts before an unexpected orchestral crash with piano strings.
"Chase Through Kitchen" recalls music of the Big Band Era such as "Little Brown Jug" and "Sing, Sing, Sing" while "Reminiscent Rhythm Room Medley #1" is a clever pastiche of "The Carioca", the song that made stars out of Fred Astaire and Ginger Rogers.
There's also a cue called "Funky Street". Some serious flute playing on that one.
---