Monday • 2010 April 05
Last November when it was Charles Bronson Month here, we selected Ennio Morricone's Città Violenta (Violent City) instead of Morricone's better known C'era una volta il West (Once Upon a Time in the West). The latter we said we'd save for Claudia Cardinale month.
Welcome to Claudia Cardinale Month! All of April's Soundtracks of the Week will be from her movies.
Claudia Cardinale was born on April 15, 1938, in Tunisia. She's still working a lot, in film and television. Her Internet Movie Database page shows 105 credits for her as of this writing, including movies still in production and pre-production. In addition to acting, she's been a UNESCO good will ambassador for the Defense of Women's Rights for almost twenty years now.
Our first Cardinale movie, and the one hundred and seventh Soundtrack of the Week, is Il bell'Antonio, scored by Piero Piccioni.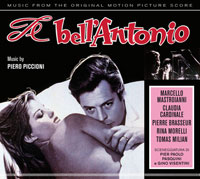 Marcello Mastroanni is the Antonio of the title, a young man who returns from Rome to his native Sicily, where everybody is talking about his prodigious sexual exploits, his irresistibility to women and how he's been taking advantage of it.
In fact, Antonio has never had sex, and isn't capable of doing so. Not merely impotent, he becomes physically sick if he attempts intercourse. As a man in the Sicilian society portrayed here, nothing could be more shameful and he tries his best to hide it. His parents are eager to arrange a marriage for him to the daughter of a powerful local family but Antonio won't consider it.
Until, that is, he sees a photo of the prospective bride: Claudia Cardinale. "An angel," whispers Antonio as he falls in love. Cardinale's character Barbara has been raised not to know anything about the facts of life, so when the two marry and move into Antonio's parents' orchard, they become like Adam and Eve, innocents at play in a garden of Eden.
Of course there will be a serpent, and acid satire of ideas about sex, love, religion, politics, until a tragic, humiliating, despairing conclusion. It's one of the saddest movies I've ever seen, and one of the most impressive, too, with a daring and intelligent screenplay, perfect performances and brilliant photography.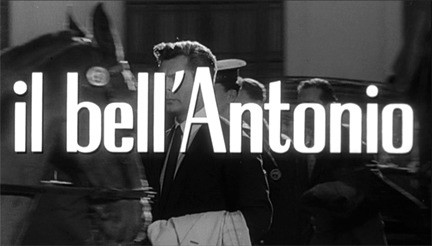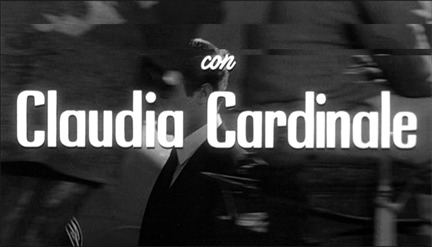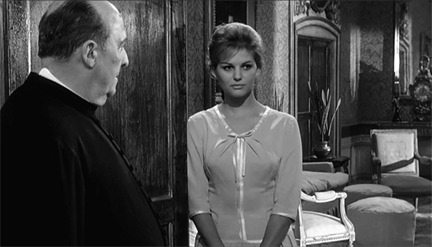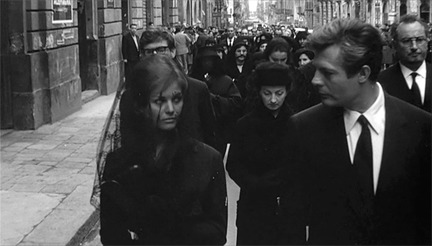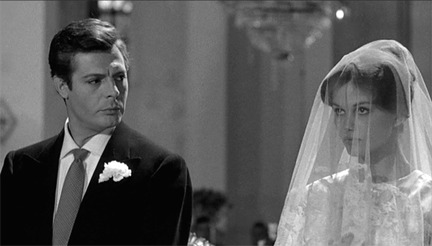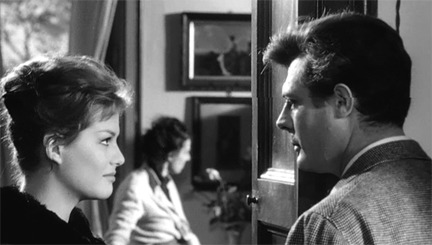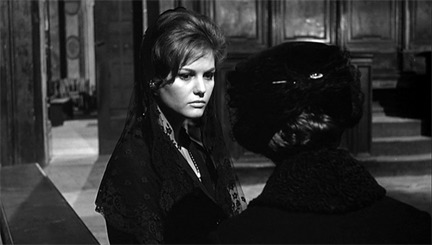 Piccioni came up with a hauntingly beautiful main theme for Antonio's tortured soul. The whole score is a great example of how much can be done with a relatively small ensemble. Most of the music draws on jazz idioms and recalls high points of jazz film scoring such as Elmer Bernstein's Sweet Smell of Success and The Man With the Golden Arm, Johnny Mandel's I Want To Live! and Duke Ellington's Anatomy of a Murder.
The CD doesn't include a track listing, or much information at all, but there are 29 cues, ranging in tone from downbeat to upbeat. There's some music for a wedding, some music for a funeral, some great baritone sax playing and some moody numbers that reminded me of Sun Ra's Jazz in Silhouette. My favorite cues are the more dramatic underscore compositions with string section, particularly an unusual 12/8 one. (It might be 6/8, actually, or something else. I'm not so good at figuring out that stuff.) You hear it a few times, once with Italian vocals.
---