2009 December 28 • Monday
The ninety-third Soundtrack of the Week is this triple-feature CD: Gian Piero Reverberi and Gian Franco Reverberi's score for Le Malizie di Venere, Carlo Savina's Hypnos: Follia di Massacro and Piero Umiliani's 28 Minuti per 3 Milioni di Dollari.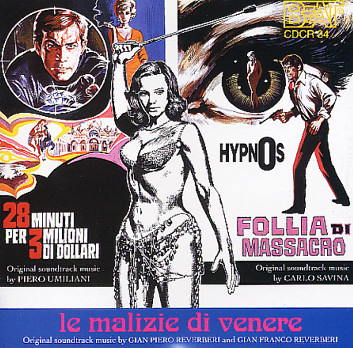 Le Malizie di Venere had me worried at first. It begins with some generic "lounge" music. This continues with the second track, on which the electric bass playing seems, uh, inadequate.
The third track picks things up with the kind of backbeat-driven number most often referred to as a "shake" in these Italian soundtracks. This is followed by a more laid-back shake featuring some sick timpani playing—the pedal gets a real work out—and very reverby sitar.
After that comes another track of crappy "lounge" music, but then a nice uptempo cue that has the sitar joined by organ. This is followed by a sensitive acoustic guitar piece. After that comes a heinous easy-listening cue, perhaps the world's most irritating samba (if it is a samba). It concludes with an uninspiring theme song.
Hypnos: Follia di Massacro begins with a nicely atmospheric theme song, then continues with effective dramatic underscoring and a very nice, almost eerie piece for percussion, electric bass, organ and electric guitar.
This is followed by a track of almost all percussion, then a couple more dramatic and thematic cues.
28 Minuti per 3 Milioni di Dollari begins with the kind of wordless jazz chorus that some people love but I hate. Once that's out of the way, though, the second cue is nicely suspenseful and toe-tapping at the same time. The third piece has a bouncy, lilting quality, almost too far over the line into "easy listening". I like it anyway.
The remaining cues build on these foundations (with the occasional exception, such as the ninth cue, which appears to be a Mexican folk song or something, or the tenth cue, a vaguely Jimmy Smith-like jazz organ thing). No real stand-outs here, but an enjoyable listening experience.
---