2009 June 22 • Monday
The sixty-sixth Soundtrack of the Week is Film Score Monthly's CD of The Heart Is a Lonely Hunter, music by David Grusin.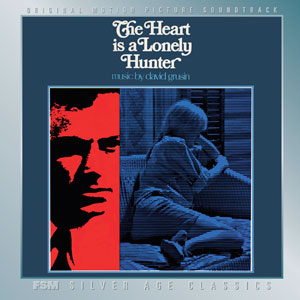 Grusin's score for this movie is very nice, sweet and lyrical, using harpsichord, classical guitar, harp, synthesizer, percussion and various other instruments, sometimes with tape delay. There are some moments—the first few seconds of the main title music, for instance—that seem to indicate the influence of Bernard Herrmann.
My favorite cues are those Grusin created to serve as source music. Instead of licensing songs that were on the radio at the time, he (and collaborators) came up with their own original material to suit the scene. "Beyond the Reach of Love", performed by The Blossoms, has a great Phil Spector-like feel. There are various country/western songs, Hollies-like pop songs, an excellent psychedelic rock song complete with frenzied sitar playing, rhythm and blues and other dance music cues.
As is typical of Film Score Monthly's releases, the CD contains a wealth of unused material never before released, as well as the original LP program.
---