2009 June 15 • Monday
The sixty-fifth Soundtrack of the Week is the new Prometheus Records release of Bernard Herrmann's score for The 7th Voyage of Sinbad.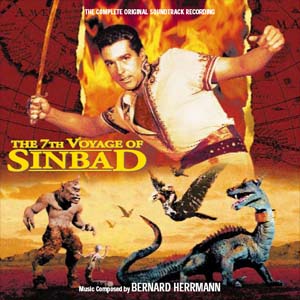 Not only is this one of my favorite scores—my band Ghost Wave used to cover "Bagdad" from this—it's one of my favorite movies. I've seen 7th Voyage on television, on laserdisc, on dvd, on videotape and even projected from 16mm.
The music itself is a devastating display of Herrmann's talents. Romance, action, suspense, exotica, dread and countless other moods are contained in the score.
"The Overture" is one of Herrmann's most exciting cues and is followed by one of his most effectively atmospheric and ethereal, "The Fog". "Street Music" is lilting and mysterious while the music for Ray Harryhausen's brilliant stop-motion animated skeleton ("The Duel with the Skeleton" etc.) is one of Herrmann's most famous and most celebrated compositions.
One of the best things you could do with this recording is to listen to it with headphones in a very dark room.
The Prometheus release is a 2-CD set, very reasonably priced at $21.95. The first disc is the original soundtrack recording while the second disc is the original soundtrack album.
---