2009 May 25 • Monday
The sixty-second Soundtrack of the Week is this double CD, Junko Fuji Best Collection Volume Two, one of a series that presents the original soundtrack recordings of music from Toei film productions.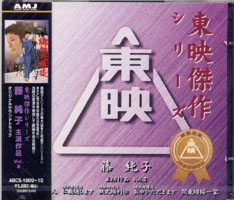 Their strategy is to concentrate on films associated with a certain star. In addition to Junko Fuji, there are CDs of music from the films of Takakura Ken, Tomisaburo Wakayama and Sugawara Bunta, among others.
Junko Fuji was the star of the Red Peony Gambler series, in which she played a wandering swordswoman and gambler trying to reconstruct her clan. Those movies are very enjoyable, thanks to Fuji's performance, the moody cinematography and moodier music. The scores to three of those films are here, along with music from two other other Fuji films, Onna toseinin (1971, Chivalrous Woman) and Kanto hizakura ikka (1972, Cherry Blossom Fire Gang).
Chuji Kinoshita, Takeo Watanabe and Taichiro Kosugi are the composers responsible for the music here. The general feeling is melancholy with an anxious and apprehensive atmosphere, as the characters are drawn inexorably to their fates by circumstance and code of honor.
Usually one instrument dominates, sometimes organ, electric bass guitar, electric guitar, flute or trumpet. This makes the ensemble playing that much more exciting when it happens.
---