2009 May 11 • Monday
The sixtieth Soundtrack of the Week is "Stand By For Action!": The Music of Barry Gray.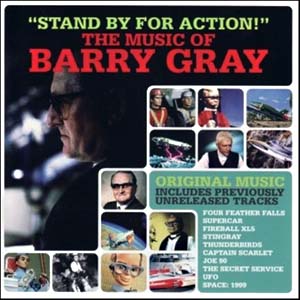 Barry Gray is famous for scoring Gerry and Sylvia Anderson's "Supermarionation" programs like Thunderbirds and Stingray, as well as Anderson's live-action science-fiction series Space: 1999 and UFO.
This CD covers the fruitful Anderson/Gray collaboration, starting with two selections from a television program I had never heard of, a Supermarionation western called Four Feather Falls.This is followed by three cues from Supercar, including the very catchy "Supercar Twist".
After the Supercar music are four tracks from Fireball XL5. "Formula 5" is a tune in 5/4, indisputably patterned after Paul Desmond's famous "Take Five". (The unidentified alto sax player does a great job of producing a Desmond-like tone.) There's also a vocal version of the theme, called "I Wish I Was a Spaceman" ("I wish I was a spaceman / the fastest guy alive / I'd fly you 'round the universe / in Fireball XL5"). According to the liner notes, this spent 11 weeks on the UK charts in 1963, climbing as high as number 32.
Next are five cues from Stingray, including "Stand By For Action!", for which the CD is named. The theme music for that show is one of my all-time favorites. Following are four tracks from Thunderbirds, then six from Captain Scarlet and the Mysterons, whose theme music is even better than Stingray's! The opening features screaming cats, machine gun fire and mysterious footsteps. "White as Snow" is extremely catchy and "The Mysteron Theme" is a lovely and ethereal piece that I've always wanted to cover.
After Captain Scarlet come five pieces from Joe 90. Of this material, my favorite is the backbeat-driven "Hijacked", originally released as the B side to single of the main title. It sounds like John Bonham in Motown or something. Next are two tracks from The Secret Service, with its very unusual main title music, an a capella jazz fugue.
After this is my real favorite, the music from UFO. I used to connect my VCR to my tape recorder to get this music. Fanderson, the official Anderson fan club, released a limited edition of the original soundtrack recordings of music from this program years ago. It is a source of constant sorrow to me that I do not own one. Like all the Fanderson releases, it was available to members only and not found in stores. In Tokyo several yeasr ago I bought a double CD of re-recordings of this music but it is most definitely not the same. (I joined Fanderson last year so I wouldn't miss out on these things in the future.)
There are five selections here, beginning with the terrific opening credits music, an uptempo, organ-driven, instrumental rock masterpiece. "The Trip" is also a great cue, from a hippies-on-acid episode called "The Long Sleep".
The CD conludes with four pieces from Space: 1999, a show I remember loving when I was a kid. I had the toy spaceship and the Martin Landau and Barbara Bain action figures. Watching it again recently I was impressed by how cerebral and poignant many episodes of the first season were. With the second season everything kind of went to hell as the show was produced on a lower budget and became more of a Monster of the Week show. Of course, those were the episodes I liked best when I was a kid. I wanted monsters, not thoughts.
The main title music manages somehow to outdo the UFO theme, by starting with strings and then assaulting the listener with wah-wah pedals and distorted guitars.
As promised, the CD includes previously unreleased tracks. Even though I already had about ten Barry Gray CDs, many of them devoted to music from the shows represented here, several tracks on "Stand By For Action!" I heard for the first time. While this 80-minute compilation is the best place to start for anybody new to Gray's work, it's bound to please those who are already fans.
---