2009 May 04 • Monday
In honor of the Creature Features game, the fifty-ninth Soundtrack of the Week is Mad Monster Party, with music by Maury Laws and lyrics by Jules Bass.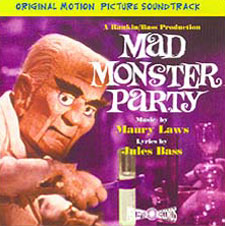 This album was supposed to hit stores in 1967, when the movie came out, but lack of money prevented its release. Thirty years later, though, the people at Retrograde Records, Percepto Records and Film Score Monthly made it happen!
It's a must-have for fans of Henry Mancini and John Barry, two likely influences on the music. The title song, sung by Ethel Ennis, is by far my favorite track but there's a lot of great music here. "The Baron" and "Jungle Madness" are also exceptionally good.
How can you resist any record with vocal numbers by Boris Karloff and Phyllis Diller?
---