---
Monday, 18 August 2008
Mr. Dorgon's new CD, Valerie Solanas, is a change of pace from his last few releases. It's soothing and meditative and I highly recommend it.
FSM's collection of M-G-M western scores, The Naked Spur, was excellent listening, as I assumed it would be. There were some cues for the movie The Naked Spur that reminded me of some of John Williams's famous scores for blockbusters like Superman.
The twenty-second Soundtrack of the Week is Mikis Theodorakis's score for Five Miles to Midnight.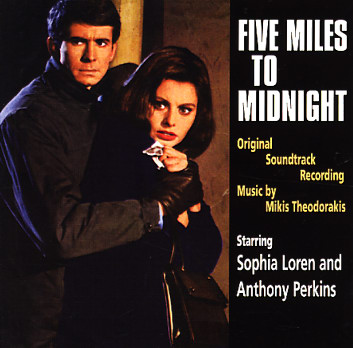 It's another fairly eclectic offering, with jazz, swing, bongos and musette as well as several dramatic and atmospheric tracks. There's a cue which sounds a lot like Henry Mancini's theme for Mr. Hobbs Takes a Vacation.
---