---
Monday, 11 August 2008
Back on-line but dial-up only. A humbling experience. I can't yet upload the larger image files mentioned below.
The twenty-first Soundtrack of the Week is Film Score Monthly's The Naked Spur: Classic Western Scores from M-G-M.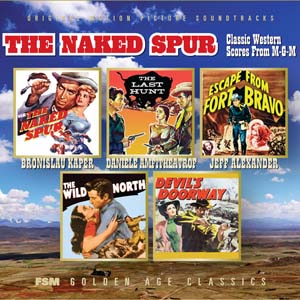 I actually haven't listened to it yet but it's the soundtrack of the week because I was worried I would never get it. It sold out within days of its release. I had been one of the first people to order it, but when Screen Archives Entertainment sent the package to my new Brooklyn address, it was returned to them, stamped "DECEASED".
I told the nice people at SAE that I wasn't dead; they sent it again and it arrived today. I'll listen to it first thing tomorrow.
---