---
Friday, 07 December 2007, 9:23 pm
Dexter Bierhorst Price
---
The forty-first Soundtrack of the Week is Kung Fu Super Sounds, selections from the De Wolfe Music Library that were used in Shaw Brothers martial arts movies, 1976–1984.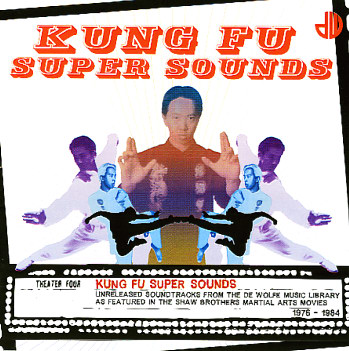 My favorite cues are the haunting and ethereal selections that were dropped into the movie Heaven and Hell. Many other tracks are eerie and suspenseful, some funky in a '70s TV cop-show way. You may be reminded here and there of Goblin or Miklós Rósza or John Barry.
Some of these cues could be dropped into a sci-fi or horror movie, and in fact Dawn of the Dead used some music from the De Wolfe library also.
---
At just about the exact time I was writing yesterday's post about how often a cinema audience will ruin a movie for me, some guy in Philadelphia shot somebody for talking in a movie theatre. Here's the story.
Nobody died. The shooter "returned to his seat and continued watching the movie" while everybody else ran away.
One time my friend Dan and I were watching a movie at Anthology Film Archives. The place was almost deserted yet this couple came and sat directly in front of us and talked through the whole movie. Dan asked them to be quiet and they threatened to assault us after the movie was over — after the movie was over!
That's the part I don't get. They weren't watching it in the first place. Why didn't they just beat us up right then and there?
---
Years ago I was at a showing of John Woo's The Killer at the Brattle Theatre in Harvard Square. The audience laughed loudly and continuously through the whole movie. They found something hilarious in every single scene. If Chow Yun Fat merely walked into a room, it was funnier than anything Buster Keaton ever did.
A few years after that I found myself at the Film Forum, again surrounded by an audience that couldn't stop laughing. The movie in question was Alfred Hitchcock's The Birds. There was finally silence when Suzanne Pleshette's mutilated corpse was shown. "Why aren't you laughing now?" called out an irate patron to the momentarily hushed crowd.
Actually, this happens all the time. I've walked out of screenings of favorite movies because I can't stand the audience. It seems the only time it doesn't happen is when you're seeing some new Hollywood garbage. Dancing scenes in movies from the '60s can only be laughed at, but a dancing scene from now, be it a hundred times more laughable and stupid, well it's now. That's what it's supposed to be.
This comes to mind because of this article by Chris Fujiwara, in which he brilliantly describes and analyzes this laughter, even organizing it into four types: Pop-Trash-Camp Laughter, The Laugh Against the Strong Image, The Emotion-Disavowing Laugh and The Ideologically Knowing Laugh.
---
The fortieth Soundtrack of the Week is Dimitri Tiomkin's score for The Thing from Another World.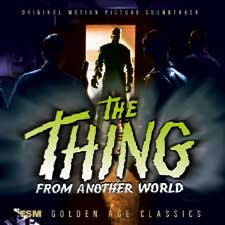 1951 was an important year for film music. It brought The Thing from Another World, with Tiomkin's influential, theremin-driven music, as well as The Day the Earth Stood Still, with Bernard Herrmann's influential, theremin-driven music.
While Herrmann's score is minimalist and mostly lyrical and ethereal, Tiomkin's is extremely aggressive, assaulting the viewer with sounds of pure terror. It's an amazing listening experience. Besides the theremin, you'll hear wind machine, flexatone, two sets of timpani, two pianos, three harps, pipe organ, lots of brass and woodwinds, and double bass (the only strings).
(For some reason, the documentary Theremin: An Electonic Odyssey features Herrmann's music — it's the first music you hear and there's a segment on The Day the Earth Stood Still — but, as I recall, doesn't even mention Tiomkin.)
There isn't very much music (less than half an hour), so the Film Score Monthly release also contains Tiomkin's score for Take the High Ground!, a more straightforward military drama. It's not the kind of music I enjoy very much, but I'm happy to have it included here.
---
Radio City Music Hall opened on December 27, 1932. Nick and Nora Charles were there. Chapter 14 of Dashiell Hammett's The Thin Man (© 1933) begins with this: "That night Nora and I went to the opening of the Radio City Music Hall, decided we had had enough of the performance after an hour, and left".
It's worth noting that the back of the Vintage paperback edition describes the movie adaptation, not the book itself. You won't find any "wisecracks and martinis" in the novel — unless your idea of a wisecrack is "I don't care" and your idea of a martini is whiskey. And Nick and Nora Charles are about as "glamorous" and "romantic" as is the hero of The Stranger.
---
At The Strand this morning I saw about a dozen Black Lizard paperbacks, several copies of each, all for $3.95. I thought these books were out of print and desirable. It seems like a deal. I didn't notice any remainder marks or anything like that.
I only bought one, The Devil Wears Wings by Harry Whittington. I don't think I've ever read a heist novel with a getaway plane before. The first line is: "They gave me the okay from the control tower and I told the girl to take it down".
I intend to read something by Philip Roth one of these days. I don't doubt that his books are good but his latest, Indignation, does not pass the first line test. I picked it up and didn't even finish the first sentence. I got this far: "About two and a half months after the well-trained divisions of North Korea, armed by the Soviets and the Chinese Communists, …".
---
I've been looking at the first lines of favorite books by favorite authors, expecting them to be great and finding that many of them aren't. It's hard to come up with a great first line. A lot of authors need two or more lines to get things moving.
This made me think of the series of Parker novels that Donald Westlake wrote using the pseudonym Richard Stark. These books about a professional thief, written from the early '60s to the early '70s, are great, fast-paced thrillers — and many of them have great opening lines.
Butcher's Moon, from 1974, should have been the grand finale (first line: "Running toward the light, Parker fired twice over his left shoulder, not caring whether he hit anything or not"), but more than twenty years later Westlake started writing Richard Stark "Parker" books again.
The new Parker novels got good reviews but I didn't think they were about the same Parker. It's sad to read in one of the new books, for instance, how Parker always carries a quarter in case he needs to make a phone call. Are you kidding? After fifty years of robbing armored cars, can't Parker heist the small change from a payphone? He can't memorize a calling card number? (Parker can get safe fake credit cards, so why not a calling card?)
This page has all of the first lines of the Parker novels. The first lines of the new ones are too busy and trying too hard. Not all of the old ones are great, but when the first line of a book is like the first line of The Mourner — "When the guy with asthma finally came in from the fire escape, Parker rabbit-punched him and took his gun away" — it's hard to stop reading.
---
The thirty-ninth Soundtrack of the Week is Nora Orlandi's music for Il dolce corpo di Deborah (The Sweet Body of Deborah).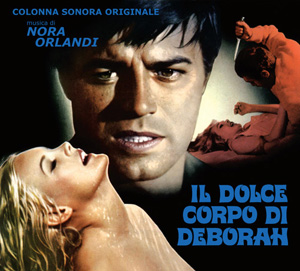 Who knew that Carroll Baker, of Baby Doll fame, made a giallo? Lots of people, but not me. I haven't seen the movie but I wanted to hear the soundtrack as I enjoyed Nora Orlandi's music for Lo strano vizio della Signora Wardh (The Strange Vice of Mrs. Wardh). There's an interesting interview with Orlandi here, where she talks about her career.
The CD of Il dolce corpo di Deborah has 24 tracks, but it's really 12 tracks twice, the first time in "simulated stereo" and the second time in mono. The main theme, "Marcel-Deborah" is beautifully ethereal and has a sick organ sound. There's also some lounge stuff which reminded me a bit of Armando Trovaioli, some bossa nova and a "shake" that reminded me of music from those Edgar Wallace krimi films.
---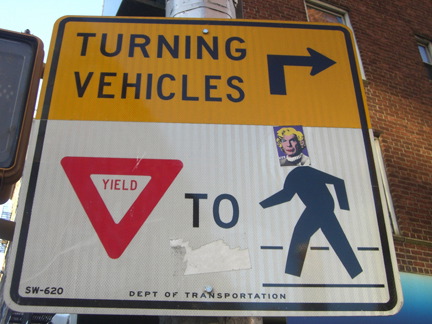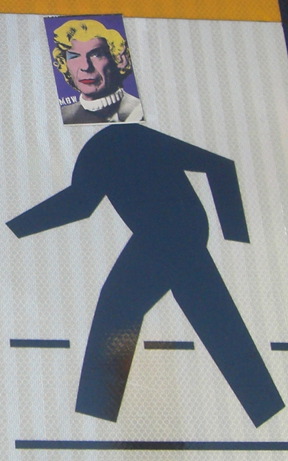 ---
The thirty-eighth Soundtrack of the Week is Peter Thomas's score for Erinnerungen an die Zukunft (Chariots of the Gods), a German documentary about space aliens that might have visited Earth a long time ago, built pyramids and influenced human civilization in various ways. (Thanks a lot, aliens.)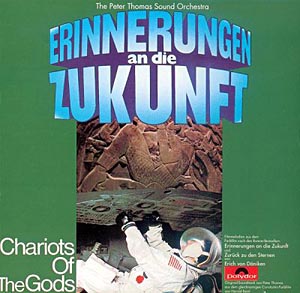 I'd like to see the movie someday but for now I can only listen to the CD. It has only two tracks, each about 18 minutes long, so perhaps this is some lazy and unofficial transfer of an LP.
The music is fantastic, though, seamlessly blending ethereal melodies, breakbeat funk, weird noises, world music grooves and whatever else Thomas can think of.
I've been a Peter Thomas fan ever since I heard his music for the German TV show Raumpatrouille (Space Patrol). Erinnerungen an die Zukunft is some of his best work.
---
Happy birthday, Dexter! He turns one today!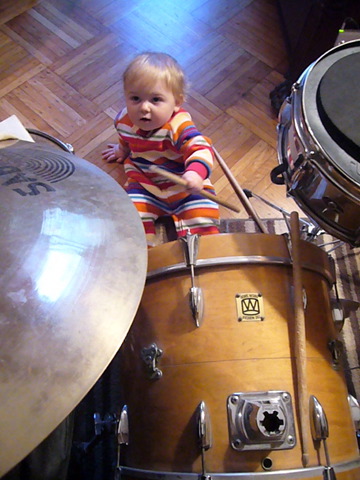 ---
Here are three new CDs to check out.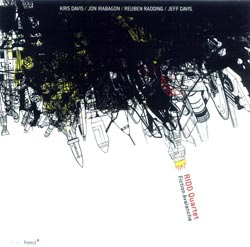 "Fiction Avalanche" by the RIDD Quartet (Reuben Radding, Jon Irabagon, Kris Davis and Jeff Davis) presents a collection of spirited (and improvised, I assume) tunes. Anything with Reuben on it is worth hearing but the other players (new to me) are also great.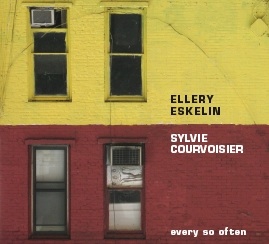 Ellery Eskelin and Sylvie Courvoisier's "Every So Often", the new CD on Ellery's "prime source" label, is one of the greatest recordings of free improvisation I've ever heard. The music ranges widely in dynamics and density but always flows clearly and freely. This is the kind of thing people are talking about when they enthuse about great musical interaction.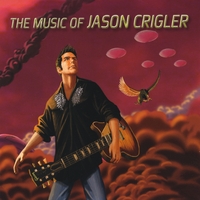 Jason Crigler's album of his own songs sung, for the most part, by people other than himself, is out at last. "The Music of Jason Crigler" is a journey both musical and otherwise, and great listening all the way through. Check it out.
---
When I think back to what pieces of soundtrack music impressed me when I was a kid, these (among others) come to mind: Bernard Herrmann's score for North by Northwest (as well as his theme for the radio show Suspense), the solo organ arrangement of a bit of Saint-Saëns' "Le Rouet d'Omphale" that was used as the theme for the radio show The Shadow (best theme ever), Akira Ifukube's Godzilla themes, Laurie Johnson's music for The Avengers, Elmer Bernstein's music for Stripes and the thirty-seventh Soundtrack of the Week.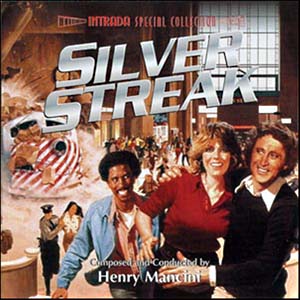 That's right, Silver Streak by Henry Mancini. Look, if I just wanted to be cool, there are several other Mancini scores I could go with here; Touch of Evil, for instance, or Peter Gunn or Mr. Lucky.
It just so happens that I saw this movie (more than once) when it first came out and was haunted by the music. It's really about the main theme — rather similar to Nelson Riddle's Route 66 theme, isn't it? — and the love theme. They're both perfect and you hear them about a zillion times in the film. No wonder I can't forget them!
As usual, Mancini has practically the entire A-list of session musicians working for him here: among others you'll hear Ann Stockton on harp, Shelly Manne on drums and guitarist Bob Bain, who contributes some impressive wailing wah-wah + distortion guitar here, à la John McLaughlin in the Miles Davis days. That's for the scene, you may remember, when Richard Pryor applies shoe polish to Gene Wilder's face, gets him some "threads" and a transistor radio, and … never mind.
This Intrada Special Collection CD has almost 80 minutes of music on it, presenting the complete score in mono and some highlights in stereo.
---