---
Friday, 07 December 2007, 9:23 pm
Dexter Bierhorst Price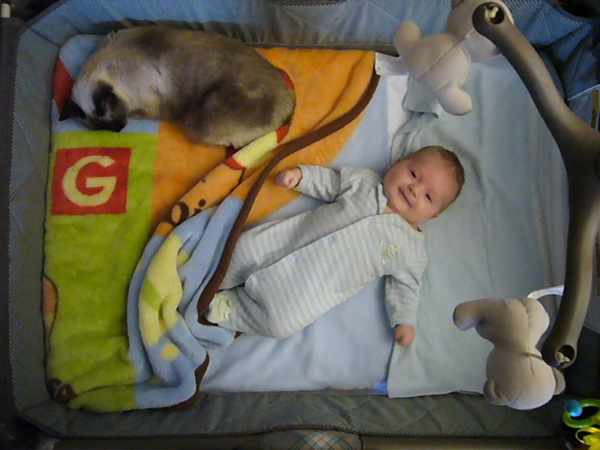 ---
Now that Dexter is here, our one-bedroom apartment seems a bit small. What we need is something with, say, five bedrooms, ten toilets, five wood-burning fireplaces, four terraces and a living room that "is considered the most magnificent privately owned room in the world". If you have $70,000,000 to spend and can afford $38,720 a month in maintenance fees, go for it.
Check out the Pulp of the Day (via boingboing). That and the Astronomy Picture of the Day are great ways to start the morning.
---
I've been listening to so much soundtrack music lately that I think I can select a "soundtrack of the week" for the next year or so. Here's the first one: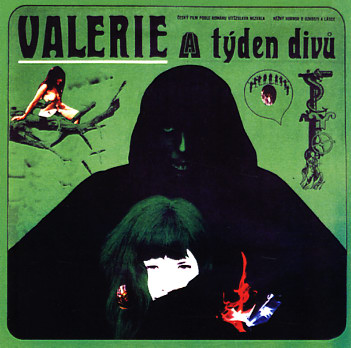 This is Luboš Fišer's score for the 1970 Czech movie Valerie and Her Week of Wonders. The music is lyrical, dreamy and haunting. The main theme reminds me a bit of John Barry's gentler side.
The CD seems not to be available from Screen Archives Entertainment, my usual first stop for soundtracks. I got my copy from Dusty Groove America, another great resource.
---
Anybody interested in comics (comic books or comic strips or comix or sequential art or industrialized hieroglyphics or whatever you want to call them so long as you don't put Debbie Dreschler's work in the "Humor" section of your bookshop) should check out Eddie Campbell's blog and this great "Wally Wood's 22 Panels That Always Work" via Joel Johnson's blog via boingboing.
---
Happy 80th birthday, Patrick McGoohan! And many happy returns to Number 6, born the same day.
Let's talk about art. When I say art, I mean art, not "art". Here are two amusing photos from The Wooster Collective, via boingboing. The first photo is a response to the hideous new modern "art" museum on the Bowery. My sentiments exactly. The second photo is of something so clever and charming that I will probably never forget it. Photo one, photo two.
I love Katy Horan's art. My friend Mikael introduced me to the work of Peter Callesen, also very impressive. It's always nice to be reminded that there are people producing great, original and interesting work out there.
---
Friday the 13th comes on a Thursday this month, as a certain turtle would say.
Here are some more recommendations for fans of The Prisoner. This great new 3-CD set is essential for anybody who really loves the show. Finally you can listen to entire scores as well as outtakes and alternate cues for almost all of the music composed for the series. It's fun to hear breakdowns of the main theme — some of them only a few seconds long — and the many takes of "special effects" music like timpani and bass or timpani and piano strings to accompany Rover. There's a lot of timpani on these CDs, often solo or in combination with one or two other percussion instruments. I can't get enough of stuff like that!
Also of interest are Robert Fairclough's two volumes of original shooting scripts for The Prisoner. They're annotated, pointing out the differences between what was written and what was broadcast. Each volume includes a rejected script in its entirety so you can see what might have been. Volume One also has an appendix of unmade storylines and Volume Two features the script of a pilot for what would have been a new series, The Outsider, starring Patrick McGoohan.
Here's something else that's great — and free! Lee Feldman is one of my favorite musicians/composers/performers. The first time I saw him live I was blown away. When I saw him perform other times after that, I was even more thrilled. He's unique, an original, very talented and hard-working. I encourage all of you to check him out next time he plays. While you're waiting for his next gig, though, watch Lee Feldman, Lee Feldman, a 24-minute documentary about him. Then buy his CDs.
---
I don't think anybody has ever asked me to name my favorite living writer. I know, it's a shocking oversight. Nicholson Baker would be my answer. He has a typically erudite and entertaining piece in the latest New York Review of Books. To read "The Charms of Wikipedia", just click here.
After you read it, click here for an xkcd comic which touches on one of his main points.
Fans of The Prisoner, click here to see the music video for The Times's "I Helped Patrick McGoohan Escape" on YouTube, filmed partly at the Hotel Portmeirion, "The Village" from The Prisoner. Portmeirion is a fantastic place. I was lucky enough to pay it a visit in the late '90s, passing through Wales on my way from London to Dublin.
---