---
Saturday, 08 December 2007
Alice and I just became parents, a few weeks earlier than expected. Meet our son, Dexter Bierhorst Price!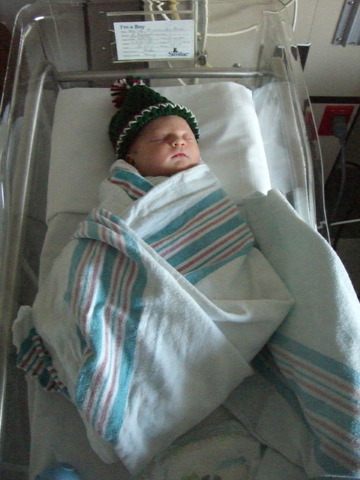 Okay, we realize that Dexter is also the name of a popular television series about a serial killer named Dexter. Alice and I picked the name Dexter in the spring of 2004, more than two years before the show began. We were thinking more about Cary Grant, who plays a character named C. K. Dexter Haven in The Philadelphia Story. (Everybody calls him Dexter or Dex.) There are also Dexter Gordon and Dexter Romweber.
We've never seen the show Dexter. We were talking about checking out the first season on DVD since we don't have cable. Somehow I don't think we'll have time for it now. However, I'm more than halfway through the first book, Darkly Dreaming Dexter, the basis for the series. It's very good! Quite funny, absorbing and unusual. I'm really enjoying it.
At one point, while we were waiting for labor to intensify, I took a walk around the corner to get something to eat. I passed Partners & Crime, a mystery bookstore on Greenwich Avenue. They had a window display for the latest Dexter novel, with this sign which seemed magically appropriate to Alice and me.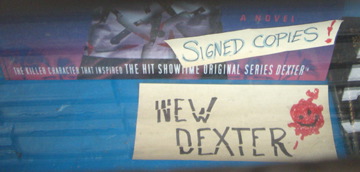 New Dexter, that's for sure!
Our fantastic Ob/Gyn, Dr. Kirk Young, was amused by our choice of name because Dexter is one of his favorite TV shows. Since I haven't seen the show and he hasn't read the book, we compared notes. While Alice was laboring hard, Dr. Young and I were talking about the "ice truck killer". That's probably not the usual delivery-room conversation.
---