---
Saturday, 24 November 2007
I was just wondering if there's a connection between Barbara Pym and Josephine Tey's novel Miss Pym Disposes. It seems there is not. The Tey book is from 1946 and Pym didn't publish her first book until 1950. Perhaps the "Pym" of Tey's novel is a distant relative of Edgar Allan Poe's The Narrative of Arthur Gordon Pym of Nantucket. According to this article about the second meeting of the Barbara Pym Society of North America, Barbara Pym enjoyed Josephine Tey's mysteries.
---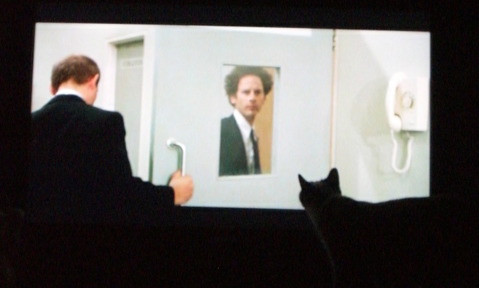 Happy Thanksgiving!
---
Tomorrow is when the new re-recordings of Bernard Herrmann's scores for Mysterious Island, Fahrenheit 451 and The Twilight Zone: "Walking Distance" are supposed to ship. These are the first releases on the new Tribute Film Classics label. Conductor William Stromberg announced recently that they have now also recorded Herrmann's scores for The Kentuckian and Williamsburg: The Story of a Patriot, as well as Max Steiner's score for She.
It would be greedy to ask for more Herrmann re-recordings but here comes one anyway, shipping December 3 from Varèse Sarabande. The Slovak National Symphony Orchestra conducted by Joel McNeely has recorded Herrmann's complete score for North by Northwest. This is without a doubt one of Herrmann's greatest works and the CD will feature world premieres of some cues — including music that isn't heard in the film.
---
I've just started to explore the Peanuts Memories Box. It contains 10 CDs, 1 DVD and 2 books. Ever since childhood, when I first saw The Peanuts in Godzilla movies, I've dreamed of having some of their records. I realized this dream when Alice and I went to Tokyo in 2004 and I bought the Peanuts Rare Collection CD.
Now I have this box set which contains every single they ever released, some previously unreleased music, songs from movies and live recordings. I'm listening to Disc 1 right now. One interesting song is 情熱の花. I think this would be pronounced "jonetsu no shi" and translated as "Death of Passion" or "Dying Passion". What's interesting about it is that it's kind of a mariachi interpretation of Beethoven's "Für Elise".
In other news, I can recommend three things to do in Jersey City. I went out there the other day to play with drummer Andy O'Neill. We had lunch at Taqueria Downtown, which has excellent tacos. They're prouder of what they don't have than of what they do have, though. You'll see what I mean if you go there.
(Now The Peanuts are singing something to the tune of Tchaikovsky's Swan Lake.)
From Manhattan you take the PATH to Grove Street if you want to go to Taqueria. Andy lives closer to the Journal Square stop, so that's where I caught the train home. And that's where I saw this: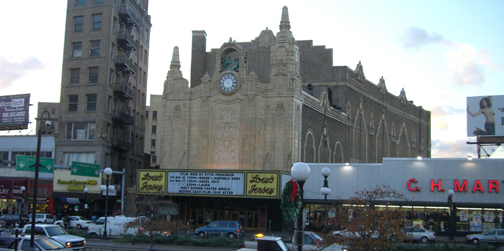 That is the Loew's Jersey, a gorgeous movie palace from the 1920s that is now a not-for-profit community arts and entertainment center. This is one of the best ideas that I have ever heard. Every city should have a movie palace that's run as a not-for-profit community center. Click the link and take the virtual tour.
(Now The Peanuts are signing "Jingle Bells". There's quite a range of stuff in this collection.)
As cool as the photos on the website are, nothing can compare to being inside the place for real. They don't show movies very often but this weekend they just happened to be showing three Otto Preminger-directed films noirs with Foster Hirsch, the author of a new Preminger biography, in attendance to introduce and discuss each film.

Alice and I went and saw Laura and were thrilled by the splendor of the Loew's Jersey's interior. The screen may be the largest I've ever seen in a cinema. Here's a photo of Foster Hirsch standing in front of it: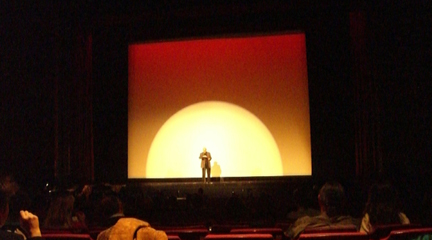 That's Jersey City attraction number two. Number three is Morgan Seafood, a great Egyptian restaurant around the corner from the Loew's Jersey. I thought their hummus and fried calamari were only okay, but the rice with shrimp was really good, with an unusual blend of spices giving it a complex but mellow flavor. Their sliced eggplant with garlic and vinegar was surprisingly sweet and buttery.
Best of all, though, was the grilled porgy. Every since eating it, about 16 hours ago, my stomach has been radiating with contentment and I can still recall its wonderful taste, so perfect that I didn't even touch the slices of lime that came with it.
They're open from noon to midnight every day, the prices are really low and the service was very friendly. It felt kind of weird to go from Manhattan to New Jersey on a Saturday night, but it was worth it!
---

Film Score Monthly is an online magazine and record label, responsible for CD releases of some of the greatest music ever created. Some of my favorite Bernard Herrmann music has been put out by FSM: On Dangerous Ground, Beneath the 12-Mile Reef, The Egyptian and others.
I recently subscribed to the online magazine, even though I don't expect to read it often. (There's a lot about today's film music and I'm more interested in yesterday's film music.)
I bought a subscription because it occurred to me that I'd be happy to pay them $4.95 a month just to encourage them to keep putting out CDs!
Their newest release is Ennio Morricone's soundtrack to Navajo Joe. This CD is amazing, some of the best music I've ever heard. I recommend buying it with FSM's CD of Morricone's soundtrack for Guns for San Sebastian, also fantastic.
Here's something else really cool, via Boing Boing: scans of obscure comic books with art by Jack Kirby, courtesy of Monster Blog. These have apparently never been reprinted.
That's a picture of the Empire State Building from last Friday. All of the lights were yellow to celebrate the tenth anniversary of The Lion King on Broadway. I'm not kidding. Click here to see the lighting schedule.
---
Thanksgiving is coming and one of the many things I'll give thanks for that day will be the new Rambo movie coming in 2008. Sylvester Stallone stars again as John Rambo — the last name comes from "Rimbaud", believe it or not — and also wrote and directed.
Stallone has been writing movies since 1976 (Rocky) and directing them since 1978 (Paradise Alley). His first gig as writer/director/star was 1979's Rocky II. He has a memorable though unspeaking part in Woody Allen's Bananas but I suppose Fred "The Hammer" Williamson is the writer/director/star that Stallone resembles more closely.
Apparently, Stallone is also scheduled to write and direct Poe, a 2009 movie based on the life of Edgar Allan Poe. Is there anything he can't do?
The new Rambo movie is called Rambo. This is not what I would have called it. The Internet Movie Database lists the following working titles for it:
John Rambo
Rambo IV
Rambo IV: End of Peace
Rambo IV: Holy War
Rambo IV: In the Serpent's Eye
Rambo IV: Pearl of the Cobra
Rambo: To Hell and Back
Some of these titles are lame, some awesome. Pearl of the Cobra? Where do I buy my ticket? But none of these titles is the right title. Here's a list of the first three Rambo movie titles.
First Blood
Rambo: First Blood Part II
Rambo III
I would call the new movie Rambo II. Better late than never.
---
You can now pre-order two new re-recordings of Bernard Herrmann scores: Mysterious Island and Fahrenheit 451. The latter includes a large string orchestra arrangement of Herrmann's music for the Twilight Zone episode "Walking Distance". These are from the team of William Stromberg, Anna Bonn and John Morgan. They restored the scores and Stromberg conducted the Moscow Symphony Orchestra.
These CDs are the first releases on their new Tribute Film Classics label and Screen Archives Entertainment will include a Tribute Film Classics tri-fold card with every order. I've enjoyed greatly all of their re-recordings — all that I've heard, anyway — including Herrmann's Five Fingers, The Snows of Kilimanjaro and Garden of Evil, as well as Herrmann and Alfred Newman's The Egyptian (one of my favorites). Lately I've been listening to their re-recordings of scores for films such as The Maltese Falcon, Son of Kong, The Most Dangerous Game, House of Frankenstein and Objective, Burma!.
---
The new Alice Bierhorst CD is out! It's without a doubt one of Alice's best. She recorded with an amazing band: Jason Crigler, Anton Fier, Greta Gertler, Rob Jost and Noe Venable. Buy it!
---