---
Saturday, 29 September 2007
There's only one current film critic whose work I read regularly, Mark Schilling. His reviews of new Japanese movies for the Japan Times are what interest me, though he writes for Variety as well. I met him last night at the Japan Society, where he introduced the first film in a series of Nikkatsu action movies. He has a book about these movies coming out in December, but those of us at the A Colt Is My Passport screening last night were able to buy one then and have Schilling sign it.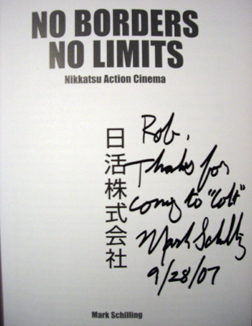 Star Jo Shishido also wrote a letter to the film's audience. It was projected on screen before and after the movie.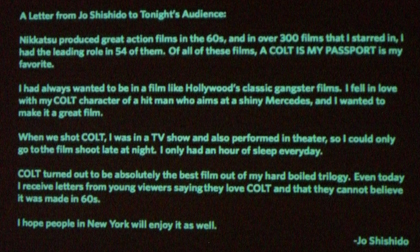 It says:
A Letter from Jo Shishido to Tonight's Audience:
Nikkatsu produced great action films in the 60s, and in over 300 films that I starred in, I had the leading role in 54 of them. Of all of these films, A COLT IS MY PASSPORT is my favorite.
I had always wanted to be in a film like Hollywood's classic gangster films. I fell in love with my COLT character of a hit man who aims at a shiny Mercedes, and I wanted to make it a great film.
When we shot COLT, I was in a TV show and also performed in theater, so I could only go to the film shoot late at night. I only had an hour of sleep everyday.
COLT turned out to be absolutely the best film out of my hard boiled trilogy. Even today I receive letters from young viewers saying they love COLT and that they cannot believe it was made in 60s.
I hope people in New York will enjoy it as well.
— Jo Shishido
---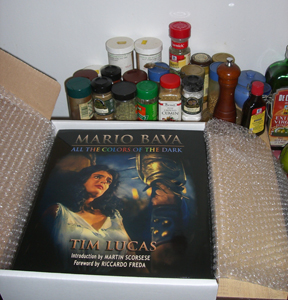 This book arrived in the mail for me today. That's not usually a big deal. I frequently order books, CDs, DVDs and who knows what else and they show up sooner or later. This is an extreme case of later, though.
When Tim Lucas started taking pre-orders for his biography of Mario Bava, I sent him a check. That was sometime in the last century. Looking back over my records, I find a cancelled check from November 1999 that could have been my Bava book pre-order. I can't remember, though, and it doesn't matter. It's here now!
As a result of shelling out the cash on faith — the price was around $100 — I and many others are included in a list of "Patrons" at the back of the book.
My only concern now is with its size. The thing is huge, as you can see if the jars of cumin and other spices provide a useful reference. It weighs about twelve pounds and is too big to fit on most book shelves. Will I be able physically to read this book? To pick it up and hold it?
It brings to mind Martin Amis's review of Isaac Asimov's two volumes of autobiography, "considerably longer than War and Peace". "I went along to meet Asimov having just let In Memory Yet Green crash to the floor, and having just winched In Joy Still Felt on to the lectern."
---
Furthermore, I can remember eating all three: Big Wheels, Ding Dongs and King Dons. Here's a drawing from life I made when I was a teenager.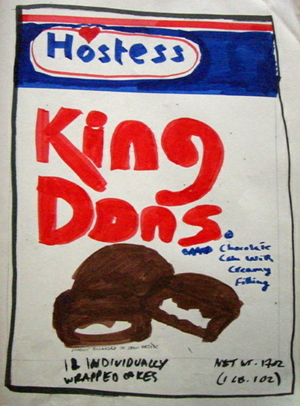 But where are they? I've been to over a dozen stores and found only Ring Dings, no Ding Dongs. Is there a new Ring Ding/Ding Dong conflict? Perhaps the story is one for which the world is not yet prepared.
---
I've just read the Wikipedia entry on Ding Dongs. Fascinating. The best part is this paragraph:
The Ding Dong was first marketed by Hostess in 1967. The name was given to coincide with a television ad campaign featuring a ringing bell. The company marketed the snacks on the East Coast as Big Wheels, to avoid confusion with the Ring Ding, a similar (and pre-existing) treat by Drake's Cakes. The names were consolidated in 1987, when a short-lived merger of Drake's with Hostess' parent company (then Continental Baking Company) briefly resolved the Ring Ding/Ding Dong conflict. When the merged company broke up, however, Hostess was forced to cease, once again, using the Ding Dongs name in areas where Ring Dings were available. The compromise sound-alike name King Dons lasted until Interstate Bakeries Corporation, which had recently merged with Hostess' parent company, bought Drake's in 1998. The Hostess product is now sold under the name Ding Dongs throughout the United States. However, the snack is still sold as the King Don in Canada.
I will fall alseep tonight thinking of the phrase "Ring Ding/Ding Dong conflict".
The Wikipedia entry includes some television shows and movies in which Ding Dongs have been mentioned but fails to include the Ding Dong motif in Bill Griffith's Zippy the Pinhead. It's been going on for decades! Maybe I'll edit the entry to include this.
---