---
Just a quick note to all restaurants in the United States. The odds are about 10 to 1 that the music you're playing sucks, 20 to 1 that it's too loud.
And of all the idiotic "post-9/11" "be afraid, be very afraid" crap, the Woolworth Building's "no tourists beyond this point" policy is among the most idiotic.
We had friends visiting us from Sweden last week and while I was able to show them the lobby of the Chrysler Building and the many attractive features of Grand Central Station, we were repelled with extreme prejudice from the Woolworth Building.
---
This Bruce Schneier essay is probably worth reading once a week until you've memorized it.
In other news Alice, Gracie and I watched Casino Royale yesterday. It wasn't bad but it was still bloated with pseudo-mythic pretension and jaw-droppingly stupid scenes, not to mention some of the worst dialogue I've ever heard in a movie.
Don't get me wrong. It wasn't bad. But it was really stupid. As dumb as Pierce Brosnan's invisble car was, Daniel Craig's dashboard defibrillator was just as ridiculous.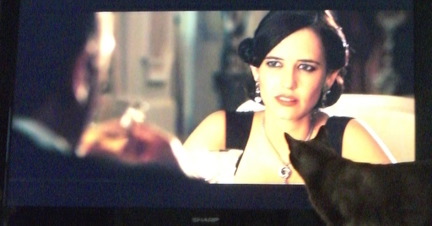 I'm also a little tired of the Terminator-secret-agent hero. Both James Bond and Jason Bourne smash through their movies like heavily armored tanks. They make Mike Hammer look thoughtful. It's like watching a video game that you're not allowed to play.
Casino Royale would have been better if they'd cut 45 minutes from it and hired somebody else to compose the score. David Arnold's music was just watered-down John Barry, derivative and dull.
---
There turned out not to be a huge number of hilarious anecdotes in Humphrey Carpenter's Spike Milligan biography. One that comes to mind involves Milligan's hatred of piped-in music in public places and "hold" music on phones. Once, after being put on hold and forced to listen to whatever music, Spike sang a whole chorus of "Hey Jude" to the telephone operator before he got to the point of his call.
Legend has it that when the inventor of Muzak committed suicide, his widow received a congratulatory telegram from Milligan.
---