---
Sunday, 01 January 2006
Happy New Year!
Starting now and continuing over the next couple of weeks, here are some of the movies I saw for the first time and liked best of the more than 200 films I saw in 2005.
The favorite actors of 2005 were Barbara Stanwyck, who was in 11 of the movies I saw, and Robert Mitchum, who was in 9. Peter Lorre (8 movies), Joan Crawford (7 movies) and Lee Van Cleef (7 movies) were the runners up. Bernard Herrmann was the favorite soundtrack composer (8 movies), no surprise. The favorite director was Hayao Miyazaki (7 movies). Edith Head was the favorite costume designer (12 movies).
The Notorious Sophie Lang is a pre-code feature from 1934, the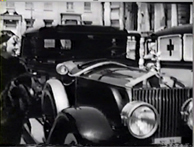 first of three films which star Gertrude Michael as the title character, the world's most accomplished jewel thief. I've wanted to see these movies for years, and it was a pleasure finally to track down one of them. Sophie Lang is the creation of short-story writer Frederick Irving Anderson, one of my favorites, who also created The Infallible Godahl, another master criminal. In this scene, Sophie is ditching her Rolls Royce and getting into an ambulance as part of her escape plan after robbing a diamond importer's shop.
An enjoyable surprise was the Spanish horror movie, Who Can Kill a Child? (1976). I wouldn't recommend this to most people who have young children, and certainly not to anybody who's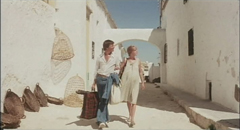 pregnant. Basically, it's The Birds but with children instead of birds. With the exception of a very wrong choice of opening-credits sequence, which unnecessarily belabors a point and borders on the offensive, it's very well done. It's unusual to see a horror movie which almost exclusively takes place in daylight. The Birds did this too, as did The Wicker Man, but neither of them is so relentlessly sunny as Who Can Kill a Child?
On Dangerous Ground (1952) has one of my favorite Bernard Herrmann soundtracks. In fact one of the cues, "Solitude", has found its way into the repertoire of my quartet with Ellery Eskelin, Trevor Dunn and Jim Black. Robert Ryan is, as usual, a psycho, but this time he's a psycho cop. His feelings about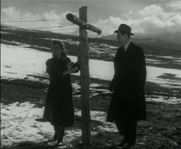 New York City and its denizens are such that he and Travis Bickle would get along famously. Worried that he may snap and kill somebody, his boss sends him out of town to a rural area upstate where a psycho killer is hiding somewhere in the snowy mountains. He meets Ida Lupino, the blind sister of the killer and runs into vengeful locals whose bloodlust disturbs even him. Great cinematography — note the cross — enhances some of Lupino's and Ryan's best work. One of the cues Herrmann wrote for this film turned up again in North By Northwest.
---