---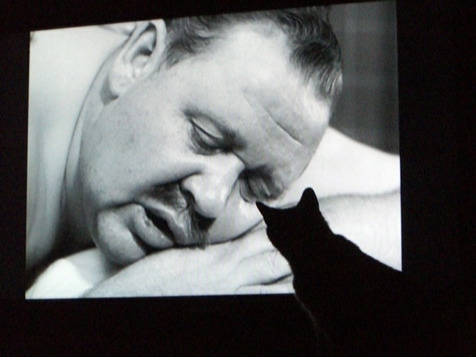 Gracie and I both enjoyed The Big Clock, a 1940s crime thriller adapted pretty faithfully from Kenneth Fearing's novel of the same name. (The hero is less innocent in the book.) I read and enjoyed the book sometime in the last year and the movie is a lot of fun. Everything about it is well done but the art deco sets deserve special mention. They alone would be reason enough to see this movie.
Other reasons would be Charles Laughton and Elsa Lanchester. Ray Milland is the star of the picture and he's quite good, but these two pros — classic movie-monster portrayers (title roles in The Hunchback of Notre Dame and Bride of Frankenstein) who were married in real life — slide onto the screen and steal the show. Laughton from the first moments of his first scene is mesmerizing. Lanchester in her second scene becomes the most interesting character in the movie and I found myself wishing that we could ditch the murder mystery and watch a movie about her instead.
In other news, here's an excerpt from an article I enjoyed reading, by Alex Burghart, writing in the Times Literary Supplement #5402, October 13, 2006.
The net is the greatest source of misinformation the world has ever known: if you receive unfettered access to all understanding, bonkers or no, then you become ill-informed rather than uninformed. We all crib "facts" from the Web without checking them. When the abolition of the Lord Chancellor's office was announced, newspapers were quick to declare the imminent death of a "1,400-year-old institution". There is absolutely no historical evidence for this claim, but all the journalists had clicked their way to the Lord Chancellor's website and found a page copied from a wholly inaccurate nineteenth-century history book. This was harmless enough, but the plagiarism of an outdated online thesis by the authors of the British Government's intelligence dossier on Iraq had somewhat more sinister ramifications.
The Web already contains a database of DNA collected by police over ten years of investigation and, if you have ever been close to a crime scene, the chances are that yours is in it. Gradually, they are matching genes to names and addresses, and although the website is restricted, it's reasonably easy to hack into it. This is not true: I've written it to prove that most people instinctively believe what they read regardless of where they read it.
---
This is a pastrami eggroll, something you can get at this Kosher Chinese/Japanese place on E. 34th and Madison. It's called Eden Wok. No shellfish, no pork. I've been working in that part of town for almost three years now and I'm always looking for a good lunch. It's one of the best places I've worked as far as lunch goes. Korean food, Indian food, Eisenberg's, Waterfront Ale House (where, ahem, I would never go for lunch during a workday). Sometimes I'll go to the Oyster Bar in Grand Central, take the subway to Chinatown or up to the Grand Sichuan on 2nd Ave and 55th. I'm not sure yet what to make of Eden Wok. I like the pastrami egg roll. The General Tso's chicken was pretty good. The sesame chicken (pictured) was good but not as good and the chicken with broccoli I had today was completely flavorless.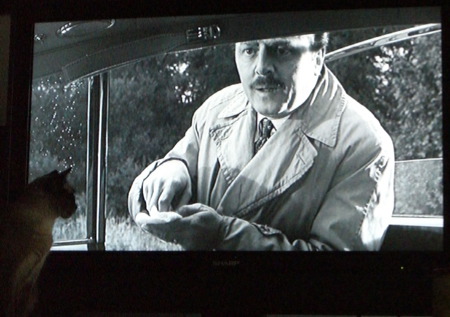 Gracie and I tried to watch Seance on a Wet Afternoon. I was curious about it because of John Barry's score, one early in his career. I found the movie to be too dull for my taste. At some point I thought, "How much of this is left? Ten, fifteen minutes or something?" I was only halfway through with about an hour to go. That's when I remembered a whole lot of other stuff I had to do that day. Seance on a Wet Afternoon was remade by Kiyoshi Kurosawa a few years ago. I thought the remake was kind of boring too, but not boring/interesting like some of his other movies. Just boring.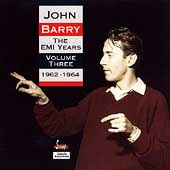 John Barry didn't write a lot of music for Seance on a Wet Afternoon, but what he did write is great. It's an unusual score for a small ensemble with harp, piano, flute, vibes, probably a few other instruments, I can't remember. Bernard Herrmann was always able to get incredible results from small ensembles like that — check out his work for radio and television — and Barry has acknowledged Herrmann as an inspiration.
A rocking version of the theme from Seance on a Wet Afternoon was released as a single in the early '60s and is included on the CD John Barry: The Emi Years Volume Three 1962 – 1964.
---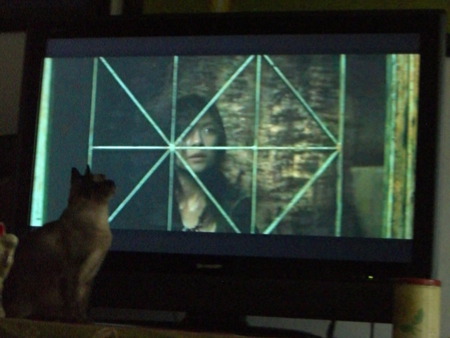 Thanks to everybody who came to the Cawthray/Price/Zankowski shows in Canada! And thanks especially to Chris, Shauna and Lola for their hospitality. They make these trips up north so pleasurable!
The Pang Brothers, who had some success here with The Eye, have a new movie out, called Re-cycle. It's billed as a special effects extravaganza. I never saw The Eye but Alice, Gracie and I checked out Re-cycle yesterday. There's not much of a plot: a writer enters an imaginary world, much of it of her own creation. I guess it's somewhat similar to Existenz. In more ways than one, since I thought both movies were really boring. We bailed out of Re-cycle after about an hour. I fast-forwarded to the end, which I thought was really lame.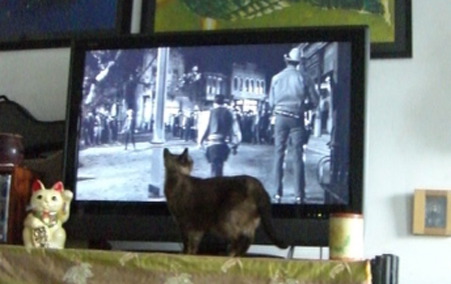 Gracie and I both liked Anthony Mann's The Tin Star (1957), a solid Western starring Henry Fonda and Anthony Perkins, with great cinematography by Loyal Griggs and music by Elmer Bernstein. Griggs makes excellent use of the windows in the sheriff's office. In film school they teach you about framing within the frame and The Tin Star provides some wonderful examples of this. Henry Fonda is a former sheriff turned bounty hunter who helps out the inexperienced, well meaning but naive new sheriff Anthony Perkins. In this scene Fonda and Gracie provide Perkins with much needed support.
I also watched The Ipcress File again. It's one of my favorite movies and a startling counterpoint to the James Bond movies which made use of some of the same talented people: composer John Barry and set designer Ken Adam, to name two. This is an espionage drama, not an action movie. Everything, even the story itself, is revealed slowly and quietly. Otto Heller's photography is relentlessly brilliant. Every frame is composed in an interesting way and frequently goes beyond aesthetic value to have a textual significance. For instance, when the identity of the mole is revealed, there's a wonderful moment involving a red lamp shade: the red agent is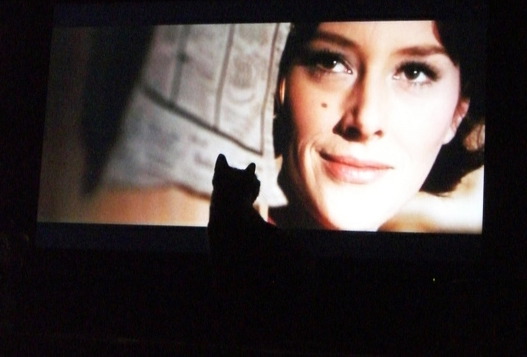 illuminated in this scene. It's a beautiful image all by itself but its layer of meaning makes it more exciting.
---