---
One of the things I hate most about the "Arts & Leisure" section of the New York Times — even the name seems dismissive of creativity, which is apparently more of a leisure activity than watching sports or dining at expensive restaurants — is how so many articles begin with an assumption of your ignorance.
In today's New York Times, there is a review of some exhibit of art from and inspired by The Wizard of Oz. The headline reads, "The Emerald City, In All Its Colors". The first line of the piece challenges you, "Click your heels together if you know who L. Frank Baum was..."
By this point, "Emerald City", "click your heels together", you know what they're talking about, right? The article assumes you're still stumped and continues: "No? Well, as any Ozophile can tell you, he was the author of what is still one of the most popular children's books in the world (eat your heart out, Harry Potter), 'The Wonderful Wizard of Oz,' published in 1900."
I might not have cared about any of this, but the pointless reference to Harry Potter irritated me. Another thing I hate about the "Arts & Leisure" section is how everything has to be tied to whatever is really popular right now, the lowest common denominator. I wondered if Harry Potter really should be eating his heart out. Are the Oz books more popular?
You might think that only the awesome resources of the Internet — the information super-highway, as I like to call it — could provide the answer to a question this trivial. You'd be wrong. However, the Internet is fast and easy and I don't have to move from this chair to use it. This kind of waste of time is not worth a trip to the library.
I typed "most popular children's books" into Google (not using quotes and not, as I write this, using "Google" as a verb), hit the search button and gazed at the results. My first visit was www.literacytrust.org.uk and its list of "Most borrowed books from libraries".
Here are the top library books worldwide, not just children's books:
1. Census
2. Bible
3. Mother Goose
4. Dante's The Divine Comedy
5. Homer's Odyssey
6. Homer's Iliad
7. The Adventures of Huckleberry Finn by Mark Twain
8. Hamlet by William Shakespeare
9. Alice's Adventures in Wonderland by Lewis Carroll
10. The Lord of the Rings by JRR Tolkien
This is interesting. I would have expected Harry Potter to be on this list, though not Oz. Instead, here are Mother Goose and Alice's Adventures in Wonderland! Eat your hearts out, L. Frank Baum and J. K. Rowling!
They follow this with a list of the most borrowed books in the UK:
* Overall top lending author - Jacqueline Wilson
* Top lending children's author - Jacqueline Wilson
* Overall top lending title - Harry Potter and the Order of the Phoenix, JK Rowling
* Top lending adult fiction title - The King of Torts, John Grisham
* Top lending children's fiction title - Harry Potter and the Order of the Phoenix, JK Rowling
* Top lending classic author - JRR Tolkein
* Top lending non-fiction title - A Short History of Nearly Everything, Bill Bryson
There's Harry, but no Oz! Looks like Dorothy will have to eat her heart out. Who the hell is Jacqueline Wilson?
Another Google search: A Wikipedia entry claims that "[o]ver 20 million copies of Wilson's books have been sold in the UK alone" and that they "are typically realistic stories about modern British children facing problems in their daily lives, such as ranging from the death of a pet (The Cat Mummy) to divorce (The Suitcase Kid), homelessness (The Bed and Breakfast Star), and abuse (Secrets)". Hey, those sound interesting.
Maybe it's not fair to concentrate on the UK, though. The New York Times is an American newspaper, after all. Here's another link, "The Best-Selling Children's Books of All Time". Their lists are divided into "paperback" and "hardcover" and only go up to the year 2000. Both lists have 150 titles. Neither list has anything by L. Frank Baum, though they both have Harry Potter books. (The paperback list has The Catcher in the Rye which I wouldn't consider a children's book, though children certainly read it. I think I was 12 years old when I read it.) Dr. Seuss dominates the hardcover list.
A quick glance at the New York Times list of the ten best-selling children's-book series finds Harry Potter in first place and the Oz books not on the list at all.
If you visit Barnes & Noble's web site you'll see that "All Children's Books" are divided into 4 categories: "Classics", "Recommended", "Harry Potter" and "More". Harry Potter has his own link! The B&N sales rank for a $2.99 paperback of The Wonderful Wizard of Oz is 1,131. A $9.99 paperback of Harry Potter and the Half-Blood Prince is 68.
The 50 most popular children's books that Amazon.com customers bought include 12 Harry Potter-related titles and nothing related to Oz.
According to infoplease.com, these are the best-selling children's books of all time, paperback only and through the end of 2000:
1. Charlotte's Web, E. B. White, illustrated by Garth Williams (1974)
2. The Outsiders, S. E. Hinton (1968)
3. Tales of a Fourth Grade Nothing, Judy Blume (1976)
4. Love You Forever, Robert Munsch, illustrated by Sheila McGraw (1986)
5. Where the Red Fern Grows, Wilson Rawls (1973)
6. Island of the Blue Dolphins, Scott O'Dell (1971)
7. Harry Potter and the Sorcerer's Stone, J. K. Rowling (1999)
8. Are You There, God? It's Me, Margaret, Judy Blume (1972)
9. Shane, Jack Schaeffer (1972)
10. The Indian in the Cupboard, Lynne Reid Banks (1982)
E.B. White and Judy Blume? Cool!
Okay, I'm bored with this now. You were probably bored with it quite some time ago. Suffice it to say that Harry Potter has no reason to eat his heart out. Why mention him in this article in the first place?
---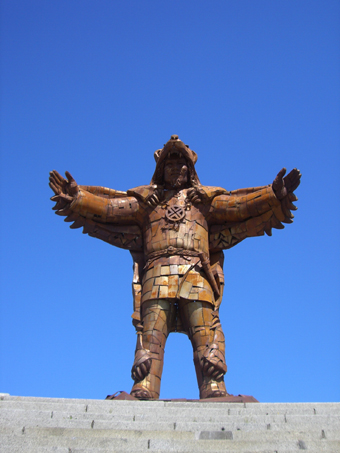 Alice and I just got back from an extremely pleasant vacation in Finland, Sweden and Estonia. Above is something you can see in Tallinn. It's interesting, but not as interesting as the delicious rye black bread ice cream at Bonaparte Deli in the old town.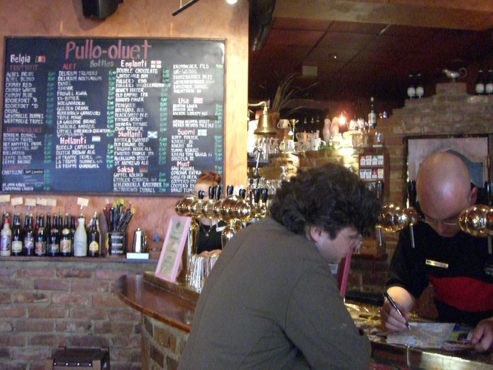 Here I am getting directions from one of the bartenders at Kaisla in Helsinki. He and the other bartenders there were some of the nicest people I've ever met. Kaisla is a lovely place, a huge bar with couches and enough light to read a book in comfort. Alice and I spent many hours there. Of course they have a great beer selection, too, including the infernal Tervapiru — "Tar Devil" — a Finnish microbrew spiced with tar. (I don't know what kind of tar or why. It smells and tastes like the smell of newly paved New York City street.)
We loved Helsinki. It's one of our favorite cities.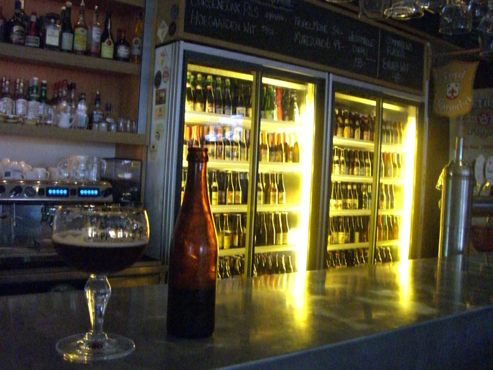 Of course we visited our very good friends in Sweden, one family near Göteborg and the other near Stockholm. We spent just one day in Stockholm and most of it was at Belgo Baren, pictured above. That beer on the counter is the Westvleteren 12, a Belgian quadrupel which has been voted the best beer in the world! I tried it for the first time at Belgo Baren and thought it was amazingly good, certainly one of the best beers I've ever had. I followed it with the Westvleteren 8 (dubbel) which I think I liked even better. I need more tastings to be sure. The Westvleteren Blonde was rather ordinary by comparison, I thought. I won't bother with it in the future.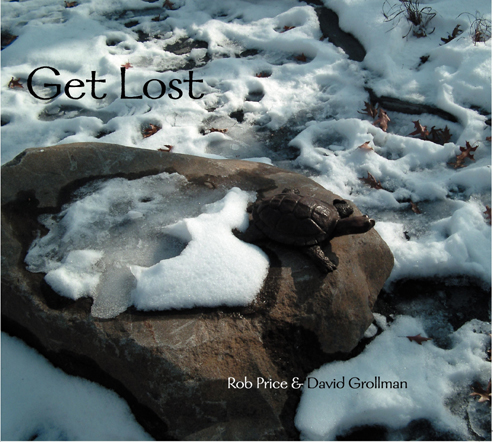 Now I'm back and the new Gutbrain CD is here! It's a recording of guitar/drums free improvisation that I made with David Grollman at Reuben Radding's studio. It will get its own page and ordering links soon.