---
An edited version of a track from my Blue Punctilios record is included on this interesting compilation CD, The Last Signal, from Independent Opposition.The idea was to present different musical answers to the question, "What will the end of the world sound like?" I didn't create anything specifically for this compilation; I only granted my permission for Independent Opposition to use a fragment of "Gutbrain Sound," the first track on Blue Punctilios.
The whole CD is pretty cool. Most of the music is instrumental — industrial or ambient or a little of both — but there are some vocal numbers, too. Most tracks are about a minute, though the shortest is 26 seconds and the longest 3:39. There are 37 selections total.
---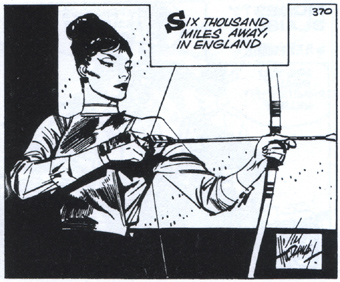 I spent the weekend reading Modesty Blaise comic strips and Nicholson Baker's Room Temperature. I also read a few Roald Dahl stories, just for variety's sake. It was a very nice weekend.
What would also be very nice is if the CD included with the companion book to Douglas Gordon's Feature Film installation were to have its own wide release, so more people could hear this superb recording of Bernard Herrmann's music for Vertigo. From what I gather, the other Vertigo CDs, the original soundtrack recording conducted by Muir Matheson and the 1995 recording conducted by Joel McNeely, are not complete. The Gordon/Feature Film CD (Paris Opera Orchestra conducted by James Conlon) offers 74:35 of music at a slightly faster tempo than the 64:56 Matheson CD. (I don't own the McNeely yet, but I've read that it clocks in at 63:19.) It's too bad that Herrmann wasn't able to conduct the recording of the music that was used in the movie. There is a 10:36 Vertigo suite, performed by the London Philharmonic, Bernard Herrmann conducting, which appears on Herrmann's Music from the Great Hitchcock Thrillers album, though.
Speaking of Herrmann, it was the Bernard Herrmann discussion forum that led me to this amazing Odd Music Gallery, one of the coolest things I've seen in a while. Herrmann apparently used the serpent in at least one score.
---
Most days I read a few pages of Winsor McCay: Early Works, then switch to the Fantagraphics reprints of George Herriman's Krazy Kat. The Kats are beautifully designed by Chris Ware (a truly great artist) and contain great notes, supplemental material and other comics by Herriman. I think they're the standard by which other projects of this sort should be measured.
I received in the mail the other day the first volume in an ambitious reprint series that Joe Rainone — owner of more than 20,000 pulps, dime novels, penny dreadfuls, etc. — is publishing himself. The Art & History of American Popular Fiction: Volume 1A contains reproductions of all the artwork — covers and interiors — from the 19th-century Five Cent Wide Awake Library series featuring Frank Reade, Jr., a prototypical adventure hero who will probably remind you of everything from John Carter of Mars to Knight Rider to whatever junk is on TV today. It's fascinating and I'm eager to see the subsequent volumes.
Another interesting small-press book is Private Eyelashes: Radio's Lady Detectives, by Jack French, a former Navy cryptology officer and retired FBI agent. I had no idea there were enough female crimefighters on radio to fill a book, but sure enough, here they are: Helen Holden, Government Girl; Calamity Jane; Meet Miss Sherlock; Susan Bright, Detective and many, many more.
Other recent reprints I've been happy to see include the four volumes of reprints of the Modesty Blaise comic strip (published by Titan Books), Big Fun's reprints of classic American comic strips featuring Scorchy Smith and Captain Easy, and this collection of subversive 1950s comics by Dana Dutch, Romance Without Tears.
---
Thanks to everybody who came to the show at the Slought Foundation in Philadelphia. Thanks to Mark Christman and Michael Ricci (All About Jazz) for setting it up. A good time was had by all, as they say. Next time I go to Philadelphia, though, I think I'll have to make a side trip to the Weyerbacher Brewery. A few days ago I tried a glass of their Heresy, an Imperial Stout that's aged in oak barrels once used to age bourbon. Wow! That is an amazing beer.
I go to the Village Vanguard every year to see Paul Motian's trio with Bill Frisell and Joe Lovano. That's one of my favorite bands of all time, and since they always play around my birthday, it's kind of a present I can give myself. I know their material really well and I'm a great admirer of Paul Motian's compositions. A couple of years ago, they played a tune which sounded really familiar but which I couldn't name. For days, maybe even weeks, this was driving me nuts.
I can't remember how long it took, but I did hear that tune again. It's the first track on Disc 8 of Thelonious Monk: The Complete Riverside Recordings. It's called "Unidentified Solo Piano" (composer/publisher unknown) and it's about two minutes long. In the liner notes for the Monk Riverside box, Orrin Keepnews says that it sounds like a standard (I agree), but nobody recognizes it.
ECM has just released a new recording of the Motian-Frisell-Lovano trio, and this mystery song closes out the CD. They call it "Dreamland" and credit it to Monk. The CD is called I Have the Room Above Her and it's really great.
---
I'm a Bill Murray fan and I've seen the movie Groundhog Day several times. Out of curiosity, I just searched around for some info on the accusations of plagiarism directed against it.There were at least two.
One of them involved a short film called 12:01, apparently about a man stuck in a 59-minute time loop. The film, by Jonathan Heap, was based on a short story by Richard Lupoff. According to The Apothecary's Drawer, they "were outraged and tried to go after the rascals who robbed us, but, alas, the Hollywood establishment closed ranks..."
Another person who felt robbed was Leon Arden, the author of a book called The Devil's Trill (a.k.a. One Fine Day). Arden's novel appears to be about a man who is stuck in a one-day time loop. It has a few things in common with the movie Groundhog Day, including a similar romantic plot. Arden sued the movie studio for 15 million dollars and lost. On Maud Newton's blog he's quoted as saying, "I think the worst thing for me... was when all the reviews of the film came through and all of them said how wonderful the idea was. Many said the idea was 'genius'. I can't tell you how bad that felt. Because they were really saying how good I was, but nobody knew."
So, did Groundhog Day steal its idea from either or both of these works? I don't know. I do know that nobody I've mentioned so far is the first person to come up with this idea, genius or not.
On January 1, 1939, The Shadow's radio audience heard "The Man Who Murdered Time", about a mad scientist who uses a time machine to loop New Year's Eve. In anticipation of perpetually reliving these 24 hours, he's borrowed tons of money (which he won't have to pay back) and invited his hated cousin over so he can enjoy the pleasure of murdering him again and again and again. Lamont Cranston is aware of the time loop, thanks to the same mental powers that make him The Shadow, but his resistance is weakening. If he doesn't stop the madman soon, he will also succumb and the whole world will be stuck in the loop forever.
I haven't listened to this episode in a while but I remember a couple of similarities it has with the movie Groundhog Day. In one scene, Lamont demonstrates the loop to Margo Lane by predicting that a waiter is about to drop a tray of dishes. The same scene, with Bill Murray and Andie MacDowell, occurs in Groundhog Day. Also, both stories loop a holiday, not just any old day.
I'm not sure who wrote "The Man Who Murdered Time". At the end of the episode the announcer says that the story "is copyrighted by The Shadow magazine," but I think they always say that. I've glanced at the 264 Shadow novels I've downloaded from Blackmask, but so far none of them appears to have the same plot, though some of the titles — "Time Master", "No Time for Murder", "Happy Death Day", Murder Every Hour", "The Man Who Died Twice" — are promising.
---