---
Happy birthday!
It's my brother's birthday today and he's one of the few people who actually read this. Last night we watched Casshern and I don't think either of us thought it was very good. We both found it very hard to follow and I thought it was boring. It's one of three movies which came out last year and were filmed on so-called digital backlots, meaning everything is done in front of a blue screen and all of the sets and everything are created digitally. (The other two were Sky Captain and the World of Tomorrow and Immortel ad Vitam.) Casshern is the only one of these movies I've seen, and I can't say I'm chafing at the bit to see either of the other two.
Tuesday the 25th found Alice and I at a benefit concert for our friend Jason Crigler. It was very moving. The show, which was at Irving Plaza, was sold out. I sat at the merchandise table for most of the night, selling as many copies as possible of Jason's excellent CD. Get well soon, Jason. Come home.
For any of you who weren't at the concert but would like to make a donation to help Jason and his family, you can do so here.
---
A friend of mine recently sent me a clipping from the New York Times, a glowing article about the DVD rele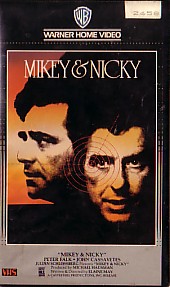 ase of Elaine May's Mikey & Nicky. That's okay with me, as it's a fine movie and well worth some attention from the mainstream media. The piece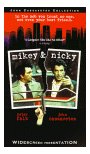 by Dave Kehr, though, is a tad hyperbolic: "When the film opened in New York in December 1976, it sank quickly out of sight and has remained a legend among those lucky enough to see it at its periodic revivals." Really? What about those who saw it when it was released on videocassette by Warner Home Video and then released again by Anchor Bay? Also, it would only remain a legend among those who didn't see it, right?
As long as I'm on the subject of the New York Times, I'd like to set the record straight on something else. A week ago, they had a notice in the Sunday Arts & Leisure section about a lute concert given by Paul O'Dette. I almost went to this. I think my brother and his wife did end up going. The New York Times pitched it thus: "The lute, that dodo of the guitar family, still gets respect from Paul O'Dette." Wow. Doesn't that make you want to go hear some music by Bach performed on the instrument for which it was written? I believe the dodo ceased to exist over 300 years ago. The lute has never ceased to exist. The lute is also a beautiful instrument that does not want for respect, except perhaps from the New York Times.
---
Winsor McCay: Early Works IV (published by Checker) is now available in some book stores, and over the weekend I finally began reading Early Works I. It starts strong with the well known Dreams of the Rarebit Fiend comic strips, a sharp contrast to Little Nemo in Slumberland, McCay's most famous work. The former is a black-and-white dissection of adult anxiety, the latter a frothy, full-color confection of childhood fantasy.
The very first rarebit-induced nightmare is a shocker. A man is trying to cross Broadway in New York City, and with each attempt a speeding car runs over one of his limbs until he's completely dismembered. The final panel of the strip is an eerie echo of the dream, the carefully placed boots beside the bed recalling the man's severed legs, his head visible on the pillow but no body apparent beneath the sheet.
Other memorable nightmares include a woman who stops a speeding train by headbutting it, a man who can't extinguish a lighted match no matter what (it stays lighted in a bucket of water), a woman whose dentist uses a crowbar and dynamite for a tooth extraction, a woman whose lovers kill each other in a duel and are processed into cat food, a man whose endless perspiring floods the city, etc. Winsor McCay was a brilliant artist with an astonishing imagination, and my brief descriptions of these strips don't do them justice.
The Rarebit Fiend strips in this first volume of Winsor McCay: Early Works appeared in newspapers during the years 1904-1914. Some of them will be familiar to those who have read Dreams of the Rarebit Fiend, a book originally published in 1905 but thankfully reprinted by Dover more recently. The Dover edition includes stills from the 1906 Dreams of the Rarebit Fiend movie, as well as some good introductory material, such as McCay's own preface to the 1905 collection, in which rarebit — "melted cheese tempered with brown October ale" — is the subject of mock historical and scientific analyses.
The first volume of Winsor McCay: Early Works also includes Tales of the Jungle Imps (1903), Little Sammy Sneeze (1904-1906) and A Pilgrim's Progress (1905-1910).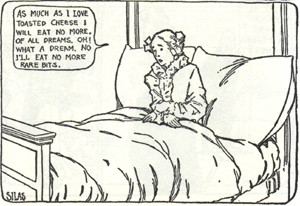 ---
There's an interview with Jorge Luis Borges here. I like what he says at the end about "the myth of countries". Last weekend I was listening to a recording of a lecture he gave at Harvard in the late '60s. It's available as part of a 4-CD set which contains six lectures Borges delivered at Harvard. I listened to "The Riddle of Poetry" and was touched by how much charm, gentleness and humility accompany Borges's erudition.
Last night I watched Pepe le Moko. I tried to watch it several years ago, but the video cassette I had at that time lost all the sound about halfway through. I found out how it ended eventually, not by watching either of the well known remakes, Algiers and Casbah, but by listening to Orson Welles's "Mercury Theatre on the Air" radio adaptation of Algiers. You can download that program (and many others) here. They're all worth listening to, and many of them have original music by Bernard Herrmann. (His work for Orson Welles's radio shows is what led to his first movie-soundtrack gig: Citizen Kane.)
After finally watching the movie from beginning to end — and it was riveting — I found myself thinking that Pepe le Moko is the Father, Bob le Flambeur is the Son and Breathless is the Holy Ghost. It also occurred to me that Hitchock must have appreciated the scene where Régis is killed. Did he ever say anything about Pepe le Moko?
The Criterion Pepe le Moko DVD I watched had some weird problems with focus. About half of the shots looked beautiful, just gorgeous, but the other half had a strange fish-eye focus, where only the center of the image was sharp and clear. On Criterion's web site it says, "Certain imperfections in the negative have been retained in order to preserve the richness of the black and white". Maybe this focus problem is what they mean. I don't know.
Continuing with the subject of DVD quality, if you watch Criterion's DVD of Tokyo Story, you'll probably want to turn the contrast on your television set all the way down. I'm not trying to make Criterion look bad, by the way. I'm very enthusiastic about their releases and, remember, I want them to put out a DVD of King Hu's The Valiant Ones. While I'm at it, I'd like to suggest that they put out a DVD of Jean-Pierre Melville's Army of Shadows and a "Director's Signature" edition of Elaine May's A New Leaf, restored to its original running time.
---
Dragon Swamp, a Shaw Bros. production from 1969, starring Cheng Pei-pei, who is always great. I don't think I can add anything to the review linked above, other than that I wasn't bothered by the quality of the special effects or the wirework.

Criterion is finally releasing Sword of Doom, one of my favorite movies, on DVD. They had done it on laserdisc years ago. I saw it probably about ten times in movie theatres when I was a teenager. One time while I watched, I counted how many people get killed — about 120, as I remember. Toshiro Mifune kills 14 people in what is basically a cameo appearance. Anyway, thanks, Criterion. How about a DVD of King Hu's The Valiant Ones?

Alice will be joining the great band Morex Optimo tonight at 8:00 pm EST on free103point9 Online Radio! Tune in!

Right now on the Gutbrain TV set is a late-'50s JD movie called T-Bird Gang, which my friend Dan gave me a while back. It's a low-budget B picture with a soundtrack by Shelly Manne & His Men. The first two minutes of the film are scored by drums solo, then the combo comes in. How did Shelly Manne get involved with this movie? The music is cool.
---