2020 March 25 • Wednesday
You're probably sick of hearing it, but it really is an excellent time to learn some new accordion music. That's exactly what I would be doing if I had an accordion. (I'd also need to learn how to play an accordion, but there's time for that, too.)
So what you'll want to do is order Guy Klucevsek's book of original accordion music, Vignettes.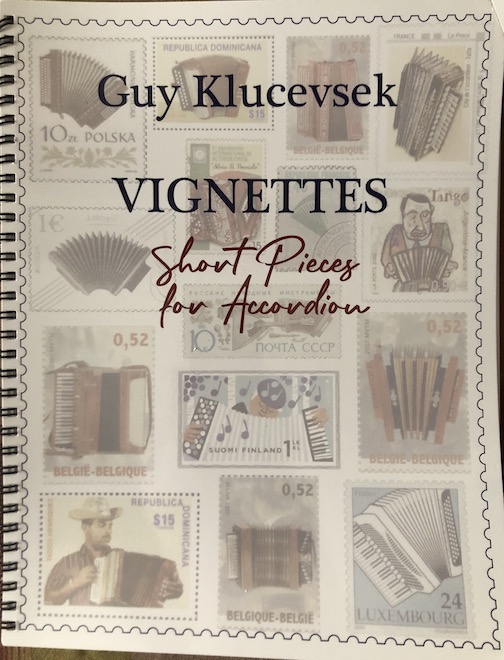 Klucevsek is really amazing. I've been a fan for decades. Some of the pieces in here look like they could be handled by other instruments without too much difficulty, but whatever the case it's terrific to have a book like this.
On the front cover are images of postage stamps that feature the accordion. Inside you get a closer look at a few of them.

There are also photos and other images from Kluvevsek's life in music. I had no idea he was on Mr. Rogers' Neighborhood!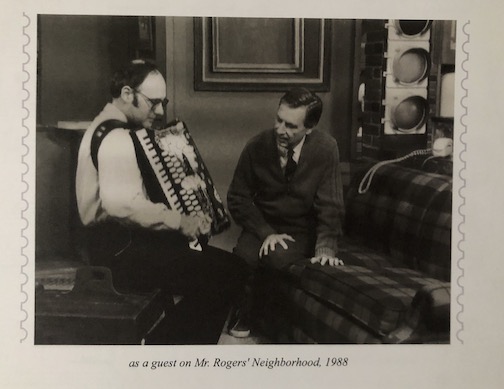 Mr. Rogers was even cooler than I realized.
Recordings of all of the pieces are up on Bandcamp, with the book, and you get downloads of them as well as a PDF of the book itself with purchase. Fantastic deal!
---