2020 March 06 • Friday
About six and a half years ago we talked a bit about an Ace Records CD called Long-Lost Honkers & Twangers. We liked it. And we also like this new Ace Records CD called More Long-Lost Honkers & Twangers.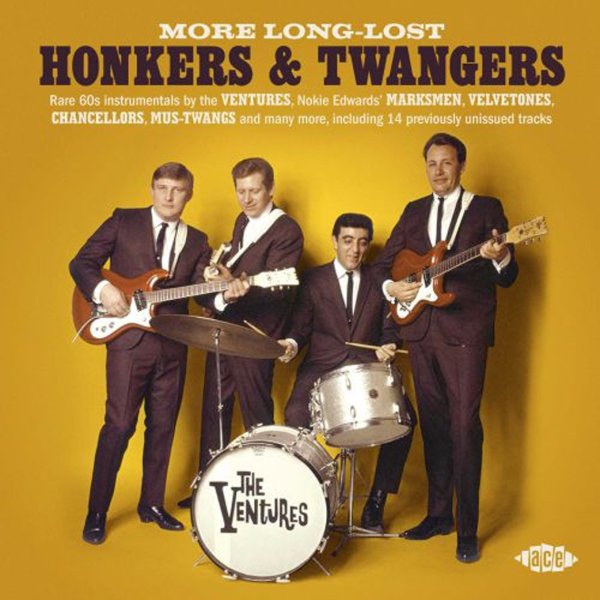 It starts with "Guitare Jet" by Les Jaguars, a Canadian band I've admired for several years, having picked up some of their LPs at the WFMU record fair. This is a cool song of theirs and nice to hear.

The Mus-Twangs are represented by two songs. "Wolf Pack" is a raw and primitive number with a wailing saxophone that suggests hysteria among the elephants more than a pack of wolves. "Zanzibar" is a laid-back, atmospheric, mysterious number with a tinge of exotica. "Road Runnah" by The Road Runners starts with that old staple, the sound of revving engines, before blasting off into energetic, reverby, driving surf sounds. One of my all-time favorite numbers, "Diamond Back" by Cecil Moore & The Notes comes after that. I first heard this on one of Bear Family's That'll Flat... Git It! compilations and it never ceases to amaze. Brilliant guitar playing, an amazing tune and brilliant use of maracas! Then there's "Mirage" by Oakland-based band The Night Caps. This one features that rough and raunch sax sound typical of the genre. The first volume of Lost included some exciting rarities from The Ventures and so does this one! You can hear no fewer than four previously unreleased recordings from these instrumental rock titans. "Blue Tail Fly" is suspiciously similar to "Beatnik Fly" by Johnny & The Hurricanes and is apparently the last Ventures release with Howie Johnson on drums. This is an alternate version. "Louisiana" is presumed here to be an out-take from The Ventures' Country Classics album and unusually features the harmonica. This one has such massive guitar sounds and is such a great tune that I don't understand why we're only hearing it now, 57 years after it was recorded. Another previously unheard tune is "Blue Money" by Van Morrison. Pretty straightforward tune but of course quite good, with an overdriven lead guitar sound. Finally from The Ventures we get an alternative version of the song "Downtown", famously a hit for Petulah Clark. Really nice handling of the melody by the guitar, as you'd expect. Speaking of The Ventures, Nokie Edwards also bad a side project, a band called The Marksmen, represented here by three songs. "Sunny River" is indeed a sunny and gently loping tune with the double guitar lines that The Ventures did so well. "Peace Pipe" is of course one of the most famous numbers by The Shadows and this is a nice take on it that wisely doesn't try to reinterpret it but does add a call and response element. The first thing you hear on this recording of the gentle and countryish "Nokie's Fenokey" is a voice, presumable that of Mr. Edwards, saying "Don't forget the ending!" It's a relaxed and happy tune. One of the best songs on here, as well as one of the surfiest, is the wonderfully titled "Zombie Surfer". In addition to excellent guitar playing it's one of a very few surf pieces to make use of the potential of electric piano. (Sounds like a Fender Rhodes.) "Red Wing" by The Carnations is a marchy sort of instrumental with a lot of sax playing and Duane Eddyish guitar playing. Super session guitarist Billy Strange is on here with the really cool "Moon Walking", which features powerful drumming and some unusual syncopations as well as some weird sounds in the middle. The guitar rules "Canadian Capers" by The Lemon Drops. It has a very bubblegum feel to it and shamelessly borrows from "Tequila" but the guitar playing and tone are tremendous. The guitar lines themselves are also very interesting and not the standard thing you'd expect to hear. The Chancellors have a simple but powerful hard-driving piece called "Mach 1", which I suppose takes the hot-rod angle into a higher gear. Two songs by The Zanies certainly try to live up to the band's name. "Claire De Looney" is indeed a rock and roll take on the famous Debussy composition of almost the same name. And their "Russian Roulette" is a take on "Song of the Volga Boatmen", with the addition of revolver sounds (clicks and eventually a bang). "Harlem Nocturne" is a genuine classic and it gets an especially atmospheric and mysterious workout here by the Music City Swingers.

A band called The Velvetones tackle "Jericho", which I believe I've also heard played by Grant Green as well as Booker T. & The MG's, among others. Is this actually a gospel number, at least originally?

Ed Burkey's "Whitewater Wipe Out" is one of the most exciting guitar numbers on here, with great playing and very sharp and vibrant sounds for this pounding and interestingly layered piece.

And then there's "Swing the Mess Aroun" by Mike Gordon & The Agates. The first thing you hear is someone calling out "C'mon, Everybody!" and the tune itself is probably at least somewhat indebted to Eddie Cochrane. It's kind of a raunchy rocker jam with impressive energy.

Yet another great Ace compilation! So glad they keep doing this!
---