2021 January 15 • Friday
Today's the day!
The latest Gutbrain Records release, Bob Davoli's Wistfully Yours, is out!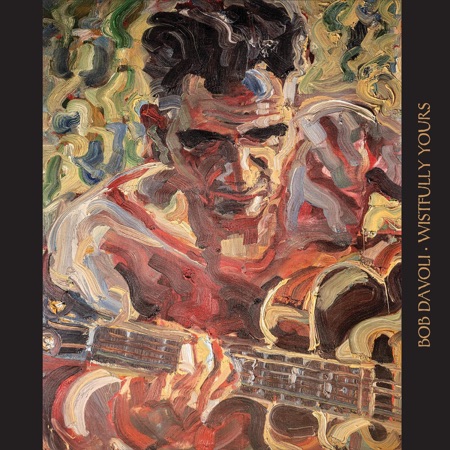 You can order it here.
This is the single CD version, which has 15 songs on it.
Coming soon is the 37-song Deluxe Version.
Both will be available on CD and vinyl but Wistfully Yours premieres today as a digital download.
All proceeds will be donated to Food Not Bombs!
---
2021 January 13 • Wednesday
I found the 1963 movie The Wheeler Dealers to be charming and genuinely funny. It's not making a big deal about anything but it succeeds as a light romantic comedy that nimbly skips around and genially pokes at this and that target.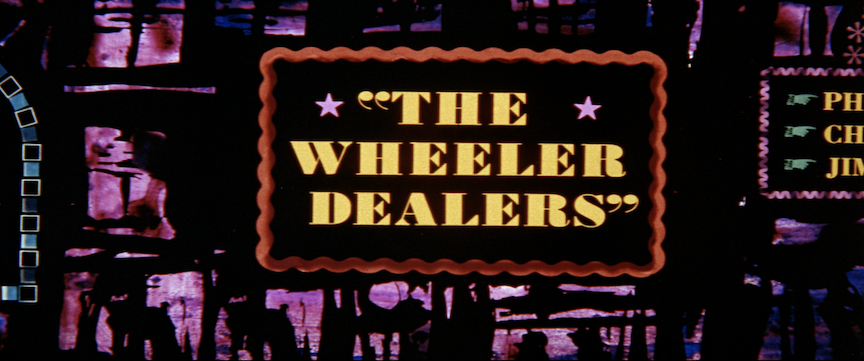 It's even possible to make the case that it's trying to be a somewhat feminist movie.
You could also see it as an antecedent of Coogan's Bluff and Billions.
But what you really need to know about it is LIMITED FARM BILL FAVORED! Twice!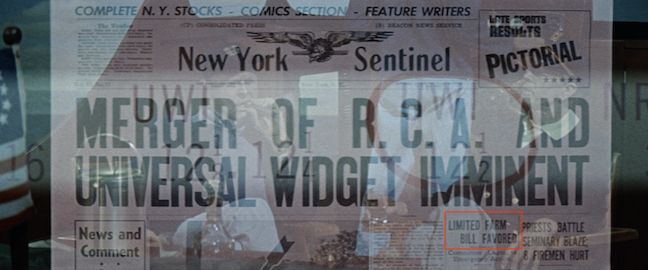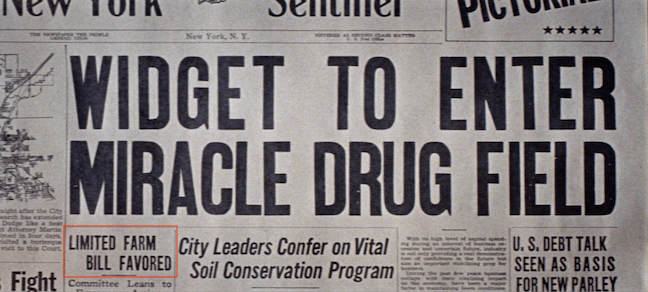 And of course PRIESTS BATTLE SEMINARY BLAZE and U.S. DEBT TALK etc.
---
2021 January 11 • Monday
For the 655th Soundtrack of the Week we return to one of our favorite composers, the great Les Baxter, and one of his more unusual assignments, the music for Alakazam the Great.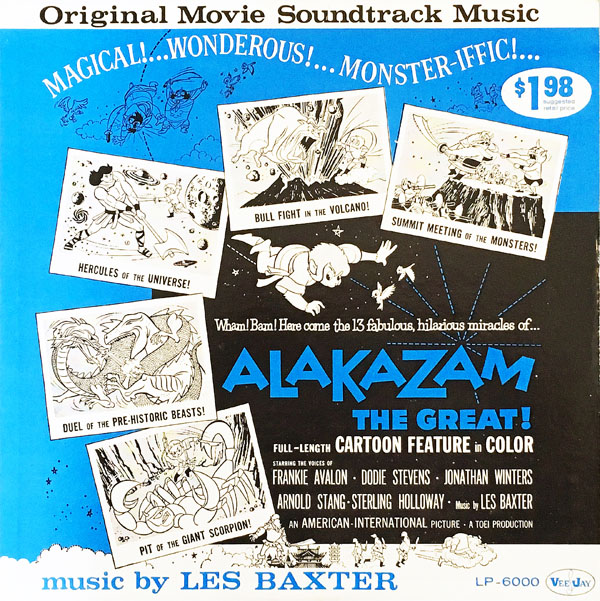 This was a Japanese animated movie from 1960 that got a US release after some editing and, of course, dubbing the voices into English.
Those voices included Jonathan Winters and, in the lead role, Frankie Avalon.
Avalon is credited only with "singing voice" on both imdb and wikipedia but on the record all of the songs have vocals by Bobby Adano.
Is it just Adano on the record but Avalon in the movie? I have no idea. I apologize in advance if you lose sleep over this mystery.
But there is the music to consider. Les Baxter receives sole credit for each piece but surely the lyrics must have come from somewhere else, presumably from whoever wrote the English-language version? Or perhaps not. Maybe Mr. Baxter was brought on board to do everything. I just don't know of any other examples of him writing lyrics.
The first track is called "Introduction" and it has a lush and dramatic orchestration that serves as background for expository narration. In fact you can barely hear the music under the talking.
But it's over with fast and then we're in the very swinging "Aliki Aliko Alakazam", which could have been used as an arrangement for a Sinatra session. It's certainly up there with Nelson Riddle and his peers. In addition to singing there's also some whistling.
This is followed by another bit of spoken narration that sets the narration to another very swinging tune, "Ali's Song", which again reminds me of Sinatra sessions circa his move from Capitol to Reprise.
The narrator checks in again and then we have the instrumental "Magic Man", which has more of a rock beat to it while combining elements of big band/orchestral sing and some of Baxter's skill with exotica. The piano playing is particularly good and I have to wonder if it's Mr. Baxter himself.
Again a little bit of speaking about what's happening in the story and then we get "Hey, I'm in Love Again", which is a fairly corny song, reminiscent of "Aliki Aliko Alakazam" but with a croony section added and some good use of electric guitar and percussion.
After another check-in with our raconteur we get the last tune on Side A, "Magic Man", another foot-tapping swinging piece with great drumming.
The B side starts out with our narrator, of course, explaining that one of the characters, feeling lonely, asks bluebirds for help and that gives us our first real shift in mood, the poignant and richly textured "Blue Bird in the Cherry Tree", which combines Baxter's knowledge of instruments from other countries with writing for strings that's up there with Henry Mancini.
A test of courage, we're told, involving a waterfall, comes next, with the perky and pleasingly syncopated "Under the Roaring Waterfall", which gives Mr. Baxter the most room so far for flexing his exotica muscles. and also quotes "Aliki Aliko Alakazam".
Then there's an instrumental version of "Blue Bird in the Cherry Tree", very much a feature for the strings and more subdued than the vocal version.
"Alakazam Ballet Fantasy" is probably pretty self-explanatory but get a spoken intro about the hero trying to find a secret passage. It's another shift in the music, now more like dramatic underscore than anything else on the record, and a good demonstration of Baxrter's composing and arranging chops. The music is similar to Tchaikovsky maybe?
And then we come to the end and "Finale", preceded by one last bit of narration that includes a triumphant declaration of the title. The music itself revisits the various themes we've heard before while ending on an energetic and amusing note.
---
2021 January 08 • Friday
There's a sub-genre of music that's basically soundtracks for movies that don't exist. Running parallel to this are recordings of what soundtrack fans generally refer to as "crime jazz", which I suppose speaks for itself. The Man with the Golden Arm and Peter Gunn might be the first examples that come to mind of crime jazz soundtracks and "crime jazz" would be a non-soundtrack jazz record that reminds listeners of that kind of soundtrack music.
On April 8, 1960, Irving Joseph conducted a recording of a dozen of his original compositions, creating a concept record of "crime jazz", music that was supposed to be in exactly that vein. Whether it qualifies as a soundtrack for a movie or television show that doesn't exist is, I suppose, up for debate if that's your idea of a good time.
Nat Hentoff wrote liner notes which explain. "It tries to get at the marrow of many of the pervasive themes that have become institutionalized in film and TV treatment of hoods, jails and cops," he writes. "Irv Joseph has utilized his considerable training and experience in music to create new settings in which the emotions become even more charged with the imminence of a shot in the night and a fist in the teeth."
Hentoff writes a short paragraph about each piece on the record and frequently references crime books: "Robert Neese's Prison Exposures, James Horan's The Mob's Man and (with Harold Danforth) Big City Crimes and Ed Reid's The Mafia.
History and current events get their mentions as well.
It's a very interesting record even before you listen to it. It gets a lot more interesting when you hear it, however. It's called Murder, Inc..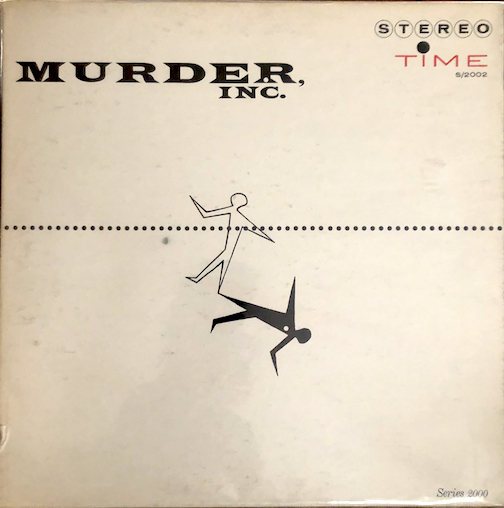 The record starts with "Prison Break", which kicks off with timpani and sharp menacing statements from horns as well as a couple of other instruments. The timpani start going nuts bending notes. Guitarists Art Ryerson and Bucky Pizzarelli make some sparse, subtle and interesting contributions. The timpani freak out is courtesy of percussionists Eddie Costa and Phil Kraus, while Osie Johnson is behind the drum kit, at times keeping a deep groove going with bassist Milt Hinton. The other musicians on this, as well as "April in Brownsville", "Double Cross", "Crime Wave", "The Big Six" and "We the Jury" are Danny Banks on baritone sax, Phil Bodner on alto sax, clarinet and alto flute, Jimmy Maxwell on trumpet, Tommy Mitchell on bass trombone and Bernie Leighton on piano.
The second tune, "State's Evidence", is a more swinging affair with a breezy jazz feel and relaxed trumpet slowing but with very dark and heavy sounds from the rest of the ensemble and, once again, very sparse and subtle use of electronic guitar. Again it starts with timpani, which I love. From the sound of it, I wonder if one of the guitarists is playing bass guitar. That would fit.
This second piece is performed by the second (of two) ensembles on the record. On "State's Evidence", as well as on "Murder Inc.", "The Contract", "Stool Pigeon", "Bad Day in Brooklyn" and "Third Degree" you'll hear Saul Schlinger on baritone sax, Phil Bodner on alto sax, clarinet and alto flute, Lou Mucci on trumpet, Tommy Mitchell on bass trombone, Dick Hixon on bass trombone, Moe Wechsler on piano, George Duvivier on bass, Osie Johnson on drums, Art Ryerson on guitar, Barry Galbraith on guitar, Eddie Costa on percussion and George Devens on percussion.
"Third Degree" starts with some fast-paced and frantic piano playing that's also dense enough that it sounds at first like two people, but it's just one very accomplished pianist who literally has his hands full. The piano also gets solo breaks where it spins off into these jagged, stabbing, ascending and descending lines and runs. Again some of the electric guitar work sounds like electric bass guitar.
Osie Johnson and George Duvivier get "The Contract" going with a swing beat and walking bass line. When the rest of the band comes in, including some excellent vibes playing by, I presume, Eddie Costa, we're back in more familiar territory of the Elmer Bernstein or Henry Mancini variety. The deep and low guitar sounds and perky wood percussion instrument (marimba?) give it a touch of the unusual, however. There are even some guitar breaks in this one and the instrument has a tone that I don't think I've heard before, whatever kind of guitar it is. It would be so great to know not just the model of guitar but also the amp.
Jazz ostinati kick off "We the Jury", which also features great vibes playing, probably courtesy of Eddie Costa again. The way the electric guitars work with the reeds here is particularly good. There's also a really nice clarinet solo and, at the end, a trumpet solo as well as effective use of muted vibes.
Another ostinato approach makes up the bulk of "Crime Wave" and it's particularly relentless while also being swirling and hypnotic. This is some kind of crime jazz minimalism but it's kind of a short and noisy piece. It ends with whistles being blown and horns being blared and has some memorable guitar strumming.
Side 2 starts with "Stool Pigeon" and is a fast jazz piece with some remarkably intricate writing and arranging as well as some urgent guitar playing.
"Bad Day in Brooklyn" is the most straightforward tune so far, with some familiar harmonic movement and an inside approach to soloing from piano, vibes, guitar and drums.
For the title track we're definitely back in the musical world that Elmer Bernstein created for The Man with the Golden Arm and explored further in the music for Johnny Staccato. Maddeningly repetitious and aggressively pulsating rhythmic lines while lyrical figures stretch out above them, occasionally allowing for some instrumental breaks from other members of the ensemble.
There isn't a lot of mellow on this record but we do get a more relaxed piece in "The Big Six", still a moderate tempo swing piece with some sharp and angular writing but certainly by comparison a more easygoing number. There are good solos from the flute and bass clarinet.
Vibes kick off "Double Cross" with something that sounds a bit similar to a hopped-up version of "Fever" and then we get some vibes soloing on top of just upright bass accompaniment. Then the bass drops out, a bit of electric guitar adds some percussive sounds, the guitar leaves and bass and drums come in, soon to be followed by the rest of the ensemble. It's definitely a feature for the vibraphone, though. It plays throughout.
More startling bass (?) guitar work is heard up front in "April in Brownsville", another relatively relaxed tune, this one bluesy and with a touch of Mancini to it.
Interestingly, it seems that this record was reissued as a surf record called Hang Ten, ostensibly by The Wedges.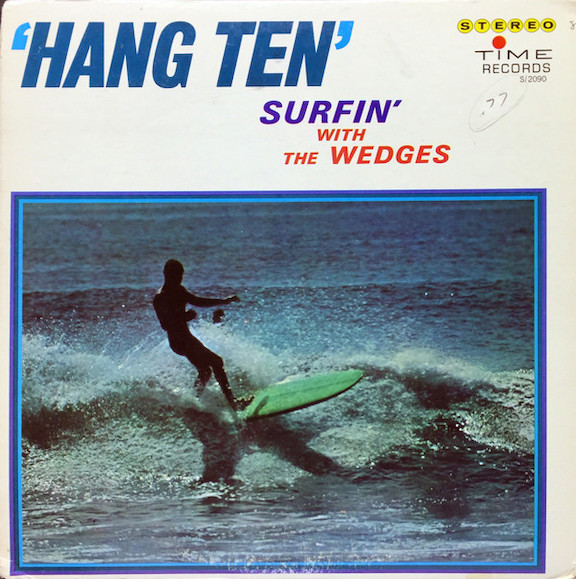 It's the same music but not in the same sequence as Murder, Inc. and of course with the names of the tunes changed to make them sound like surf music. Anybody buying this record hoping to hear actual surf guitars and drums would be, well, probably disappointed, good record though it is.
A few of the pieces from the Murder, Inc. record also, it seems, ended up on an album called Comic Book Heroes, supposedly performed by The Capes & Masks but actually another Irving Joseph project. It's available on his Bandcamp page.
---
2021 January 06 • Wednesday
As 2020 was coming to an end I read a novel first published in 1899. It's rare for me to read something of that vintage unless it's, say, Sherlock Holmes or Edgar Allan Poe or something like that.
But Mollie E. Moore Davis's The Wire-Cutters is considered the prototype of the Western genre, predating other novels, such as The Virginian by Owen Wister, which are usually cited as the "first" such thing. So that drew me in.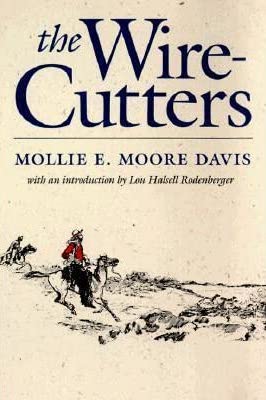 Davis was a journalist as well as a fiction writer and she lived in the places described in this book. Not just the places but also the people are described with vivid and precise detail that the story really feels alive and real despite some very difficult to believe, border-line "fantastic" elements and some broad-stroke melodramatic plot movements—although of the sort that I find immensely enjoyable. If I want realism I'll take a walk around the block.
The parts of the story that take place in Texas and deal with a "fence-cutting war" (based on actual events), however, don't strain credulity whatsoever, despite having a very clear white hat/black hat split between obvious hero and obvious villain.
As in most (all?) classic Western stories, due process is at the heart of the conflict. In this case it has to do with grazing rights for cattle and access to both grass and water.
Some private land ownders quite legally and properly fence off their land so their cattle are taken care of. Others quite illegally and improperly fence off land that doesn't belong to them—it might be public land or someone else's privately owned land.
The responses to this are similarly bifurcated. Our hero issues a hard no on a night-time raid but goes in broad daylight to confront one of the law breakers, attempts to reason with him, and then destroys his fences in plain sight while being fired upon and refusing to fire back. Such is virtue.
The villain, on the other hand, corrupts the townspeople and rides by night to assault, well, pretty much anyone, anywhere, for any reason, even going so far as to destroy a public spring out of spite.
There's a lot more going on here than this "tragedy of the commons"-inspired storyline might indicate. The novel starts as a Southern plantation/Civil War story, moves on to the Western, slips into a courtroom drama, and ends as a romance. It's fascinating and the smooth and steady pull of Davis's writing is irresistible.
The attention she gives character and custom, particularly involving community affairs (the church, the post office) and superstition is unsually good.
Consider this scene, which in context is almost unbearably exciting. Our hero, Leroy Hilliard, is currently being framed for the murder of Jack Ransome, brother of Margaret Ransome. Hilliard himself has been like a brother to both Ransomes and this particular injustice is thus especially cruel.
The entire community is at church for a New Year's Day service—another exquisite detail is the excitement caused by the arrival of Baptism in this region—and everyone there is, of course, gossiping about how Leroy killed Margaret's brother and what's going to happen as a result.
Margaret, of course, doesn't believe the vicious rumors for even a moment.
"Believe it!" echoed Margaret scornfully. "If there is any one on these grounds who wants to know what I think of such a monstrous story, I will show him! She quitted the women and walked rapidly over to where Hilliard stood. It was an unheard-of thing for an unmarried woman to cross the invisible line of demarcation between the women's or family side of the churchyard and the men's lounging place until after the second sermon. Everybody, therefore, turned open-mouthed at this flagrant violation of etiquette. There were some men present who expected nothing less than a scathing denunciation of the supposed assassin from the lips of his victim's sister. These pressed forward to listen; others held back, apprehensive of they knew not what; all were only the more bewildered when she put out her hand and spoke a few cordial but commonplace words of greeting in a clear unembarrassed tone. Only the women understood her action.
This might not seem like much just on its own like this, but when you reach this scene in the book, it's amazing. This is because of how fully and adeptly Davis has presented the reader with a portrait of an entire world and its people.
So, recommended for sure, if it's in your zone. Be warned, though, that this book is from 1899 and partly takes place in Southern plantations before, during and after the Civil War. There are slaves and there are words, descriptions, speech and events that will probably be intolerable for some, regardless of context or intent.
It remains only to mention how I came to read this book in the first place.
I was watching the Howard Hawks movie of The Big Sleep and finding it kind of boring, to be honest. It's a neat story and all about how William Faulkner and Leigh Brackett took alternating chapters of the book and turned them into a screenplay but the movie unsurprisingly lacks cohesion and is closer to incoherence than it should be. Just one of them should have written it and it should have been Brackett.
So I had been watching it just hoping to see a newspaper with the headline NEW TAX BILL MAY BE NEEDED or perhaps LIMITED FARM BILL FAVORED but they were not in evidence. At least, not in the first half. I didn't actually make it all the way through.
My second favorite thing to look for is what books might be in the backgrounds of scenes and, sure enough, this is where I first heard of The Wire-Cutters.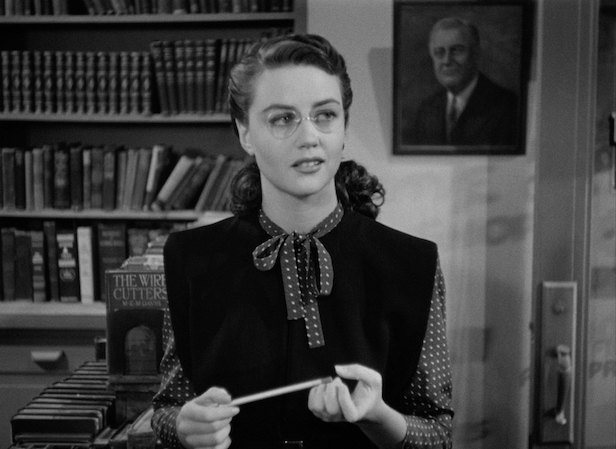 Of course I'd also like to know whose portrait that is on the wall.
---
2021 January 04 • Monday
The Sandals' music for The Endless Summer is one of our favorite soundtrack albums but we also really love their sophomore effort, The Last of the Ski Bums. And so it's our 655th Soundtrack of the Week.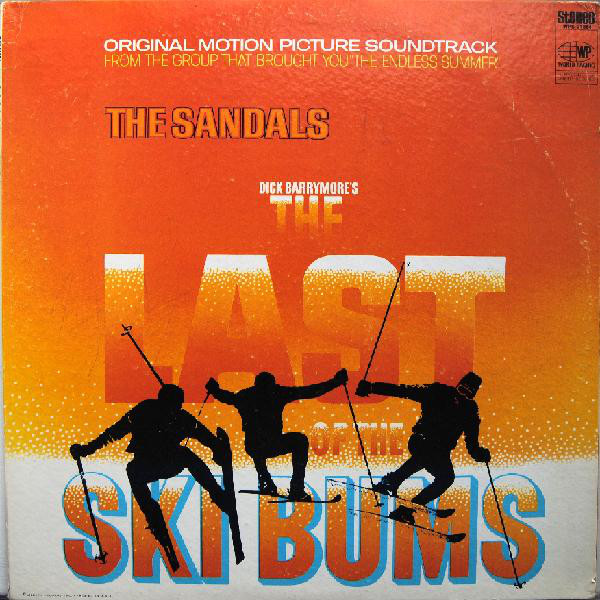 The record opens with "Winter Spell", a dreamy and floaty song which has a lovely blend of acoustic guitar and organ.
Then we get a vocal number with a country rock shuffle groove, "Ski Bum", probably something that accompanies the opening credits. "Cheese and crackers / Cool red wine / Back seat living / Suits me fine."
"Children of the Sun" starts out with resonant strumemd acoustic guitar chords. A bit of dissonance and bowed upright bass comes in and then what sounds like tablas. Electric guitar and organ eventually join and the tuen has an expansive and pleasantly sedate psychedelic sound.
The organ kicks off "Agunus Night", which might remind you of "While My Guitar Gently Weeps". Certainly the electri guitar, bass and drums are in that zone, but then there's an uenexpected shift to acoustic guitar and tabla and, later, another organ break. These different approaches are smoothly alternated and the resulting number is really cool and interesting.
Folky/baroquey acoustic guitars open "Yellow Night", another dreamy instrumental. The groove gets heavy at the end.
The last tune on the A side is a gritty country acid rock piece, the amusingly titled "Soul Something" which has some really cool-sounding keyboard playing in it as well as lots of lead electric guitar. Really love the bridge in this song.
Flip the record and you're "Coming Down Slow" with a flurry of a drum intro and then a floaty and swinging instrumental that's really catchy and shows, I think, some Booker T & The M.G.'s influence. Interestingly, after a high-energy opening the music falls through a trap door into a surprise space where everything gets slower and sparser. and then gradually builds in intensity.
"Summer's Gone" is a very wistful tune that features harmonica and in parts has a "House of the Rising Sun" feel.
Frantic bongo playing provides the introduction to "Return from the Casino", which has a very spacey and free-floating feel to it, with resonant cymbal crashes, vibrating long tones from the organ and electric guitars. Then the acoustic guitar sets the pace with an attack-heavy flurry of strumming and plucking. Tablas come in, too, and the effect is very exciting. It ends with an electric psycheelic freak out.
"Flowers To Dance On" has kind of a Byrds feeling to it and shines a spotlight on the guitars and keyboards. It's the only number written by the keyboard player in the band.
Then we're back in wistful territory with "Water and Stone" and acoustic guitar and harmonica. There's a great watery-sounding solo from either electric guitar or keyboard; not really sure which it is.
The record comes to an end with "Porsche", a bouncy keyboard-driven song whose melody is a bit like "Eleanor Rigby". Typically, the band likes to balance this groove with a stark contrast in rhythm and feel. They're full of surprises! Some really good guitar and organ soloing here as well.
---
2021 January 01 • Friday

Happy New Year!

We often look back at the year that just ended. Go ahead and do it. We dare you. We found it easier to look a little further back. A lot further. Before freaking World War 1, in fact.

Here's the April 1913 issue of Pearson's Magazine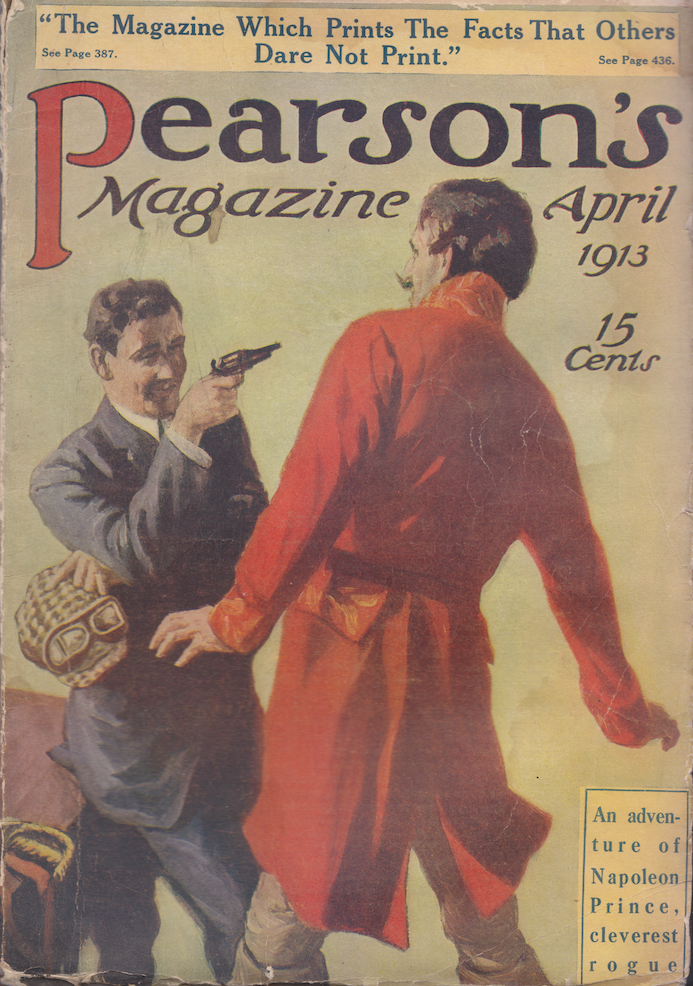 It's not the oldest such thing that we own, but it's one of the oldest.
Much of the contents looks interesting, even if only in a time capsule sort of way.
But the cover story intrigued us. "Napoleon Prince, Cleverest Rogue" sounds pretty good. Inside you'll find this character starring in a story called "The Second Affair in Balukia", written by May Edginton.
It is apparently the second (at least) story featuring this cleverest rogue and only a mild compulsion to begin at the beginning has so far prevented us from reading it.
A little surfing has led us to a collection of Napoleon Prince stories and we look forward to the full treatment.
---