2019 September 16 • Monday
For our 587th Soundtrack of the Week we listened to this remastered release of the 1980 Dark Star soundtrack album, music by John Carpenter.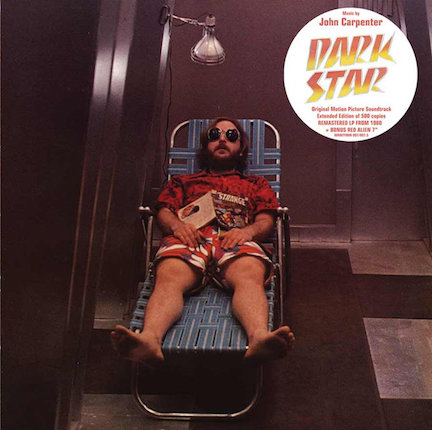 There's not a ton of music on it but what there is is great. If more synth soundtracks were as good as Carpenter's are...

This is also that rare release that doesn't bother me by including dialogue and sound effects from the movie. If you've seen Dark Star a dozen times or so, you can listen to this record almost as an adaptation for radio of the movie. Also included are a 7" (red vinyl) with the great country song (music by Carpenter) "Benson, Arizona" and Martin Segundo's epic elevator bossa "When Twilight Falls on NGC 891".
---
2019 September 13 • Friday
Here's a small magazine called Quick. It could fit in your pocket and came out weekly. This is the Februrary 11, 1952, issue.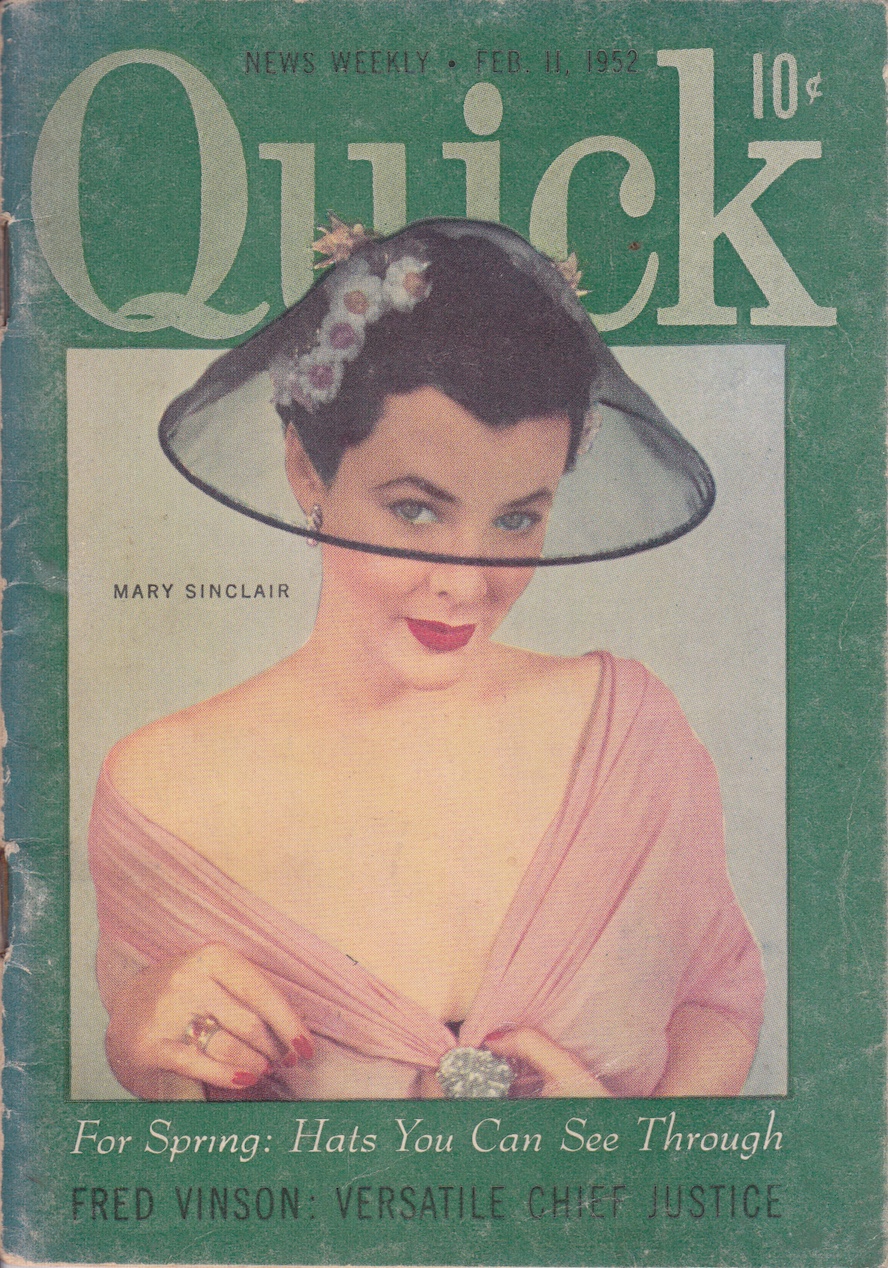 There's a little bit about how teenagers can buy plastic belts and embroider them with designs or their favorite "teen-jive".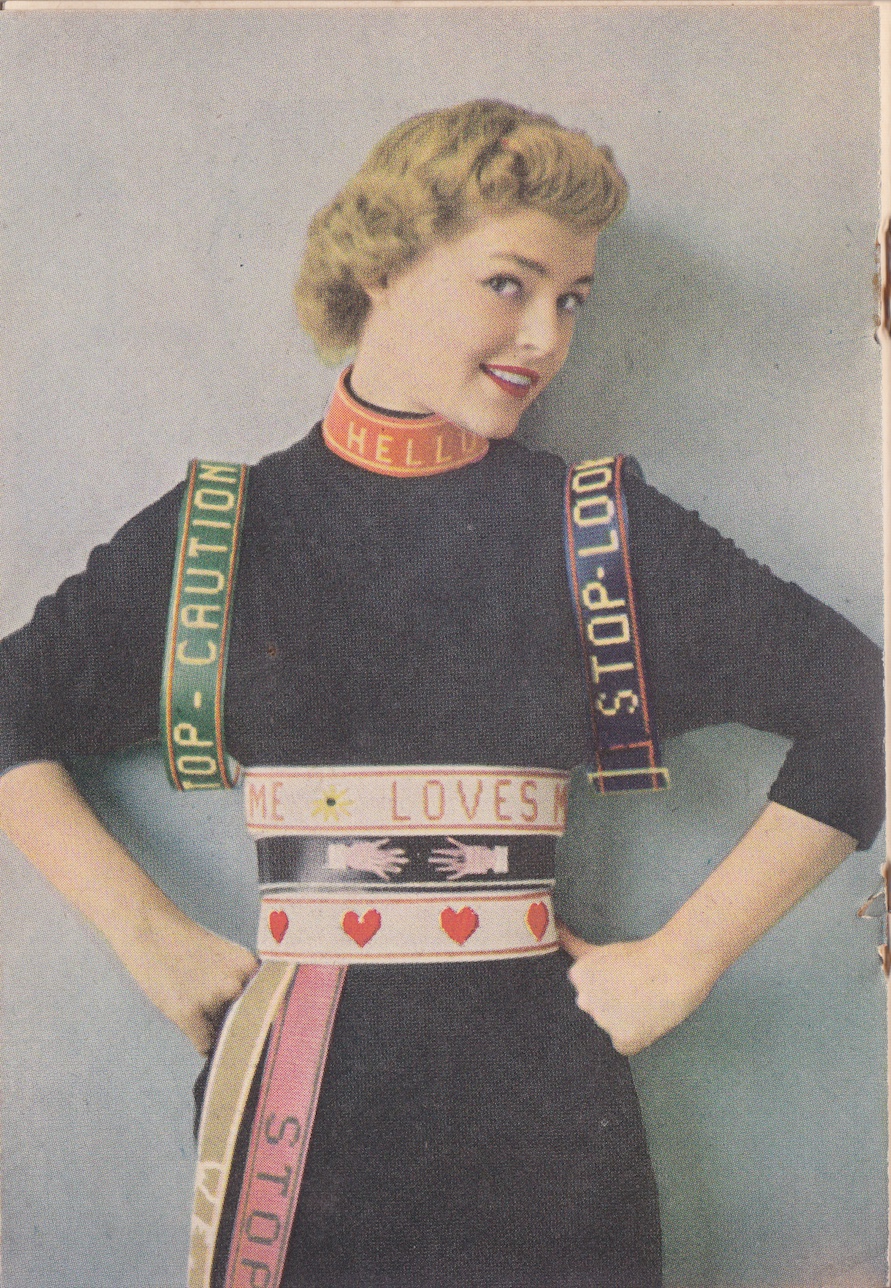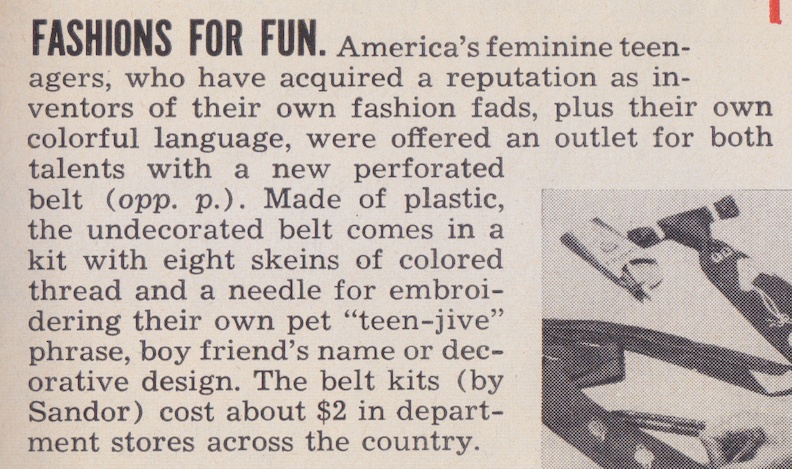 Most interesting to me was Quick's observation of one movie's copying a scene from another. This is the kind of thing we like to notice around here.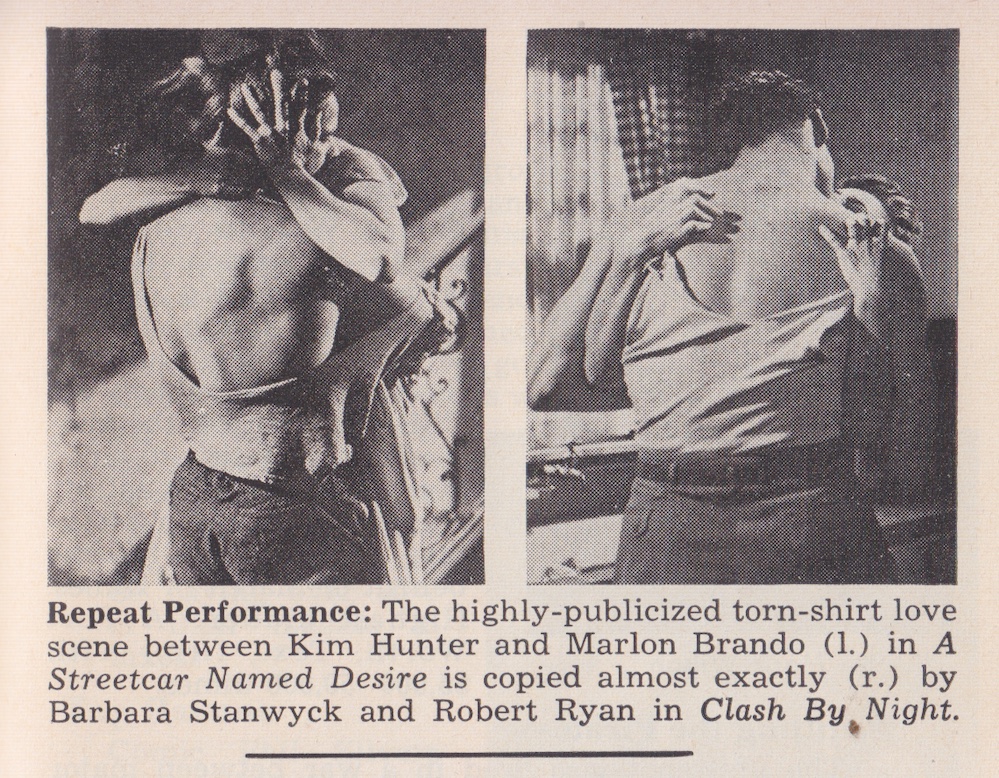 And I hadn't known about this competitor to Mounds and Bounty bars.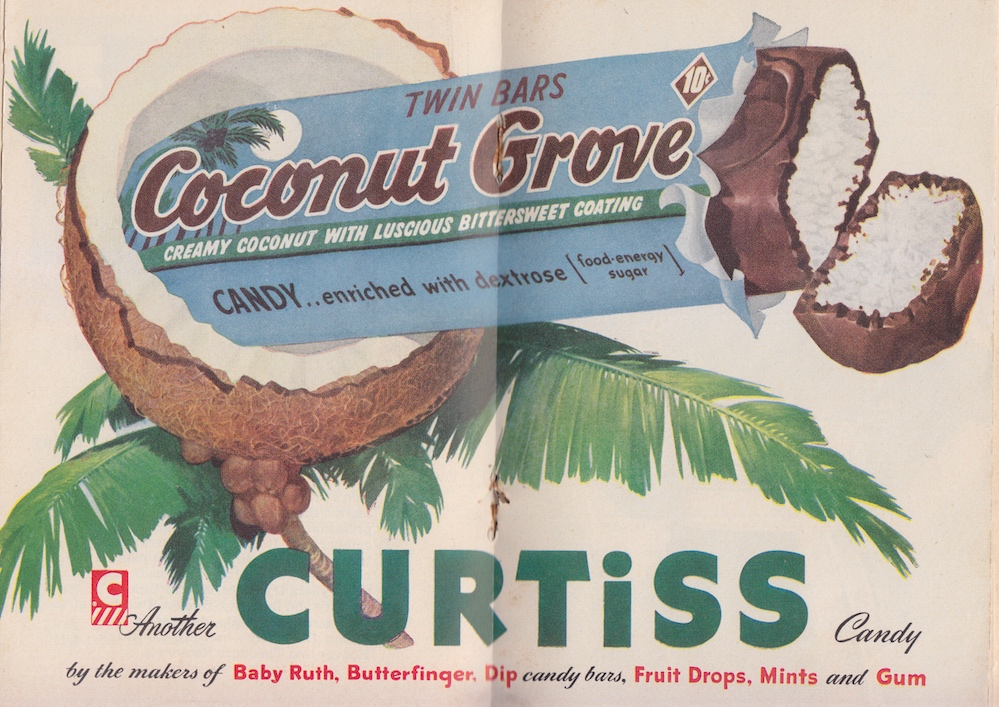 This is the only issue of Quick that I have at the moment but I wouldn't mind getting more.
---
2019 September 11 • Wednesday
Here's an interesting book: Strong as the People by Emily Parker Simon.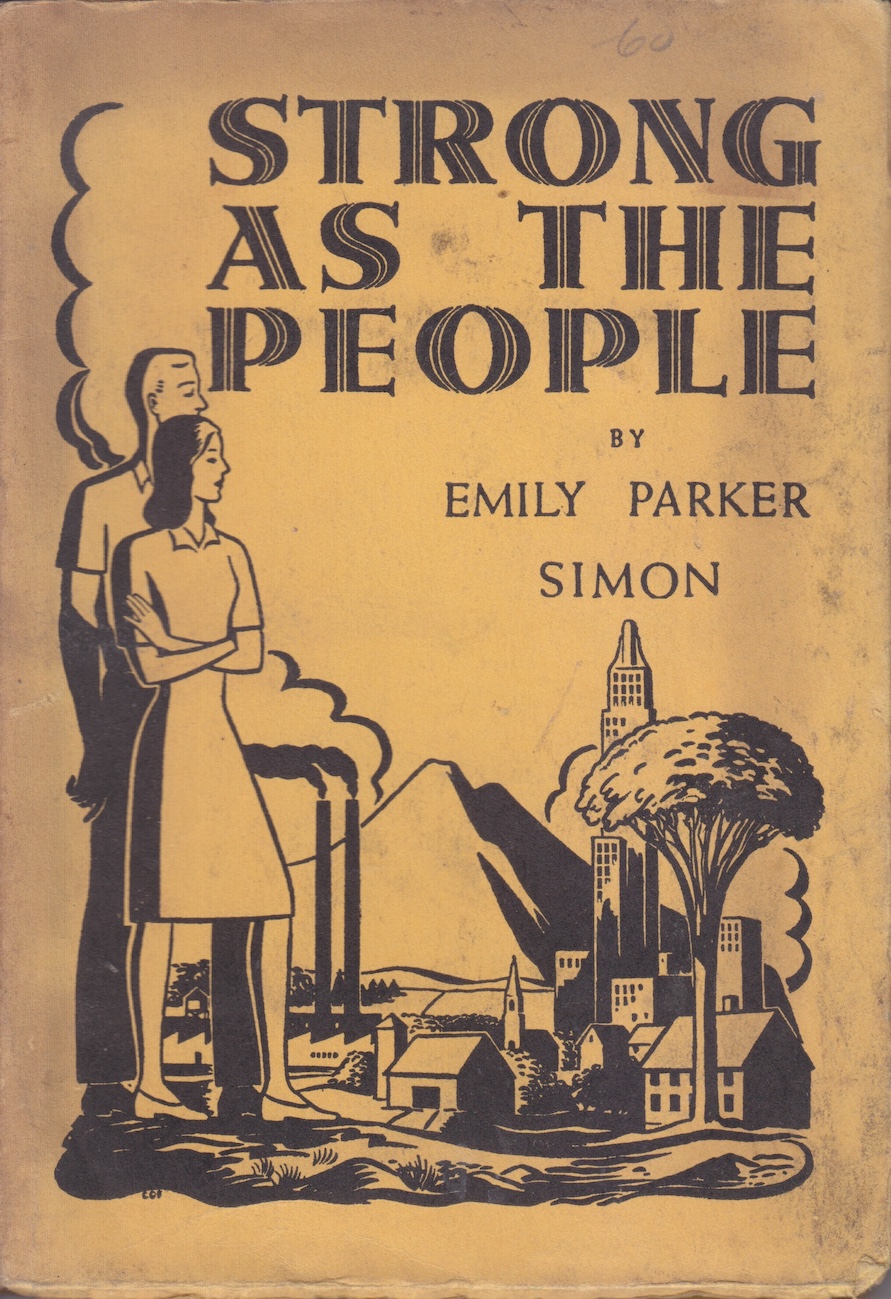 It was wrapped in plastic when I picked it up in the book shop and I didn't know what was inside it. Neither did I know the year of publication.

The

New York Times

printed an obituary of this book's author on May 17, 1978:

Emily Parker Simon, a peace activist who was director of the Committee for World Development and World Disarmament from 1952 until her retirement in 1968, died in a nursing home here yesterday. She was 74 years old and lived at 30 East End Avenue.

She had also been a member of the executive committee of the American section of the Friends World Committee in New York City and Baltimore, and for many years was chairman of the national policy committee of the Women's International League.

Survivors include two sisters, Mildred Candler and Mary Hodgin, both of Richmond Ind.

The inside of the book has a more detailed picture, but only up until 1943, the date of publication.

EMILY PARKER SIMON was born and grew up in Richmond, Indiana. In 1926 she graduated from Gordon College, Boston, Massachusetts, with a Th.B. degree. For the next two years she taught in the Weekday Schools of Religion in Dayton, Ohio, and in 1928 she became the Educational Director of the West Richmond Friends Meeting, a position she held for five years. Two summers were spent in home mission work, 1933 in Tennessee and 1934 in Kentucky, and a year in study at Woodbrooke College, England. In 1934 Emily Parker was elected Secretary of the Board of Young Friends Activities and Executive Secretary of the Young Friends Fellowship. She gave leadership to this work until 1937, interrupting field work for study at Pendle Hill during the winter term of 1936. 1938 and 1939 were spent in Spain doing relief work under the American Friends Service Committee and as the special representative of the United Christian Youth Movement. Upon her return to America, she served for two years as Field Worker for the Foster Parents' Plan for War Children. In 1941 the author married Albert Simon of Baltimore, where she now lives. Mrs. Simon at present is the Executive Secretary of the Maryland Peace Conference and of the Maryland Branch of the Women's International League for Peace and Freedom. She is a Field Secretary for the Fellowship of Reconciliation and the Chairman of the Wider Quaker Fellowship.

There seems to be much to admire here. There's more when you turn the page and you see this: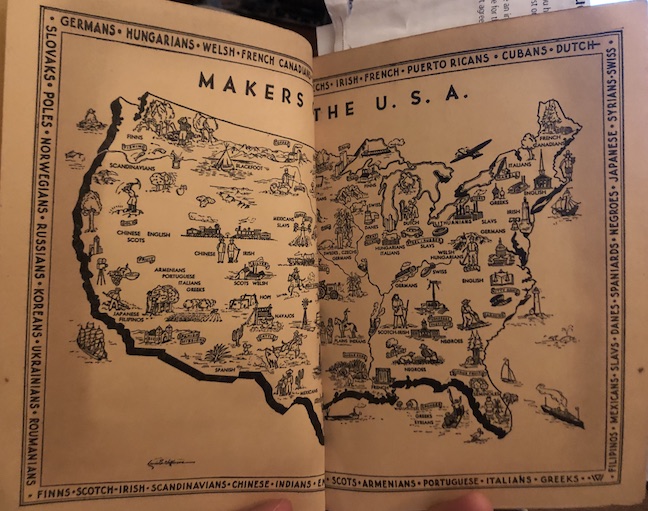 This was more than 75 years ago. We could quibble about this map from our present-day vantage point, but this is really pretty great, isn't it, for 1943? We were in the middle of World War 2. The page with Simon's bio on it also had this note: "THIS BOOK HAS BEEN MANUFACTURED IN COMPLIANCE WITH ORDERS OF THE WAR PRODUCTION BOARD FOR CONSERVING PAPER AND OTHER MATERIALS".
The first chapter is called "This Land of Ours" and starts like this:
Tea was in full swing; everybody was talking about everything. Soon enough all the loose ends began to be tied into a knot of current problems. A refugee ship had just landed; the morning papers had been full of stories.

Suddenly one voice rose a little above the hum. "Refugees! Refugees! Foreigners and always more foreigners! I wish we could get back to the good old days when we weren't always bumping into foreigners, the good old days when we were all Americans."

A slight silence followed this outburst. It was broken by, "How remarkable—I didn't know you were interested in the Indians."

"Indians? Indians? Who said anything about being interested in Indians, Helen?"

"You did," answered Helen. "You said you wanted to get back to the good old days when there were no foreigners, but only good old Americans. Well, the good old Americans were the Indians and nobody else because everyone who came to this country was a foreigner, even the ones who came in the Mayflower; in fact, the ones who came in the Mayflower were really refugees. You belong to the D.A.R., don't you, Louise? I've always wanted to ask you if that stood for Daughters of American Refugees."

An explosive silence followed, broken at last by Louise. "Well!—Well!—I must say—Well!"

Helen thought as she walked toward home, "Americans! Good old Americans! My word, I wonder what they thing an American is, anyway. Talk like that rouses my Irish!—Only I'm really Scotch, I guess," she reflected.
That's a pretty marvelous beginning. The value of the content is clear enough but the writing quality is also rather excellent. Louise begins all her sentences by saying the same word twice: Refugees, refugees; Indians, Indians; well, well.
"Explosive silence" is a devastating and perfect phrase.
And she's such a good writer that she wraps up this episode with a wonderful little joke, both relaxing and disarming the reader and gracing Helen with humility. This isn't a smirking know-it-all destroying a straw man.
Later on you get this:
Generally speaking, persecution for religious ideas is not a part of the American plan. This has not always been so. Although religious freedom was a prime factor for many who came to America, they found it difficult to permit religious freedom to other religious groups. Quakers swung on Boston Common, so-called witches were hanged by order of religious councils, stocks and pillories were kept filled by religious tyrants who felt the people needed such "examples." The ghosts of such leaders have come back occasionally in the Ku Klux Klan or Native Sons of the Golden West or similar fanatical and misguided organizations. Sometimes the ghosts are more subtle and carry on in respectable religious circles, encouraging discrimination against religious minorites, especially the non-Christian and non-Protestant groups. While professing to defend the American way of life, they succeed only in violating the real American tradition of religious freedom.
Do we still have people like Emily Parker Simon in this country? Do they get heard? Did she, in her day?
---
2019 September 09 • Monday
The 586th Soundtrack of the Week is a combined effort but not, I think, a collaboration. The soundtrack album for The Electric Horseman has Willie Nelson singing songs on the A side and a score by Dave Grusin on the B side.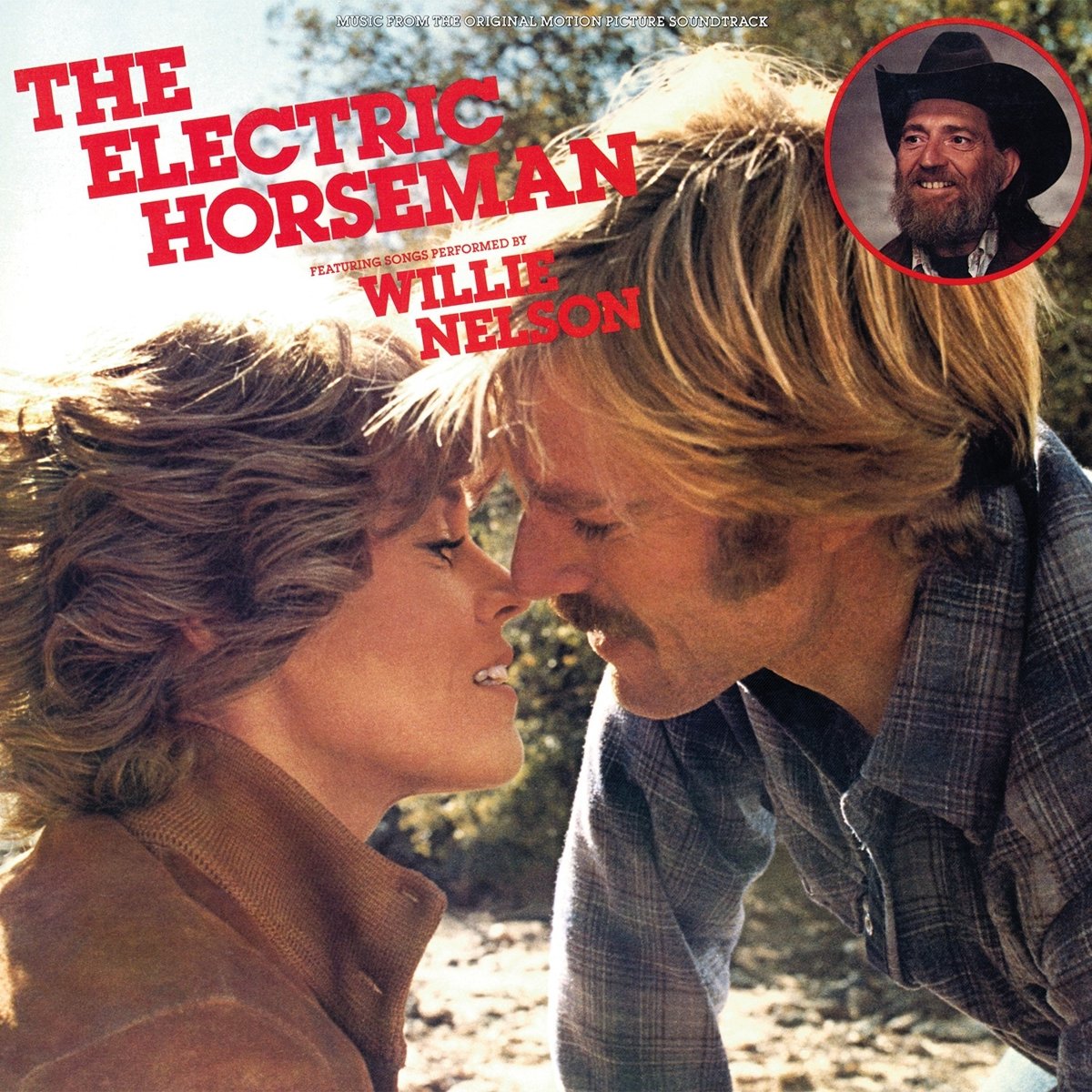 The first thing you hear is Nelson singing the Allman Brothers classic "Midnight Rider". It's more than a cover, it's a re-interpretation that allows the singer to make it more of his own kind of song. It's really good!

Next is the famous "My Heroes Have Always Been Cowboys", written by Sharon Vaughn and recorded first by Waylon Jennings. It's a lovely waltz that Willie Nelson sings in his perfectly modulated strong/delicate voice. Speaking of Waylon Jennings, he and Willie Nelson had a number one hit with "Mammas Don't Let Your Babies Grow Up To Be Cowboys". That was in 1978 and The Electric Horseman was 1979, so why not have Willie Nelson sing it again for the soundtrack? It's another one in 3/4 and just another perfect Willie Nelson performance. As both a singer and a guitarist he does everything just right!

Next up is a song that I think Willie Nelson actually wrote, "So You Think You're a Cowboy". It's another heartfelt and low-key waltz song with lyrics about being more or less doomed but fairly amiable about it.

Finally there's "Hands on the Wheel", which had been on on Nelson's Red Headed Stranger album a few years later. Beautiful song.

So then we flip the record to hear what Dave Grusin added to this movie.

The first track is called "Electro-Phantasma", which is my kind of title. It's basically a disco instrumental, I guess. Sounds like something you might hear on The Love Boat.

Then there's "Rising Star (Love Theme)" which sounds familiar. Maybe it just sounds like some other love themes. There are some nice blends of instruments, getting the harmonica in there, for instance, which connects it to the cowboy theme of the story.

"The Electric Horseman" is maybe the main title theme. It's got a lot of energy and some cool late-'70s sounds to it. Probably the most "up" song on the record with some striking rhythm guitar work.

Things get spacious, briefly, for the meditative "Interlude—Tumblweed Morning". It's a very shortlude, too short.

And it's a bit of shock, after that, to be plunged straight into "Disco Magic", a slab of pure disco with lyrics and everything, that no doubt was hoped would be a big hit. ("Move it up, move it down, listen to that funky sound" etc.) The arrangement sounds like they were reaching for "Stayin' Alive".

The album concludes with "Freedom Epilogue", a short and sensitive piece that recalls the love theme. It's a decent record. I got it for five dollars, somewhere...
---
2019 September 06 • Friday

Was A Plot for Murder the title of Fredric Brown's Murder Can Be Fun when it was originally published in a pulp?

Perhaps it was. Perusing the first issue of 5 Detective Novels I came across this ad for Brown's The Deadly Weekend, which you could read in Mystery Book Magazine.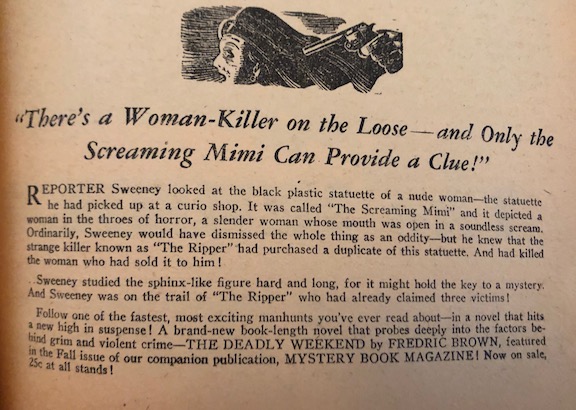 Obviously this is the novel that we know as The Screaming Mimi, a much better title. (That's the title that the movie adaptation went with as well.)

This is one of the Fredric Brown books that I have read, but I don't remember anything about it. Just for fun, here's the cover of the premiere issue of 5 Detective Novels: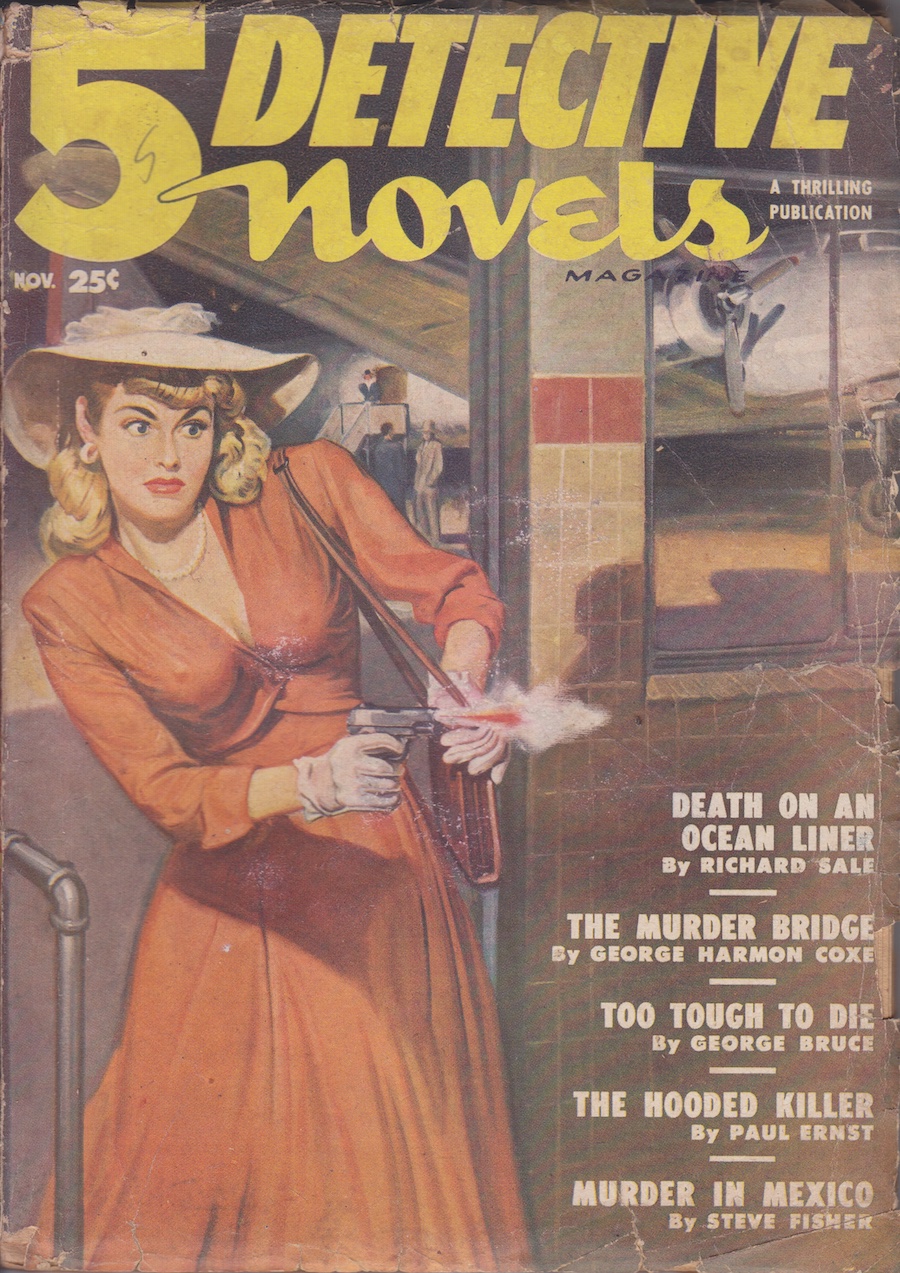 Interestingly, this made it over to the UK as 3 Detective Novels, or so it appears.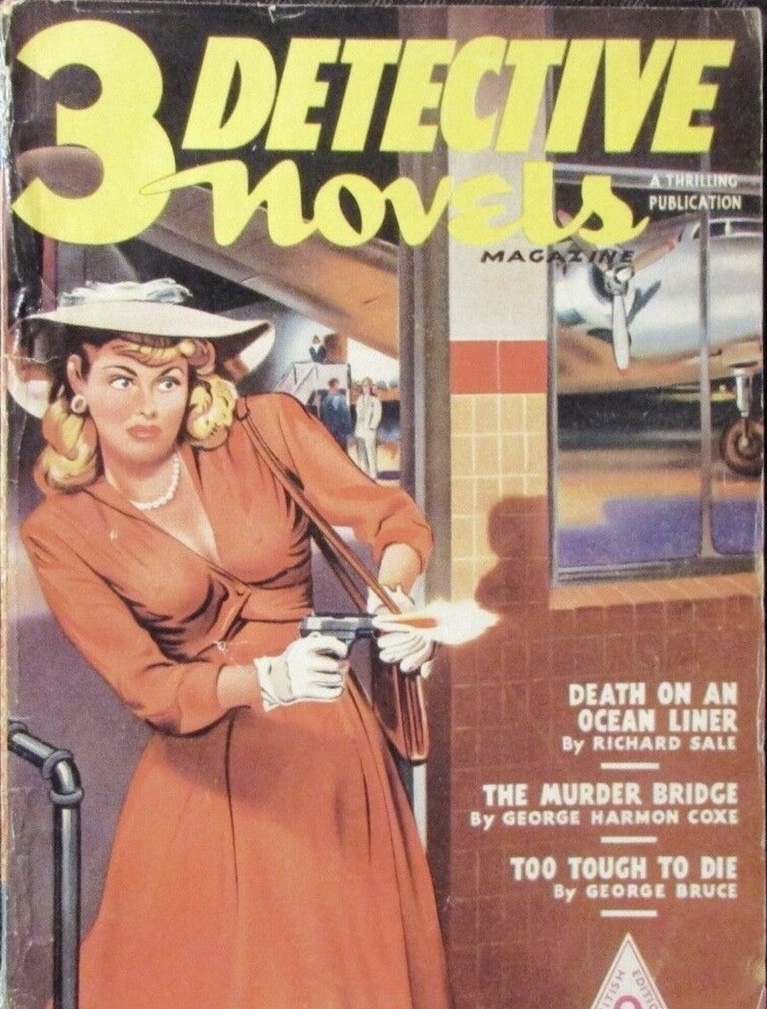 They're both Thrilling Publications!
---
2019 September 04 • Wednesday

About four years have passed since I read a Fredric Brown book. Too long, I think! I'd forgotten how much fun he is to read, and how much there is to admire in his writing.

So I had a wonderful time with this book of his from 1948, Murder Can Be Fun (a.k.a., though I don't know why anybody would bother, A Plot for Murder).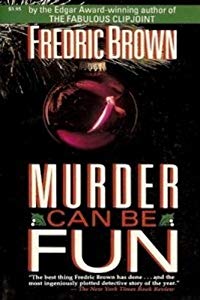 There are lots of better covers for this book out there, but that's what the actual book I read looks like.

Normally I stick to just quoting the first line of something, but the first few lines are worth noting here. They demonstrate one of Brown's strengths, to stretch a little further and add an interesting thought or profound observation to his meticulously and superbly crafted entertainment. Here's the first paragraph:

There are few streets in America down which a man wearing a mask can walk without attracting undue attention. Broadway, Manhattan, is one of those streets. Broadway has carried sophistication to the point of naiveté.




The idea of carrying sophistication to the point of naiveté stopped me short. It's something to think about, especially these days.

The rest of the book is a delight, breezy and perfect. The revelation of the murderer isn't a cheat. The clues are there for you to figure it out, but I myself was completely flummoxed by red herrings and Brown's considerable legerdemain.

Our hero is a writer who, like many of Brown's heroes, drinks way too much. He used to be a journalist but sold out to make a lot of money writing the scripts for a daytime radio soap opera that he himself can't stand.

(A running gag has him meeting various people who love the show and all of them are better than he is at coming up with story ideas for it.)

He's been playing around with an idea for another show to be called Murder Can Be Fun. A murder will be presented and the listeners will be given all the necessary information to solve the crime. A pause while they work it out, and then the show will provide the correct solution.

He hasn't shared this with anybody, yet somebody in real life is following his notes and killing people, all people with connections to him: his boss, his superintendent, etc.

In typical Brown deftness and cleverness, the book itself is the idea for the show. The reader has all the information necessary to figure out who done it. And the book itself is proof of its title.

Also of interest here is an Alice in Wonderland motif, as well as recurring appearances of chess games. Sometimes the two patterns are combined.

One of Brown's best known books is Night of the Jabberwock and Donald E. Westlake remarked that this particular absurdist fantasy surreal element was important to Brown's fiction.

So for the Brown scholar, Murder Can Be Fun is more than just another perfect construction from this very particular writer.

And CinemaSins fans will note that Brown anticipates their complaints about the Pronoun Game:

"Look—" he said.
"Yeah?" Barney looked toward him but didn't come back.
"It's none of their goddam business."
Barney just grunted.
Barney must think he was drunk, talking like that. Maybe Barney was right. He shouldn't use a pronoun without an antecedent.




Night of the Jabberwock is still on the list of Brown titles I've never read. I had this idea that I should read the Alice books first. But I might just go straight to Brown. Whatever happens, it won't be another four years before we meet again.
---
2019 September 02 • Monday

First of all, happy birthday!

At least one person I know who's celebrating his birthday today would like our 585th Soundtrack of the Week: Food Brain's crazy avant rock soundtrack for the Wakamatsu Koji movie Shinjuku Mad.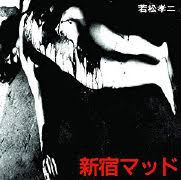 Basically what you've got here is a loud band kind of jamming but presumably inspired by free jazz and such. If you like Keiji Haino, you might be into this, too.

The band is electric guitar, electric bass guitar, drums and sometimes piano. It's druggy, long-haired freak-out music, usually fairly wild and lumbering, leaning heavily on blues rock conventions. They've heard Hendrix. When they abandon beats, patterns and chord changes for what sounds like straight-up free improv, on the fifth track, it's kind of a relief.

After that, track six surprises by being a sensitive and wistful jazz waltz, incredibly restrained in comparison to what came before.

But then we're back in acid rock freak-out city for track seven!

And after that the remaining four tunes, stay more inside sunnier and calmer jazz feels.

Definitely a weird record and not the easiest of listening. But Wakamatsu Koji's movies aren't a walk in the park either.
---