2023 November 27 • Monday
Pete King's music for The Last of the Secret Agents? is the 806th Soundtrack of the Week.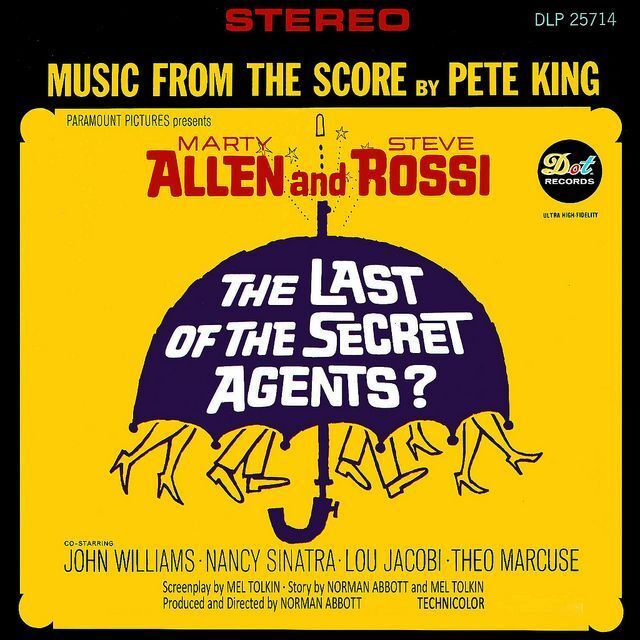 Nancy Sinatra is in this movie and does in fact sing the title song, but it's not on this soundtrack album. The first track is "The Height of the Spy Season", a swinging spy instrumental with bongos and walking bass which starts out sounding like John Barry but swings into Elmer Bernstein The Man with the Golden Arm territory once it gets going. After a bit of that it goes into a post-Mancini sort of Vegas sound. All of this is punctuated by occasional gunshots followed by a couple of rests. It's pretty good. Next is the very Mancini-esque "To You", which has lovely strings, smooth muted horns and nice guitar playing After that comes a song contributed by the great Neal Hefti, "You Are", sung by Steve Rossi. This is an effervescent jazz waltz love song: "You are special / So special to me" etc. Less than a minute of your time is needed for "The Grabbers", a blast of jazzy action music with frantic strings, swinging rhythm section and blaring horns. "The Villa" is another tune that had its passport stamped by Mancini Country, this one in a swinging sort of Latin mode, very sunny and perky with nice alto sax playing. If the villa wasn't the place then presumably "The Place" was the place. It sure sounds like it. Now we get an organ-driven rock instrumental combo slinking through a hully-gullyish number with some seriously fuzzed out guitar and more cool alto blowing. Even only a passing acquaintance with the Eurospy genre to which this movie belongs will suffice to guess what "Belly Dance" is likely to sound like. This is actually an unusually laidback approach to this perennial with lovely electric guitar playing that does call and response to an acoustic plucked instrument, perhaps mandolin or something of that nature. Side 1 ends with "Hi-Jack", which brings the listener right back into the heart of James Bond musical territory with urgent strings and horns driving urgently toward—a totally unexpected shift into 3/4 calliope music that's occasionally interrupted by blasts of classical pastiche similar to the "William Tell Overture" or some such thing.

The second side starts off with "Last Stop Paris", which surprisingly isn't the standard accordion-driven "French" music but a cool, jazzy tune in 7/4 (with a little bit of 6/4,too) with the strings delivering a pleasantly serpentine melody assisted by bongos and horns.

"Paris Street" is a lovely waltz with the strings once again providing a lush and gorgrous setting.

A second Steve Rossi vocal number follows, "Don Jose, Olé!", which is very Spanish-oriented in its lyrics but otherwise a bossa nova.

At just under a minute "The Kiss" can't be too lingering but it's a rich, romantic string texture in the Mancini vein.

Gentle, late-night swing with laidback guitar, piano, vibes, muted horns, etc., again something that would fit right into a Peter Gunn episode, comes next in "Baby May".

But then the fuzz guitars come back with the same rock organ combo for "The Big Ball"! There's saxophone, guitar and organ soloing and its a classic "shake".

"The Treasure" is another 50-second cue, but this is a pensive, cloudy, suspenseful mood, a good balance to all the swingin' good times that have suffused the record so far.

I had high hopes for the next track, "Zorba A Go Go", but it's not very go-go, more or less a standard "Greek" tune with Greek or Greek-sounding plucked instruments. It's similar to "Belly Dance".

The album ends on a strong note, however, with "Of Mace and Men" combining some Peter Gunn theme menace with Bond score-style horn writing.
---
2023 November 24 • Friday
Light in the Attic has just put out this great Nancy Sinatra collection, Keep Walkin': Singles, Demos & Rarities 1965–1978. The head of the Gutbrain Records Acquisitions Department procured the CD version, now out of stock at the label, instead of one of the three different colored vinyl releases.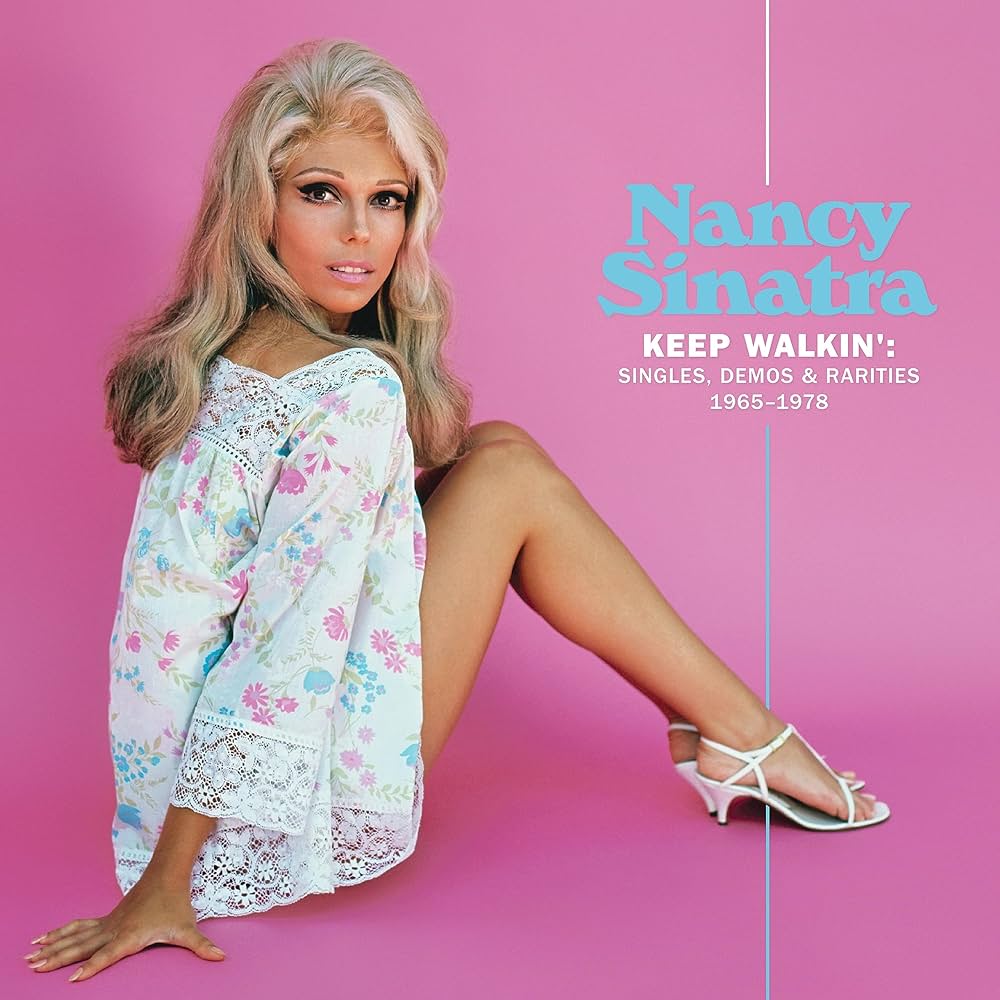 There was also, apparently, an 8-Track option, now also out of stock at the label. This did throw the Acquisitions Department people for a loop at first.

There was some talk about purchasing an 8-track player just to get it, and this led to the reminder that the Gutbrain Cape Cod annex already has a probably broken 8-track player and several 8-track cassettes and nobody has ever bothered to do anything about it.

The rebuttal to this admittedly negative line of thought was that surely a Nancy Sinatra 8-track, newly pressed in freakin' 2023, should be the incentive to do something about it.

The president of the record label personally had to go down to the Acquisitions Department and demand to know, "What about videotapes? Are we going to get back into VCRs?"

8-tracks aren't in the budget. For now.

But this is an excellent collection and almost all the songs were new to me. Even if I'd heard them before ("Tony Rome", "Ain't No Sunshine"), I hadn't heard these recordings of them. The one exception is probably "The Last of the Secret Agents".

In the Like Father, Like Daughter department it's worth noting that Frank Sinatra was not pleased by "My Way", specifically it's valedictorian lyrics, and as a result you can hear some aggrieved snarling in his vocal performance, not realizing, reasonably enough, how huge the song would be and how famous for him specifically.

Nancy Sinatra has a similarly pissed off moment in "100 Years", although instead of resentment it's more of an assertion of agency and determination and resistance: "I'm not giving in / To a smile or a grin / On a face (ha) / I might never see again".

Almost every song has some rewarding gift for the listener.

The liner notes are also great, featuring an insightful and delightful interview with Ms.Sinatra herself, as well as with indispensable musical collaborator Don Randi.

The vinyl is still available here.
---
2023 November 22 • Wednesday
Another Matt Berry album! But Simplicity is a little different from what's come before.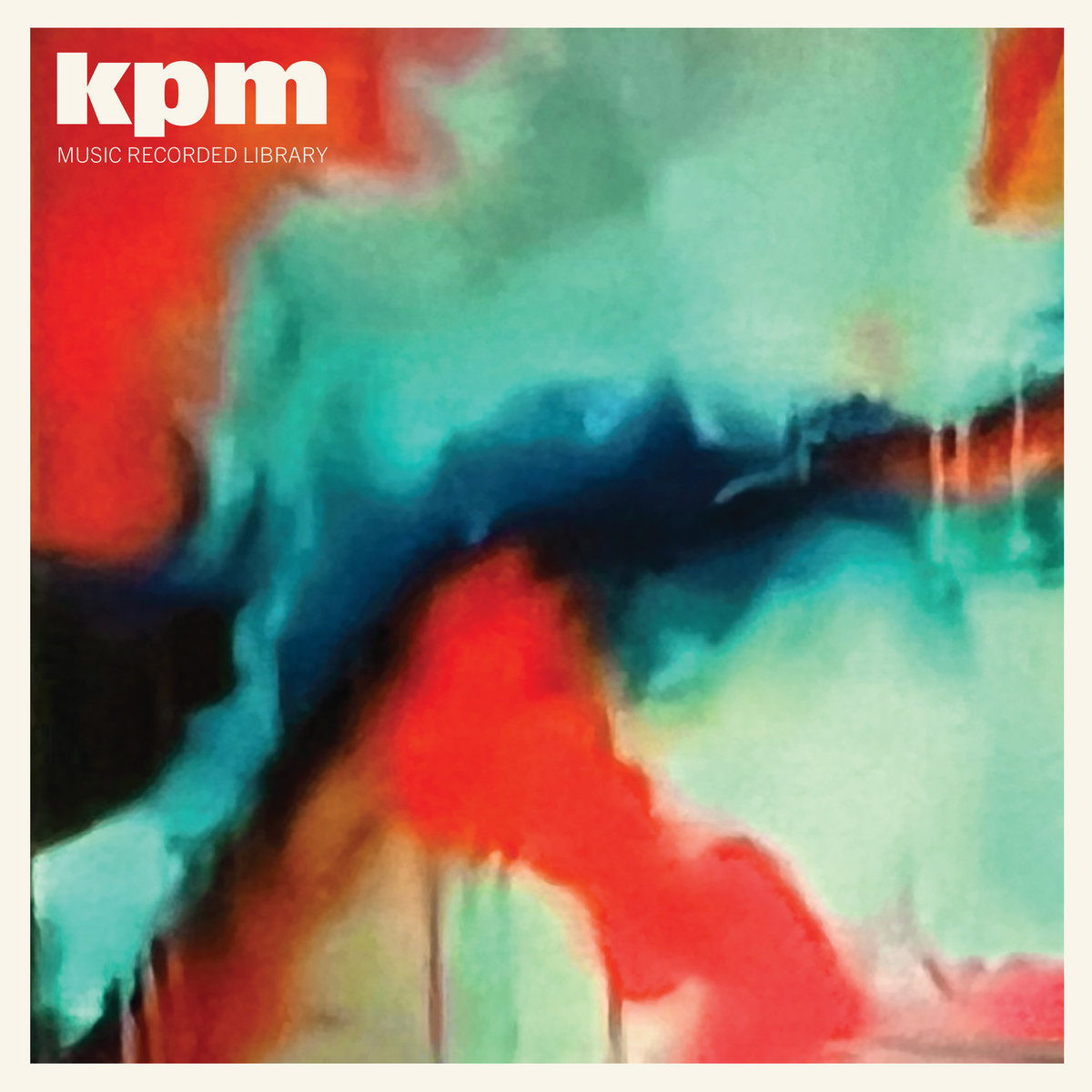 This is library music, which makes it soundtrack-adjacent when it isn't actually just soundtrack music. Library music has been having quite a run lately, as more people discover how cool a lot of it was.
Berry knows a lot about it and this isn't just a tribute to library music, this actually is an album of library music on a famous library music label, KPM.
The single, "Top Brass", landed at Gutbrain Headquarters several weeks ago and I liked it okay but had been expecting more.
The more that I was expecting is here on the full album, though!
There are eleven tracks (though two of them are "Top Brass") and they're all really groovy and just very colorful and dynamic.
It's certainly easy to imagine these being dropped into any number of productions. Anything with a party scene!
What I think you should do is buy it here.
---
2023 November 20 • Monday
Nelson Riddle's Rough Cut score is the 805th Soundtrack of the Week.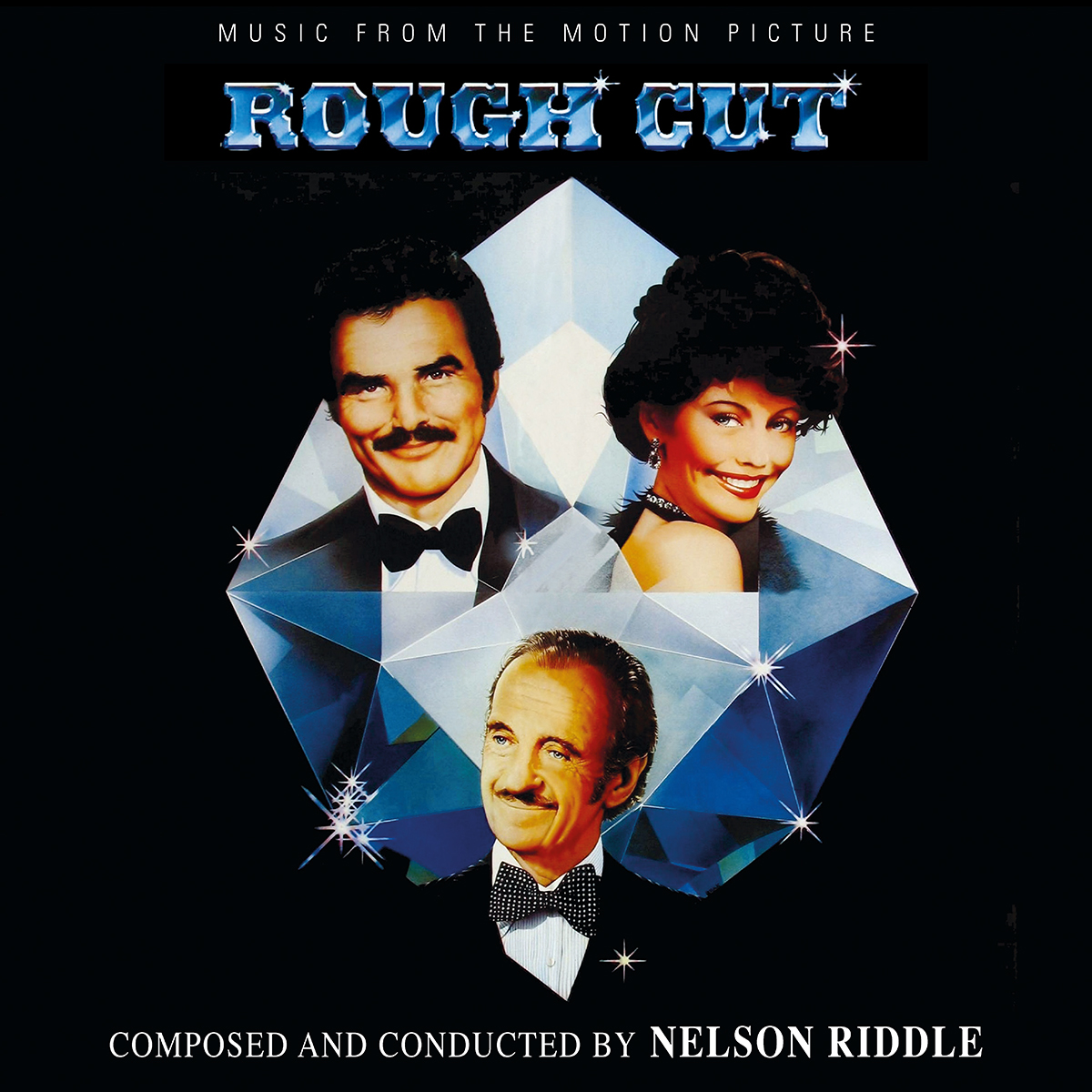 While Nelson Riddle composed the score, he included a lot of Duke Ellington tunes. Presumably something in the movie explains this. It starts with "Fanfare/Sophisticated Lady", which goes as expected, a fanfare and then a brief visit with the classic standard. After that comes "Something for Gil", a light and breezy Latin lounge number. Another standard comes next, "Satin Doll", this one also in a Latin arrangement, kind of an inverted cha-cha. "Disco Shmisko" is a fairly relaxed disco number with fusion guitar wailing. As long as we're running through genres, we might as well have a bossa nova. "Bossa at the Mansion" is laidback but with a thick sound and good soloing from trumpet, sax and piano. Muted trumpet and flutes handle the melody on the bouncy "Jack and Gil", perhaps a love theme, while walking upright bass is prominent in "Chief Inspector Cyril Willis", which quotes "It Don't Mean a Thing (If It Ain't Got That Swing)". A bit of Mancini-ish underscore that would fit well in a Pink Panther movie describes "Hold It! (Revised)" while "Midnight Caller/Sophisticated Lady/Nice To See You, Inspector" sandwiches the familiar tune with similar cues. A surprisingly up tempo and energetic "C Jam Blues" follows, after which "He Waits" is a change of pace into a perky, funky, electric guitar and electric bass guitar-driven feel.

Then there are sultry, string-heavy takes on "Mood Indigo" and "I've Got It Bad and That Ain't Good".

"String Quartet" is perhaps source music, "classical" sounding string quartet music that's an impressive imitation.

The first hald of "Deadly Weapon/Tennis Match" is an intriguing and swaying piece for the ensemble while the second half is more like a marching band on a football field kind of thing.

"Sentimental News" plays around a bit with "Sophisticated Lady" while "Osthofen" has a martial snare drum and determined-sounding lines from the horns and "Dutch Treat" is a waltz time exercise for guitar, violin and bass.

We haven't had a tango yet but guess what you hear in "Tango"? It sounds a bit like Jerry Goldsmith's Our Man Flint theme.

The next cue, "Rough Cut", is one of the best, with slinky, jazzy, funky grooves and gestures combined just right.

Then another Ellington, "Prelude to a Kiss", followed by the suspense and tension of "Antwerp Arab/Camouflage".

Some serious mission in progress music comes next in "One More Thing", which has a great drum part and a Mission: Impossible feel. It's immediately reprised, with the addition of some other instruments, in the next track, "Jet Set".

"Amsterdam or Antwerp" and "Amsterdam" then build up to a similar piece but with different orchestrations giving them their own colors.

These action cues culminate in the driving "Final Chase", followed by "Don't Get Around Much Anymore".

"Goodbyes" and "End Credits" revisit "Sophisticated Lady" and "Something for Gil", more or less, before we get into various alternate cues and a track of solo piano soure music.
---
2023 November 17 • Friday
And it's going to be a David Collier week here at Gutbrain Headquarters with this other volume, new to our collection, of Collier's newspaper work: Collier's Popular Press: David Collier's 30 years on the Newsstand.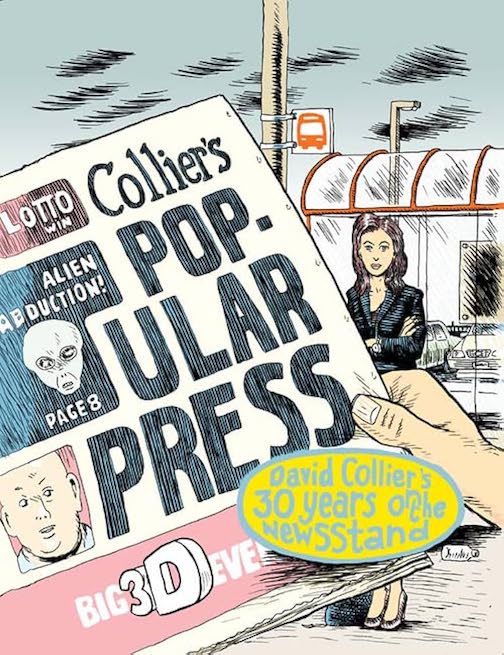 This is another great collection and a different one, since Collier usually works in longer forms, if not whole books then at least whole pages that are themselves part of a larger sequence.
It was fascinating to discover that Collier could also turn out a daily, single-panel strip, often autobiographical but also journalistic on occasion.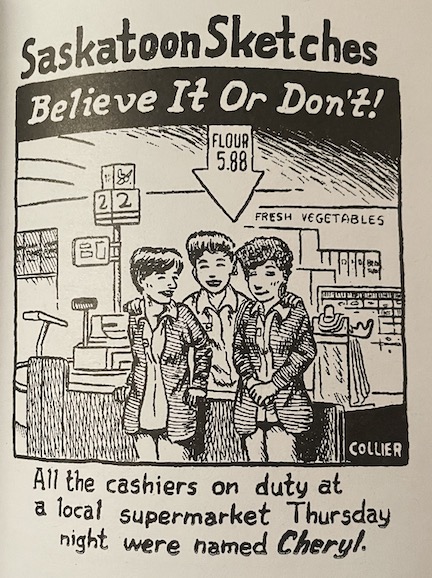 They range from slice-of-life observations to local politics and development. Winter is a subject much discussed.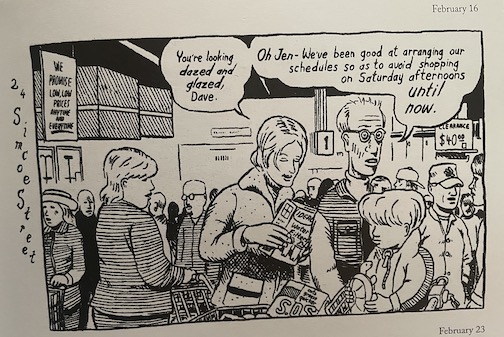 There's also a section of lovely drawings he did, not really comics but beautiful sketches of landscapes and things of that nature.

Collier has quite an impressive body of work and is overdue for critical study and appreciation!
---
2023 November 15 • Wednesday
Here's another absorbing David Collier book, Topp: Promoter Gary Topp Brought Us the World.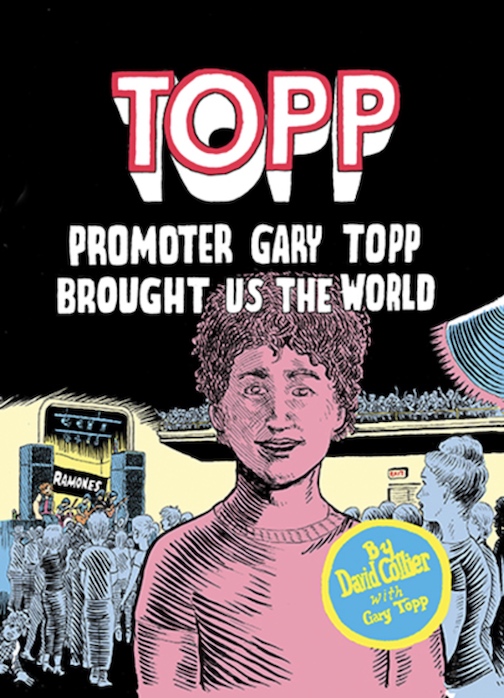 This is another of Collier's trademark mixtures of autobiography and reportage, with the focus this time on particular cultural developments in 1970s and '80s Toronto, specifically punk rock and movies, more specifically venues opened and operated by a man nanmed Gary Topp.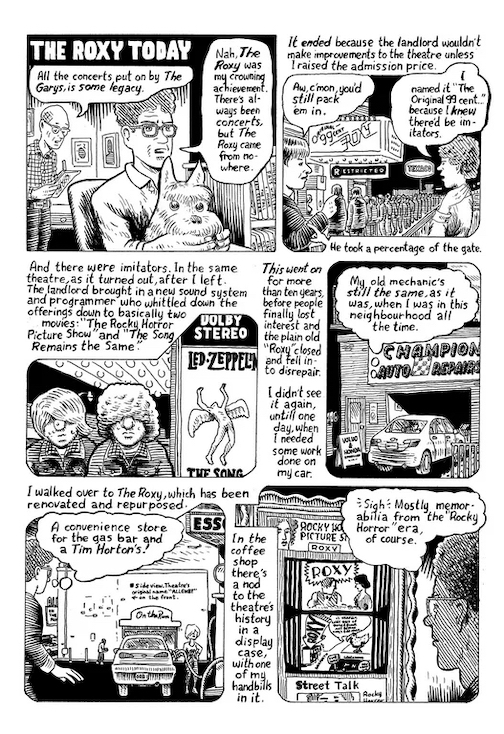 A young Collier himself worked for Topp and his memories are balanced with the present day Collier querying Topp about the history of his clubs and cinemas.
Several years ago Clowes dropped a sort of manifesto in an issue of Eightball after which his work took on a decidedly Nabokovian aspect. A painter named Krugg probably signals this influence and perhaps the marshalling of all available macro and micro details to serve an intensely powerful singular vision is also thus inspired.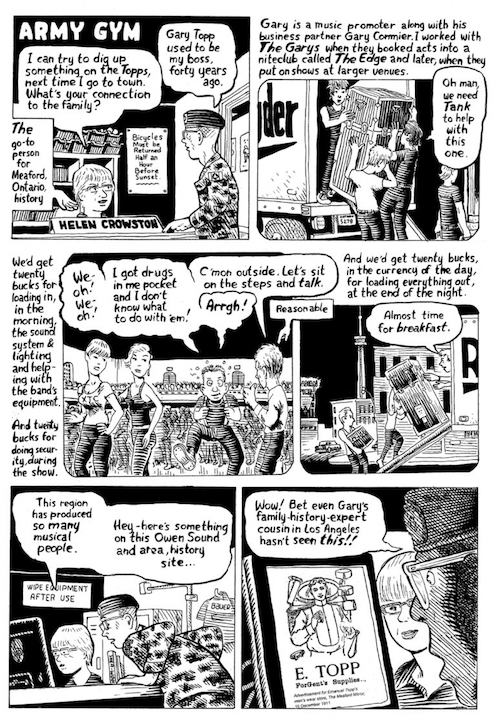 It wasn't all that long ago that if you wanted to see what a band was like in concert you actually had to be there in front of them while they were playing.
Topp brought countless musical artists to Toronto, instigating first encounters with an incredible variety of acts, perhaps most notably the Canadian debut of The Ramones.
As important and influential as he was, it seems likely that very few people today would know about him if it weren't for documentary work like Collier's invaluable book.
Once again, I wish there were more books like this and I'm grateful to have this one.
---
2023 November 13 • Monday
One of the first soundtrack recordings I ever bought—on cassette!—was Vladimir Cosma's music for Diva. I should get it again as I don't have it anymore. But Mr. Cosma is the composer of the 804th Soundtrack of the Week, the score for a movie called Alexander.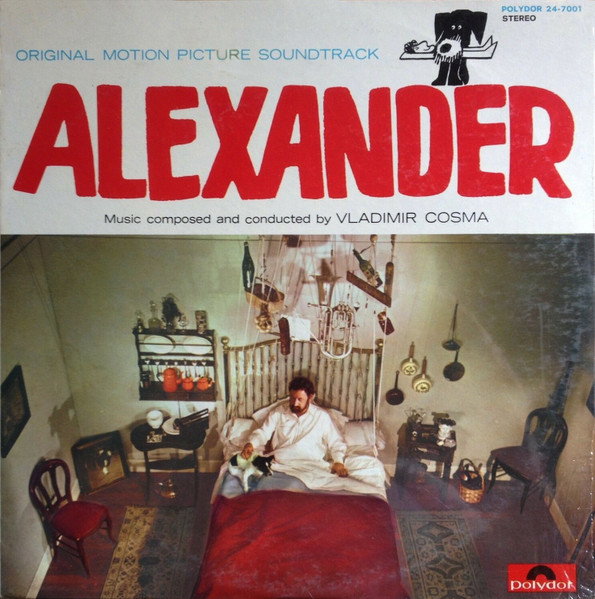 The main title is a song called "Where Is the Summertime?", a leisurely and lyrical waltz with strings handling the melody. Then a bouncy and sunny-sounding track with wooden flute lightly romps in for "The Dog". The second of several versions of "Where Is the Summertime" is up next, this one in French as "La Terre, Le Ciel et L'eau". This one has female vocals sung in French and a very different feel from the opening track, more in the Françoise Hardy zone. "The French Fair" is one of those stereotypically "French" oompah tunes with accordion swinging all over the place. After that we get the love theme, "Agathe and Alexander", but it's actually a different arrangement of the main title, with harp and what sounds like glockenspiel or chimes or something like that. And then yet another arrangement of the main title, this time calling itself "Bird Watchers" and with breezy, swirling accompaniment from flutes, before a segue into a reprise of "The Dog". If you think you're going to hear the main title again right away, you're right! Next up is the bossa nova version! This take on it has a much higher energy level and the melody is delivered in an almost aggressively bright staccato syncopated style by an electric keyboard with a very sharp tone. The very short "Bicycle Ride" is a lovely, soaring tune that, once again, reprises the main title melody. It's a good thing it's a nice melody!

Finally electric guitar and "shake" organ combo show up for "Rhythm in the Afternoon", which is a cool number that makes a nice contrast to the main title while not straying too far away from it. Cool guitar sound, as is to be expected.

"Lazy Alexander" is the main title again, on acoustic guitar, followed by a string section version of the main title for "Flirtation in the Grass", which itself is followed by kind of a blaring marching band version called "Romance in the Afternoon" that ends as a cool lounge version.

Speaking of lounge, "Piano Sweet Piano" is a subdued and swaying loungey tune featuring vibes as well as, naturally, piano. The melody is very similar to "What Kind of Fool Am I?".

There's only one cue left and, believe it or not, it's the main title again, except this time it's the end title and runs through several of the variations already heardf.
---
2023 November 10 • Friday
Another comics event: a new Eddie Campbell, The Second Fake Death of Eddie Campbell or The Second Fake Death of Eddie Campbell by Eddie Campbell or The Second Fake Death of Eddie Campbell by Eddie Campbell as Presented by Eddie Campbell.
Flip it over and you get a new edition of a previous book, The Fate of the Artist, to which Second Fake Death is sort of a sequel.
In the first book Eddie Campbell is missing, presumed dead, and a meta-fictional investigation takes place among Campbell's traipsing through different material and presentations, using photographs and creating pastiches of old newspaper comic strips.
The second book is similar, combining Campbell's familiar nine-panel pages with art done on computers and offering readers a view into what his life in Chicago was like during Covid lockdown.
It's a stimulating balance between elements of comics' history and future.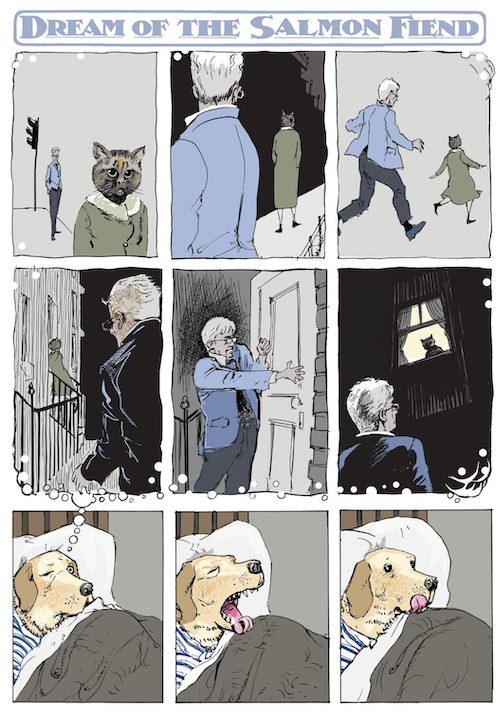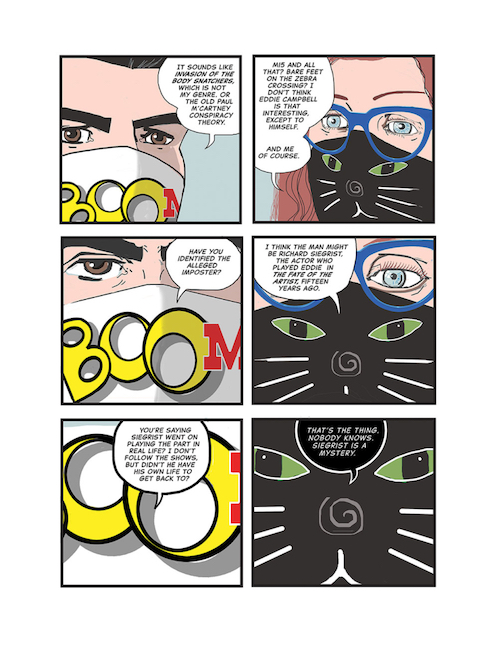 It's very unusual and certainly different from anything else I see being done in comics these days. Campbell is not only an expert scholar on where comics have been, he's also one of the creators leading the medium to its next exressions.
---
2023 November 08 • Wednesday
A new Daniel Clowes book is definitely an event and here it is: Monica.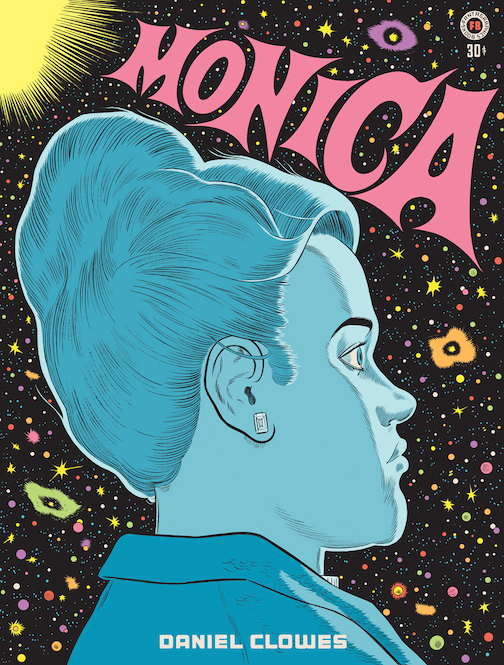 So what's it about? Beats me. It's ostensibly about a woman named Monica trying to find out about her parents, particularly her mother, who was a hippie dropout in the '60s.
The path is not straightforward, however, and the story itself is told on a few different levels. More observant readers than I noted how different page colors in the book itself are a clue to the narrative's source.
Monica herself is a classically unreliable narrator and Clowes has packed his latest book with more elisions, ellipses, obfuscations and misdirections than are found in any of his other volumes.
Several years ago Clowes dropped a sort of manifesto in an issue of Eightball after which his work took on a decidedly Nabokovian aspect. A painter named Krugg probably signals this influence and perhaps the marshalling of all available macro and micro details to serve an intensely powerful singular vision is also thus inspired.
There are some devastatingly convincing character sketches as well as a run through quite a few number of genres. The EC war comics jumped out at me immediately, but for some of the others I had to rely on this interview with Clowes in the New Yorker magazine.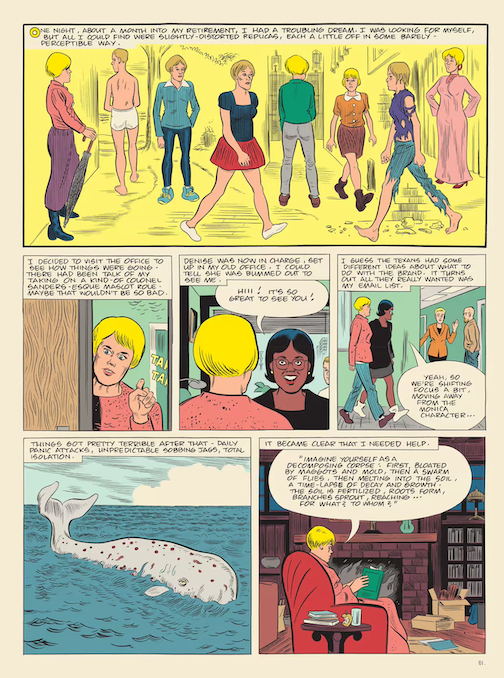 While much of the story is doggedly realistic it does occasionally go off the rails with a vengeance and it's not clear exactly what the reader is supposed to make of it.
There seems to be a very real, not imagined end of the world apocalypse horror scenario but other scenes, like a haunted radio and some tenuously connected horror and fantasy vignettes, are harder to connect to the larger story, at least for me.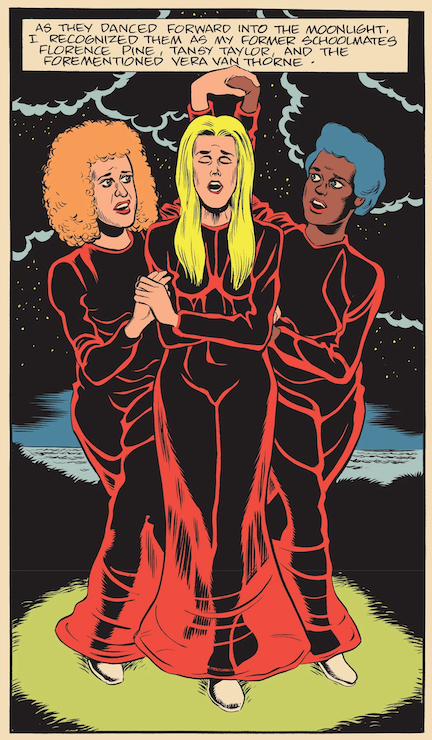 If I gave it a second, close reading, and then a third or even a fourth after that, would I discover its secrets? Would the meaning become clear?
It's possible but I confess to a certain pessimism. I'm worried that too much might actually be hidden for a full understanding. Monica got off to a slow start for me but I found myself drawn in and fully absorbed soon enough to want more than unresolved ambiguity.
If the ambiguity is ultimately and intentionally unable to be resolved, well, that's fine—David Lynch has built an entire career on ambiguity for its own sake—but I think Clowes could actually pull off something greater.
And maybe he's done just that in this book right here and I didn't see it. I suppose I'll have to return to it at some point in hopes of further discoveries.
---
2023 November 06 • Monday
Trunk Records continues to be one of the absolute best independent labels out there and Jonny Trunk's weekly emails are always a pleasure to read. For the 803rd Soundtrack of the Week we present the Trunk Records LP release of Ron Geesin music for three films: Sunday Bloody Sunday, Viv and Shapes in a Wilderness.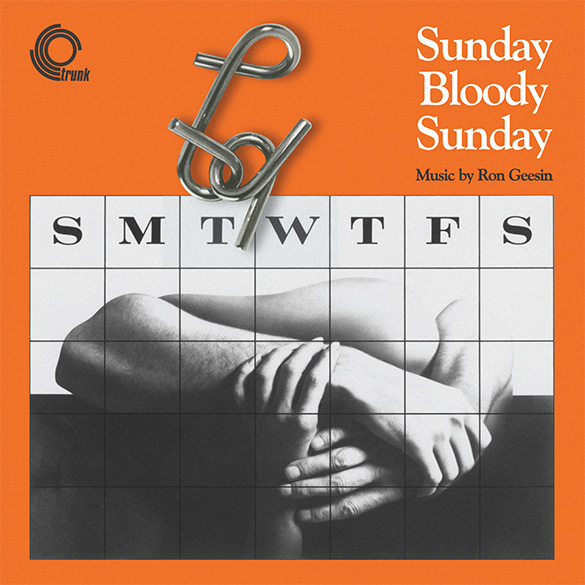 The A side contains the Sunday Bloody Sunday music, beginning with "Sky High Balloons", a baroque-leaning piece with unusual timbres that make it sound like an acoustic version of a Raymond Scott electronic composition. A bit of minimalist noise drone comes next for "Intriguing Cables", followed by solo classical guitar playing the lyrical "Bittersweet Reflections". "Affections for String Quartet" is indeed a modern classical-sounding string quartet piece, after which there's a beautiful chamber pop number, "Chemical Dreams", in slow waltz time and with vocals by Bridget St. John. Things take a turn for the ominous and unsettling with "Blitzful Memories", in which low piano notes and persistent fast-bowed strings create an atmosphere of tension. The energy level goes up but gets sunnier for "Piccadilly Bustle", in which lots of strumming, plucking and staccato keyboard notes sweeps the listener forward quickly, certainly living up to the "bustle" indicated in the title. Bridget St. John returns, this time as a second guitarist, for the beautiful acoustic guitar duet "Motoring Sparkle". Then it wraps up with a reprise of "Wayward Balloons". The first four tracks of the B side are cues from Viv.

The first cue is "War of the Willow", an unusual-sounding electro pop instrumental with the melody played on what sounds like synth steel drum while piano and percussion and an electronic whistle create a background.

"Slo-Mo Bowl" is another synth, piano and percussion piece, this one a little slinky and groovy and bringing in vibraphone as well.

After that comes "Through Loud Bamboo", with stabbing bass notes played on synth with percussion clouding around it and higher-pitched long electric tones floating above.

The music from Viv concludes with "Antiguan Stroll", an off-kilter lullaby-ish song featuring guitar and vibes, and then it's on to the six cues from Shapes in a Wilderness, which are presented here as a mini-suite.

The music features voices, organ and other weird sounds, perhaps some music concrète. It would be appropriate for a horror movie or avantgarde work, for sure.
---
2023 November 03 • Friday
Lars once remarked that if Freddie Wadling had been British or American (or possibly even Irish or Canadian or Australian, I might add), he would have been as well known as Iggy Pop.
This is almost certainly true.
And speaking of Iggy, here is this phenomenal new book, The Stooges: The Truth Is in the Sound We Make.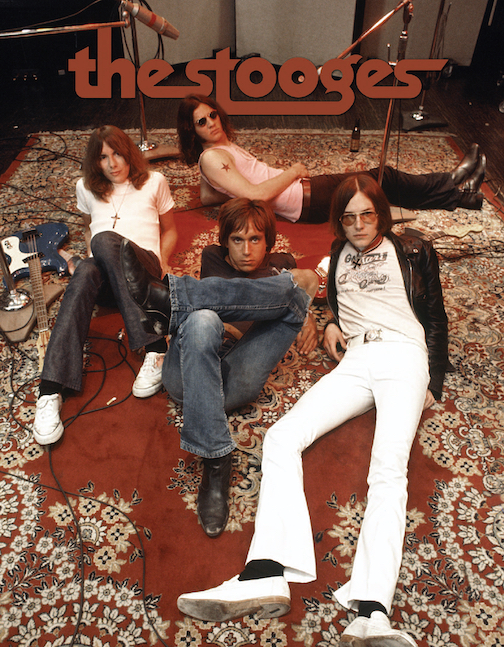 It's a coffee table book, a limited edition, not cheap but totally worth it.
I thought (hoped) it was something I could live without but a rave review in Shindig! magazine changed my mind. No regrets, it's amazing.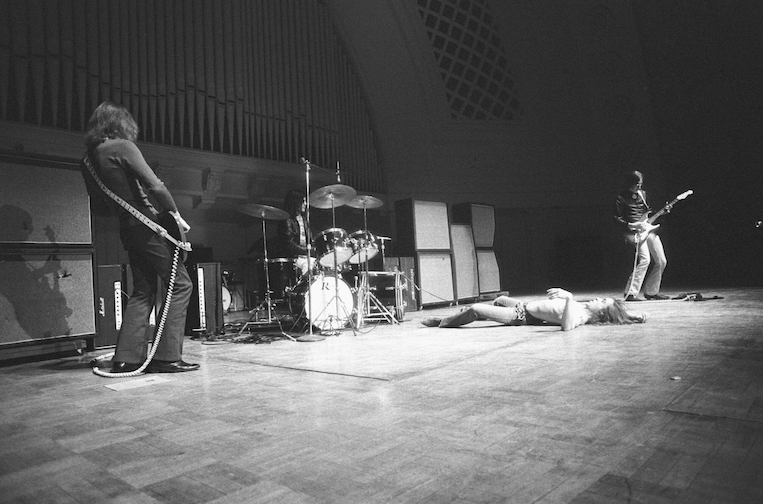 This is a full history of the Stooges with almost three hundred photographs. It is absolutely worth your time and money if you care.
---
2023 November 01 • Wednesday
Freddie Wadling was a brilliant musician and artist who passed away several years ago. He had struggles but he had at least one great stroke of luck: he had Lars Sundestrand, also a great artist, as a close friend.
I never met Freddie, but Lars is my close friend too, really more like family, and Freddie and I have at least that in common.
I have always told everyone that Lars is a great artist also—even though he probably wouldn't want me to say that.
But you can see for yourself, as Lars has put together a book of Freddie's art, and it is absolutely amazing.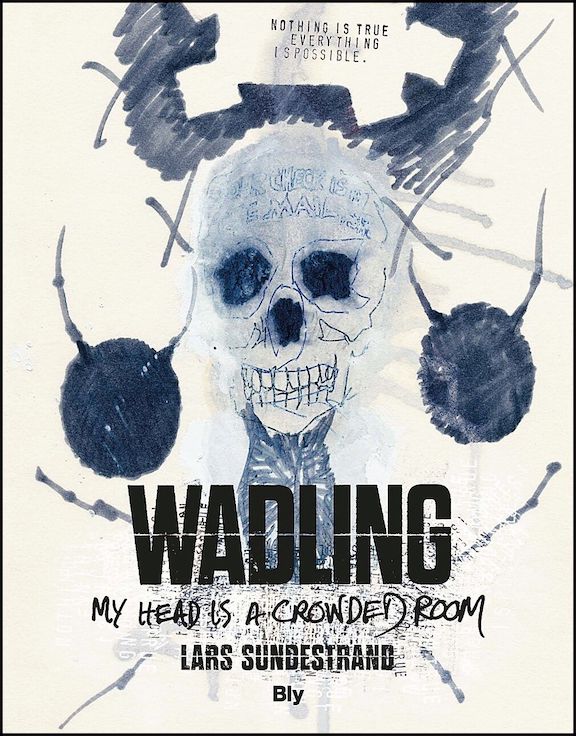 Freddie Wadling's art speaks for itsel and has a wide range, from collage to comic strip, fine-art painting to punk provocation.
Please excuse these crude photos of the book…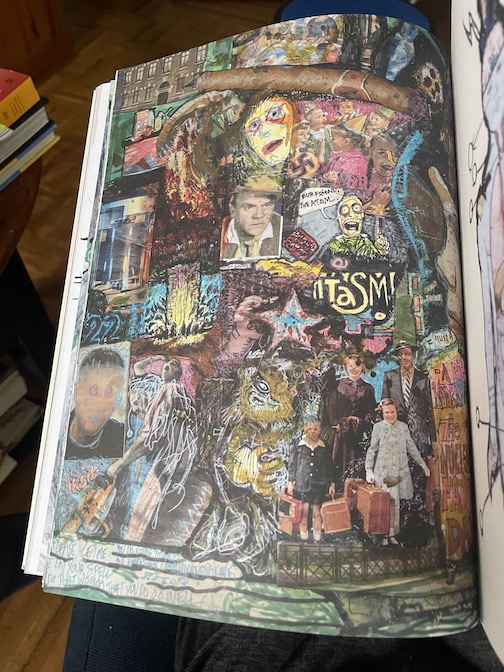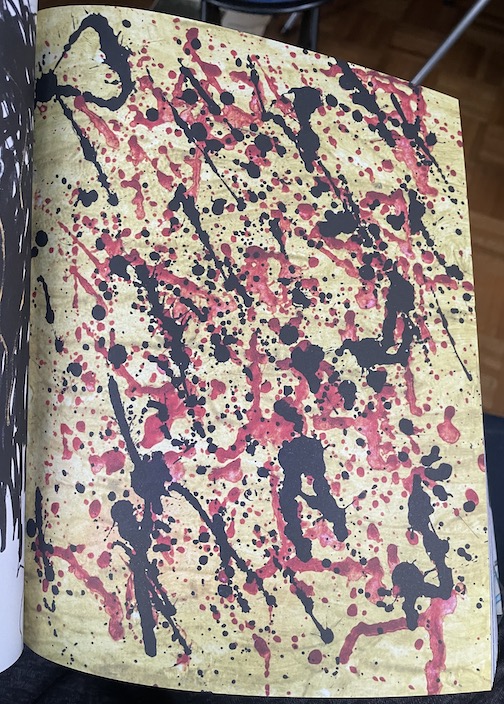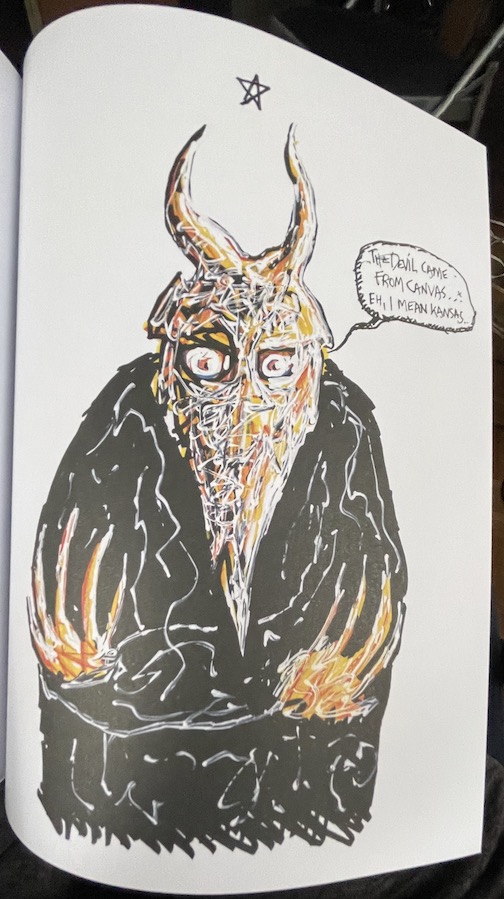 "The devil came from canvas": not just a joke for Freddie, I think.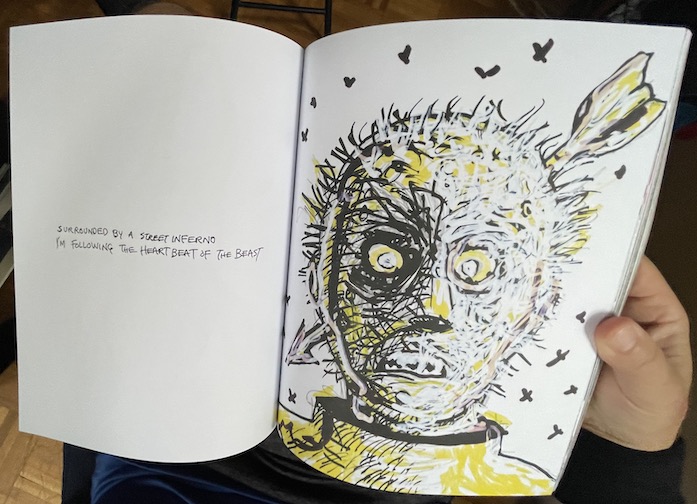 "Surrounded by a street inferno / I'm following the heart beat of the beast".
The art speaks for itself but you will have to look at the book to appreciate the work Lars did to put it together. In addition to photographs of Freddie he has taken over the decades, there are several texts about Freddie, from Lars, of course, but also from Robert Hurula and others for whom Wadling was inspiring.
We'll start Thanksgiving early this year, with gratitude for our best friends.
---