The 764th Soundtrack of the Week Pete Knutsen's music for Carl Gustav, the Gang and the Parking Bandits.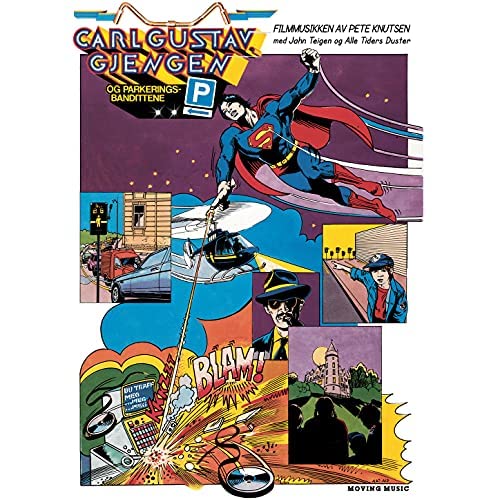 The "Opening" is a harshly bright and peppy major key synth number with an electric guitar solo. The mood changes drastically for the next track, "Machines", which has a slow pounding drum part creating a feeling of suspense while piano plays a slow and stately line that's echoed and embroidered by electronic keyboards. Synth and guitar play ethereal arpeggiated figures for "Dream of the Hero" until such time as an electric guitar solo takes over. Then there's a dramatic unexpected chord and synth solo takes it from there. Things get peppy and energetic again for "Run Friends Run", a triumphant rock vocal number. After this comes an instrumental version of the same song, now known as "Carl Gustav's Theme". "Playground Destroyed" is an atmospheric and interesting cue, which synth and guitar leaving lots of space while playing both lyrically and rhythmically. A similar mood continues in the next track, "Men in Black Suits", though with just synth playing a less aggressively over the rhythm section. "Suspence" and "A Solution" are extremely similar short cues with a back beat and a strong and gradually building guitar and synth line. No surprise that "Theme Jam" is a loose take on "Carl Gustav's Theme", done with a lively rock piano trio. A big shift in sound and energy comes next with Alle Tiders Duster's "Kvernen", a great song that would have fit right in with that late '70s NYC art rock punk whatever scene if they were singing in English. Then we're on the dance floor for a lean and mean disco funk tune, "Arcadehall". "The Castle" is a very short synth cue, nicely expressive and effective. Drums lay down the latest of many excellent rhythm parts for synths to sort of warble over in "Entry", while a more straightforward beat lets the keyboards make some weirder noises in "Dark Corridor" and "Captive". "Escape" is a 7-second synth clarion call that leads into rock synth ballad "Car After Car The End". The record concludes with "False Waltz", presumably source music. It sounds like a deranged carousel and it's not a waltz.
---
2023 February 03 • Friday
Andrew Neiderman's Brainchild shares with Celia Dale's A Helping Hand the idea of home nurse as homicidal sadist, a plot that Stephen King would also put a spin on in Misery. All of these books are significantly different, though, and Neiderman's is an exploration of a mad scientist premise, with the mad scientist being an 18-year-old girl, a senior in high school.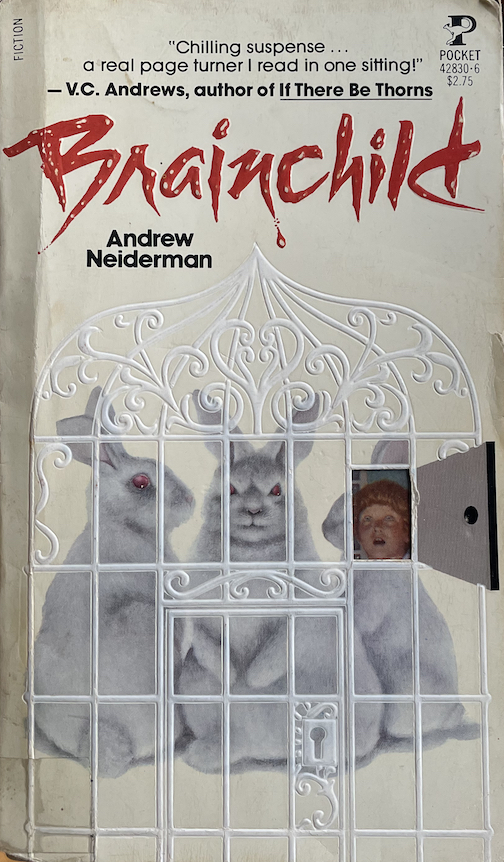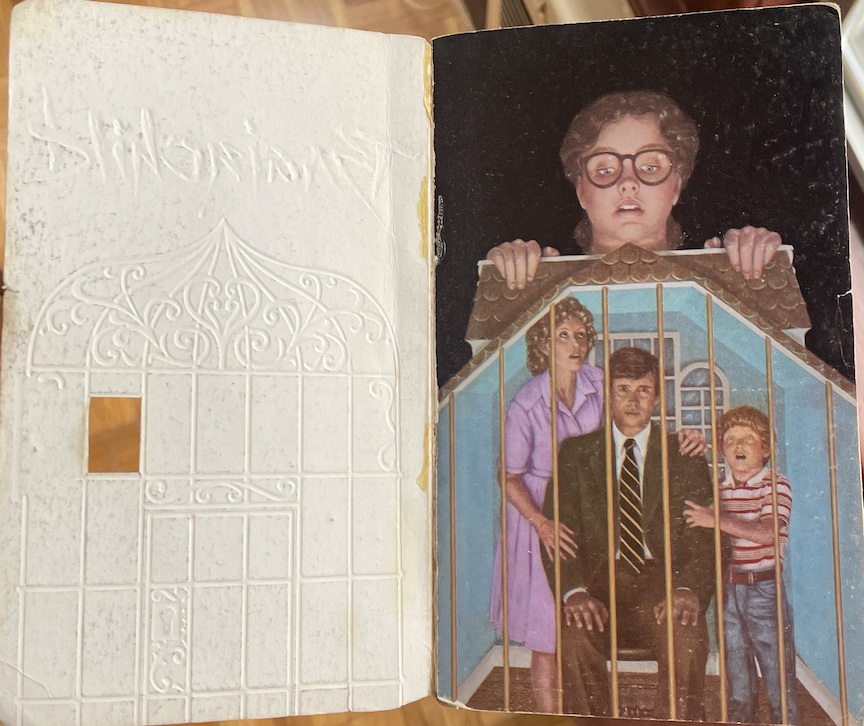 Lois Wilson is a science prodigy and a genius. What she's really interested in is behavioral science: predicting what people will do and then, of course, controlling what people will do. Sure, she starts out with rats and such, but that's boring and limited. She creates opportunities for human experiments, first by getting two classmates, a boy and a girl, to come over and see if they can control sexual impulses by taking the mystery out of their own nude bodies. When the other kids' parents find out about this, the experiment gets shut down. Lois also suffers a humiliating defeat when she tries out for the lead role in her high school play: a production of The Effect of Gamma Rays on Man-in-the-Moon Marigolds, a play she knows an cares about deeply. Her audition doesn't go well. So it's back to science. Among other academic triumphs, she's allowed to take classes at the local college from a brilliant science professor that she knows and admires. Kevin McShane is immediately impressed and inspired by his new young student and, in time, a little intimidated, too, as he realizes that he might not be able to keep up with her. Meanwhile, at home, Lois is programming her little brother to hate and distrust their parents, particularly their mother, manipulating their mother into having a dependency on drugs and alcohol and, finally, destabilizing their parents' relationship to the point where their father has a stroke. And has to be cared for at home.

By Lois. Since mom has been effectively sidelined and is even kept drugged against her will.

Now Lois has a perfect controlled environment and a helpless human subject.

It's a pretty horrifying situation and Neiderman presents it in fairly matter-of-fact prose, simply letting events play out and describing them in vivid yet understated writing.

This is the kind of book that I would expect Grady Hendrix to write about in his always amusing newsletters. Who knows, maybe he already has?

It's probably not quite bonkers or special enough to be a Paperback from Hell, but it was worth reading.

Thanks once again to Toronto's Little Ghosts horror book store and coffeeshop, where we picked up this volume last month.

The first line is "Billy Wilson squinted as he studied the small white laboratory rat in the glass cage".
---
2023 February 01 • Wednesday
Foyles bookshop in London has always rewarded our visits. Not only is it thrillingly well stocked, but it frequently offers up authors that, we fear, otherwise might not have come to our attention. The most recent example is Celia Dale, whose book A Helping Hand caught our eye. It was in a brand new paperback edition with an intriguing "The queen of suburban horror" from The Times on the front. That turned out to be quite apt, as was Ruth Rendell's "quiet, clever, subtle — and terrifying". Those are indeed the words.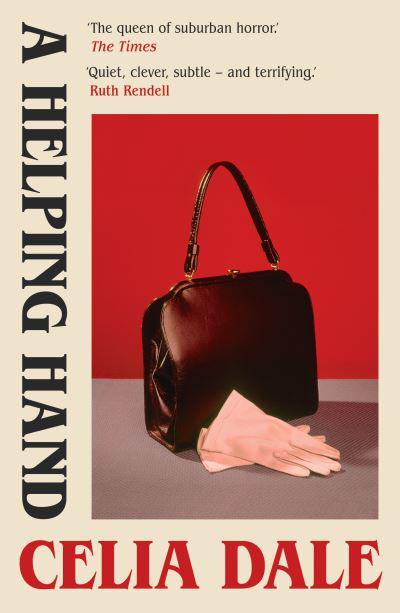 Josh and Maisie Evans are unremarkable, unattractive, middle-aged Brits who live in a squalid part of London. Dale paints the picture so vividly and precisely that you might start reading faster just to get away from it: "But the new roads which served no purpose but to lace one road to another, and all of them eventually to the arterial road, were edged with bungalows, each different from the other yet all without individuality, flat to the ground, centred in grass and lobelia, each with its own television aerial. Their inhabitants were mostly middle-aged or old. There were no children.

The land that stretched around them was as featureless as themselves: fields of drab vegetables, sports grounds belonging to some nearby factory, a rubbish tip, a display ground for caravans, or just ground — stony, sparsely grassed, scattered with coltsfoot and shepherd's purse, bounded by slack wire. And beyond it, flatter than the sea, flatter certainly than the Sahara, the unseen, omnipresent, vast void of the airport.


This description carries considerable impact in the book, appearing after a significant chunk of time is spent with the Evanses in sunny coastal Italy. They're on vacation but also looking for someone to be their next victim. They like to lend a helping hand, you see, to old women who live isolated lives but have some money to speak of in some combination of savings, pension and inheritance. They take them in as their Paying Guest and slowly, sadistically, insidiously kill them — but only after a slow murder of their spirit and intelligence. Maisie Evans used to be a nurse and Dale lets that fact, remarked often by both Evanses, speak for itself. At no point is it said that poison or drugs are employed, or that Mrs. Evans knows how to destroy a body simply by isolating, confining and controlling it. But the reader will certainly have that impression. Mr. Evans is disgustingly lusty and perverse. Inappropriate sexual impulses and fantasies dominate his thoughts and the occasions when he acts on them are stomach-churning. Into their web falls elderly widow Cynthia Fingal and, a little later, another character who provides a shocking contrast to the placid drama of Mrs. Fingal's gradual, inexorable, inhumane and all too believable destruction. Dale is one of those writers whose every sentence has something to admire. And few can equal the precision with which she indicates how unpleasant people can be behind their masks, using the deftest and most minimal touches to direct our attention to deceit, manipulation and madness. At some point in reading this novel you might start to experience serious anxiety about how it's going to end. You should. The first line is "Mrs Maisie Evans came into the lounge, pulling down the cuffs of her cardigan".
---