Ten years ago the Film Forum in NYC screened a retrospective of moies starring the great Japanese actor Tatsuya Nakadai. Among these was the bizarre and brilliant spy spoof Age of Assassins, directed by Kihachi Okamoto, one of the best and most interesting filmmakers of all time, with music by Okamoto's frequent collaborator and Gutbrain favorite Masaru Sato.
The score from this delirious pop-art masterpiece was just released by the invaluable Cinema-kan label and it's our 514th Soundtrack of the Week.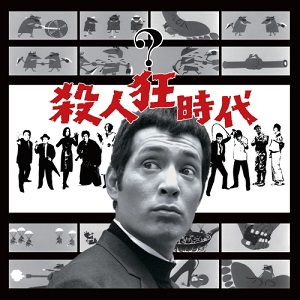 Like many a score, this one relies on just a very few themes. The main theme is an innocently jaunty number dominated by the harmonica, giving it a fuzzy-headed sort of feeling that is perfectly in tune with the wacky and whimsical nature of the film's plot, which does involve an insane villain with a deadly plan that can only be foiled by the mysterious character played by Nakadai. He's either the world's biggest nerd loser, whose socks smell so bad that he accidentally kills trained assassins who are out to get him, or he's that characters identical twin, a highly trained secret agent who can out-Bond Bond in his sleep. (A third possibility are that these two are the same person. As I recall, it's left ambiguous.)
The other main theme is a reworking of the popular song "O Sole Mio", whose melody received an additional boost in recognition when Elvis Presley recorded a version with different lyrics under the title "Now or Never". You hear this tune many times in the movie and I'm not really sure why. Sato certainly could have come up with his own original piece that would have been at least as good.
Dexter wanted me to mention that one of the cues on the CD has has high-pitched sound that hurt his ears.
The other notable element is the electric guitar when it appears. It's a deliciously rich and mellow surf guitar sound and had me wanting to know exactly what I was hearing, as in exactly what guitar and what amp and what reverb device. Because whatever it was, I'd like to have it!
---
2018 April 16 • Monday
The 513th Soundtrack of the Week is a CD with music from one of our favorite film series, the Japanese Red Peony Gambler movies, staring Junko Fuji as master gambler and swordswoman pursuing trails of vengeance and justice.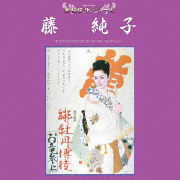 These movies have a lot going for them: acting, photography, stories and of course the music.
I'm not really sure what's going on with this CD. If I've been correct in deciphering the few Japanese characters that appear to be relevant, then this disc has music from two of the movies, the third and sixth in the series.
Of the two, Takeo Watanabe's music from number three, Hibotan bakuto: hanafuda shobu, is the most rewarding.
Electric guitar is the main voice here, dark and reverberant, faintly recalling a merger of Duane Eddy and a rainy day. Spare and restrained use of organ, strings, percussion and a few other instruments helps to create powerfully emotional atmospheres and dramatic underscore.
The other film on here, Hibotan bakuto: oryu sanjo, has a score by Ichiro Saito, who relies mostly on a traditional orchestra for more familiar-sounding cues, some of them perhaps aspiring to Akira Ifukube's magnificent and transcendent gloominess.
So this is for the 1960s yakuza film freaks. I'm probably one. I bought some of these movies on DVD the only time I ever went to Japan, even though they weren't subtitled and my knowledge of Japanese wasn't even close to allowing me to understand what people were saying.
---
A movie can be based on anything and a few of them are based on popular songs. One such is our 512th Soundtrack of the Week: Harper Valley P.T.A., whose score is mostly by Nelson Riddle.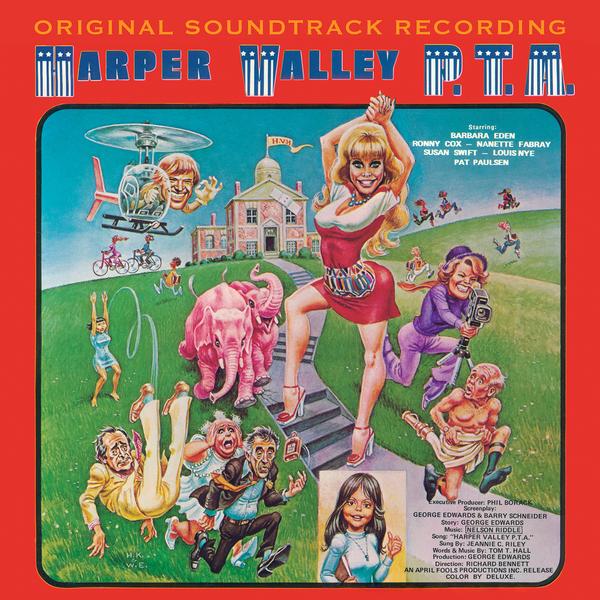 No surprise that the first track is the title song, the source material for the movie itself. It's sung by Jeannie C. Riley and its popularity made her the first woman to hit the tops of the Billboard. Hot 100 and the U.S. Hot Country Singles charts with the same song (according to Wikipedia).
It's a good song, similar to "Ode to Billie Joe", which was also made into a movie and which similarity was apparently intentional. Tom T. Hall wrote the song "Harper Valley P.T.A." and a couple other songs to the movie, "Mr. Harper" and "Widow Jones", both sung by Barbara Eden and both zeroing in on characters mentioned in the title song. They're both good but not at the same level as "Harper Valley P.T.A.".
There are some teenager-oriented songs in here as well, such as Jerry Lee Lewis's classic rocker "High School Confidential" (which was also used as the title song for a movie, in 1958) and Johnny Cash's "Ballad of a Teenage Queen" (so far not a movie though that could change at any time).
The only other song of note (excepting an instrumental version of the title song) is a somewhat bizarre Carol Channing and Rita Remington number called "Whatever Happened to Charlie Brown". It's an uptempo country song that's quite nice and of course is memorable for Channing's unique and odd voice.
The rest of it is Nelson Riddle score, which ranges from easy-listening lounge jazz ("Dee's Visit" and "Alice's Place") to more late-night sultry moods ("Willie May"), a disco number ("Ice Cream Disco") and for some reason a Mozart piano sonata credited on the record as "Twin Tune" by Nelson Riddle.
Riddle chooses to feature the clarinet quite a bit in the music here and it would be useful to know who's playing it, but there's very little information here.
---
Way back when, in a summer music camp, we were learning some basics of music theory. How to remember which interval is minor sixth? "Easy," said someone. Then they hummed the first few notes of the theme from Love Story by Francis Lai. And that score is the 511th Soundtrack of the Week.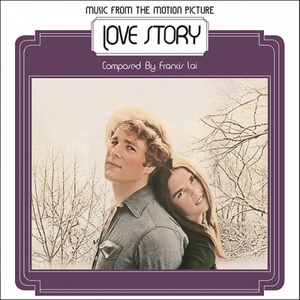 This is a movie you probably know about even if you've never seen it. You can probably quote one of the two famous lines and I bet you know the theme.
It's probably incredibly corny and hokey but I'd like to see it. According to Wikipedia Judith Christ called it "Camille with bullshit", which sounds like a recommendation to me.
So what about the music? Most of it is dominated by that theme, and various arrangements, quite often a fugue-like version to harmonize with the ambition of one of the characters to be a classical musician. The theme is overplayed and probably cloyingly sentimental but it's still effective and powerful and I'll confess to liking it though I don't really ever need to hear it.
I do, however, need to hear "Snow Frolic", which is a groovy and swinging number with some Edda dell'Orso-like wordless vocals. It was apparentl released as a single, perhaps the B-side to the main theme.
There's some Mozart and Bach on here and a couple of other bits of score business, such as the Morricone-esque "The Christmas Trees".
I hesitated to buy this but decided to take a chance on it and I'm glad that I did.
---